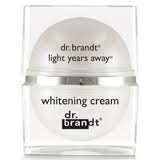 Dr. Brandt Light Years Away Review – Is It Worth It?
Dr. Brandt Light Years Away Overview
Dr. Brandt Skincare is a line of products developed and created by celebrity dermatologist,  Dr. Fredric Brandt.  He has been a practicing dermatologist for over 20 years, and is the secret behind the flawless skin of celebrities like Madonna and Gwyneth Paltrow.
In addition to his claim to fame of performing more Botox procedures than any other doctor in the world, Dr. Brandt is also becoming famous for his skin care products.
Dr. Brandt Light Years Away is a line of skin brighteners.  It includes a cleanser, a clarifier, an eye cream, a serum, and Dr. Brandt Light Years Away Whitening Cream which we will take a closer look at in this review.
It is referred to as an intensely moisturizing whitening cream that controls discoloration and hyper-pigmentation, while promoting a brighter, more even, skin tone.
With Dr. Brandt Light Years Away, your skin will take on a lighter, smoother, more hydrated, youthful appearance, giving you back the skin you once had.
Dr. Brandt Light Years Away Ingredients and How They Work
Dr. Brandt Light Years Away uses several key ingredients to make this whitening cream deliver on its promises:
Abyssine 657 is a synthetic replica of marine life found deep in the ocean.  It protects skin from environmental damage.
Astaxanthin is an antioxidant taken from algae that protects against UV damage and inflammation.
Lightoceane also comes from algae, and is a skin lightener that functions at several stages of the pigmentation process.
Vitamin C is an antioxidant, and it also helps as a skin lightener.  It blocks melanin production to lessen pigmentation.
It also contains moisturizers like Hyaluronic Acid and botanicals like Lavender and Honeysuckle Extract to make this a product that encourages healthier, as well as lighter, skin.
It is recommended that you apply Dr. Brandt Light Years Away Whitening Cream to your face and neck twice daily, once in the morning and once in the evening.
It is also recommended that you use a 30 SPF or higher sunscreen to aid and preserve the lightening effects.
Dr. Brandt Light Years Away Pros and Cons
Advantages
It was developed by a dermatologist.
It has some good moisturizers.
Disadvantages
It is expensive.
We could not find any Dr. Brandt Light Years Away reviews pertaining to the Whitening Cream.
It contains lavender oil which is a skin irritant.
Jar packaging is unsanitary and may cause the active ingredients to oxidize, rendering them ineffective.
Where to Buy
You can buy Dr. Brandt Light Years Away Whitening Cream online and at beauty specialty stores like Sephora.  It is expensive regardless of where you choose to make your purchase.
The website sells a 1.7 oz jar for $140.  You'll find the same price at Amazon and all the other online retailers.  There is, however, a 30-day guarantee if you buy it through the the Dr. Brandt website, so that may be your best online option.
Recommendation
In the end, we think Dr. Brandt Light Years Away Whitening Cream is just too expensive for what it is.  There are no exceptional ingredients and no glowing reviews touting its wonders.
Just a doctor with a celebrity following offering an expensive skin care line.  Until we see a reason to do otherwise, we recommend you pass on Dr. Brandt Light Years Away.
Have You Used Dr. Brandt Light Years Away?  Leave Your Review Below!
User Questions and Answers
User Questions and Answers
---
Q: How long will I see the results if I use it for pigmentation? -Ivy
A:
Hi Ivy, as someone with plenty of hyperpigmentation, your best bet is to get a prescription from a dermatologist for either Azelaic Acid, or hydroquinone. The Azelaic acid is a much safer choice - it'll take a bit more time to work. If you use hydroquinone, you'll get a faster result but you have to stop using it after a few months and give your skin a break. The most important thing you can do is use SPF 50 daily and wear a hat when outside, basically no sun whatsoever if you can help it. Melasma and dark spots will pop RIGHT back up even after one day in the sun with no protection. Hope you can find something that works for you. xo Rachel
Was this question helpful to you?

---