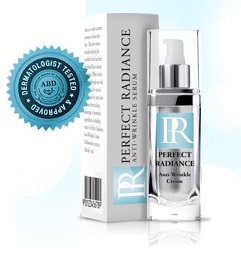 Perfect Radiance Cream Review – Is It A Scam?
Perfect Radiance Cream Overview
Product marketers know that women don't want wrinkles.  They know that many of us can be convinced to try almost anything with the hope that it will turn out to be the long-awaited answer to our aging concerns.  Especially if it's free.  That's why Perfect Radiance Cream was sold only by way of a "free trial" offer available through the internet.  Perfect Radiance Cream wasn't the only one.  There are many, maybe hundreds, of similar products using deceptive tactics to sell anti-wrinkle creams.  We try to make you aware of as many of them as we can.  Today, it's Perfect Radiance Cream.
Perfect Radiance Cream – Product Description
Perfect Radiance Cream promised you brighter, younger, and softer skin.  Using a host of natural peptides, including one called PolyMoist PS, it claims to lift, plump, and firm your skin, in both the immediate and long terms.  In addition to the PolyMoist which encourages the production of collagen, Perfect Radiance Cream used Vitamin E for nourishment, Ceratonia Siliqua for smoothing, Chamomile for soothing, Glycerin for moisture, and Edelweiss Extract to stimulate regeneration of skin cells.
Together, the ingredients act on aging skin in several ways:
Trapping moisture to prevent skin from sagging
Smoothing fine lines and wrinkles
Helping to regenerate skin cells and produce collagen
Keeping skin supple and soft
Where to Buy Perfect Radiance Cream
Perfect Radiance Cream was only available through a free trial offered over the internet.  You would initially pay only shipping, and receive a month's supply of product.  But buried in the fine print was the stipulation that if you didn't call to cancel within 10 days, you would be automatically signed up to receive monthly shipments and be billed in excess of $70 each.  Once these shipments started, it could be quite difficult to stop them.
Perfect Radiance Cream received many complaints from customers who'd been taken advantage of.  In the end, it appears that these particular marketers have moved on.  There are still links to the Perfect Radiance Cream free trial offer, but they take you to another product, called Hydroxatone.
Conclusion
The free trial scam that Perfect Radiance Cream participated in has become a popular way for unscrupulous marketers to sell mediocre products.  Unfortunately, while it is clearly deceptive, as long as they reveal the terms in the fine print, it is indeed legal.  These creams may have some effectiveness, but we doubt it because if they did, they would surely be able to sell them honestly.  We almost always advise our community to steer clear of these fake free trials.  Perfect Radiance Cream is no exception.
Have You Used Perfect Radiance Cream?  Leave Your Review Below!
Click here to submit your review.
---
SCAM BEWARE YOU WILL NOT GET A REFUND
Perfect Radiance Cream Review – Is It A Scam?
I would give it a zero but you can't! I did not order this product. I came home to 4 boxes and called the # listed and was told I was billed $180 a month since April and could only get a partial refund for July of $120. They will not accept this product back and will not refund my money. They then hung up on me twice. Beware!

---
scam
Perfect Radiance Cream Review – Is It A Scam?
The free trial quickly turned into $200 per month shipment. I am allergic to the product and I cancelled.

---
Scam deceptive- do NOT do business with this company
Perfect Radiance Cream Review – Is It A Scam?
Called to cancel - said I was too
late that I I called after the debit to my account was processed. I have my phone records prove they were wrong so they ripped me off for almost 200.00 from their 14 day offer scam. Don't fall for it.

---
Complete scam
Perfect Radiance Cream Review – Is It A Scam?
Please do not fall for this scam. Not only are they not truthful the product is not good at all. And the customer service people hang up on you when you push back or ask to speak to a manager.

---
Scam
Perfect Radiance Cream Review – Is It A Scam?
Not only do they offer a low price intro to the product via internet, if you don't cancel you'll be billed for $98. Not sure I saw that but my credit card returned my money. Included in their ads was a claim it was owned by Judge Judy Scheinlen butfound that was a lie. If she is connected, shame on her!

---
User Questions and Answers
User Questions and Answers
---
Q: I saw ZERO results with this product and was under the impression this was a FREE trial offer only to be billed $98.00 a month later. I am asking for my money to be refunded due to a product that doesn't hold up to it's claim. Thank you for your time. -Tracey
A:
Hi Tracey, just wanted to be sure you knew it's not me who's charging you right? I only write warnings and offer help with these free trial scams. Check out my Skincare Scam Blog with phone numbers, you should contact you bank asap or try to reach these crooks directly. Thanks, Rachel
Was this question helpful to you?

---