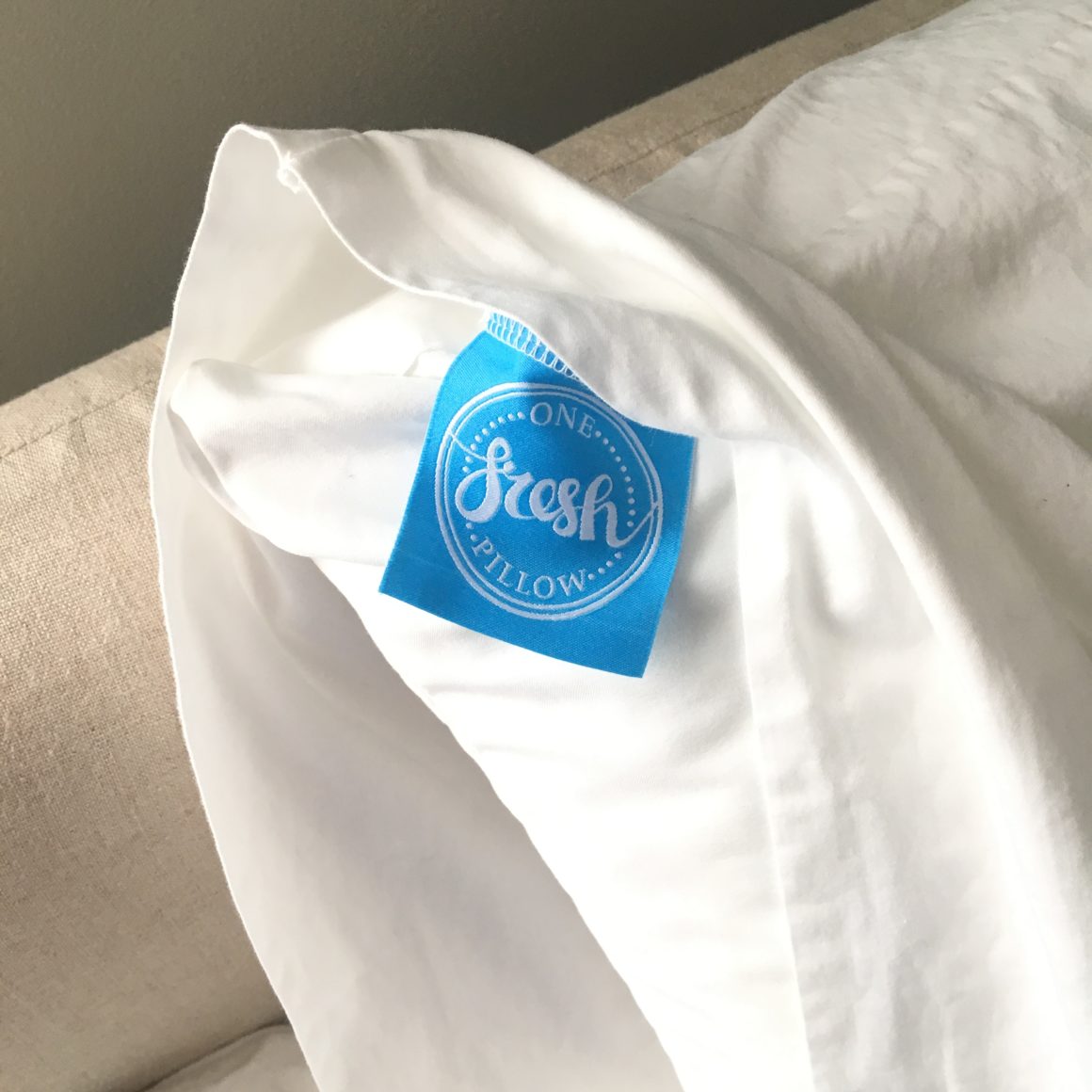 One Fresh Pillow Review – No More Tossing and Turning
Finding the perfect pillow is no easy task!  I can't tell you how many pillows I've purchased which feel great in the store, only to be returned the next day.
There's nothing worse than your pillow not feeling just right, or worse, waking up with neck or shoulder pain. I'm a side sleeper, so neck support while keeping my shoulder comfortable is key. I need that perfect "nook"!
I decided to give One Fresh Pillow a try since it seemed to offer the best of both worlds. A dual-sided pillow with a different fill on both sides…say what?
Yes, one side is a soft, fluffy, down alternative for back sleepers, and the other side is supportive shredded memory foam for side sleepers.
This sounded appealing to me because I love the soft feel of down, but need the support of memory foam. But having options in one pillow is a fresh idea indeed. Pillow fusion if you will….
One Fresh Pillow was engineered by a licensed massage therapist out of Tallahassee, Florida. Drawing from his experience treating a wide variety of clients, he wanted to develop a pillow that would help reduce pain, increase mobility, and recoup those lost zzzz's.
One Fresh Pillow Delivery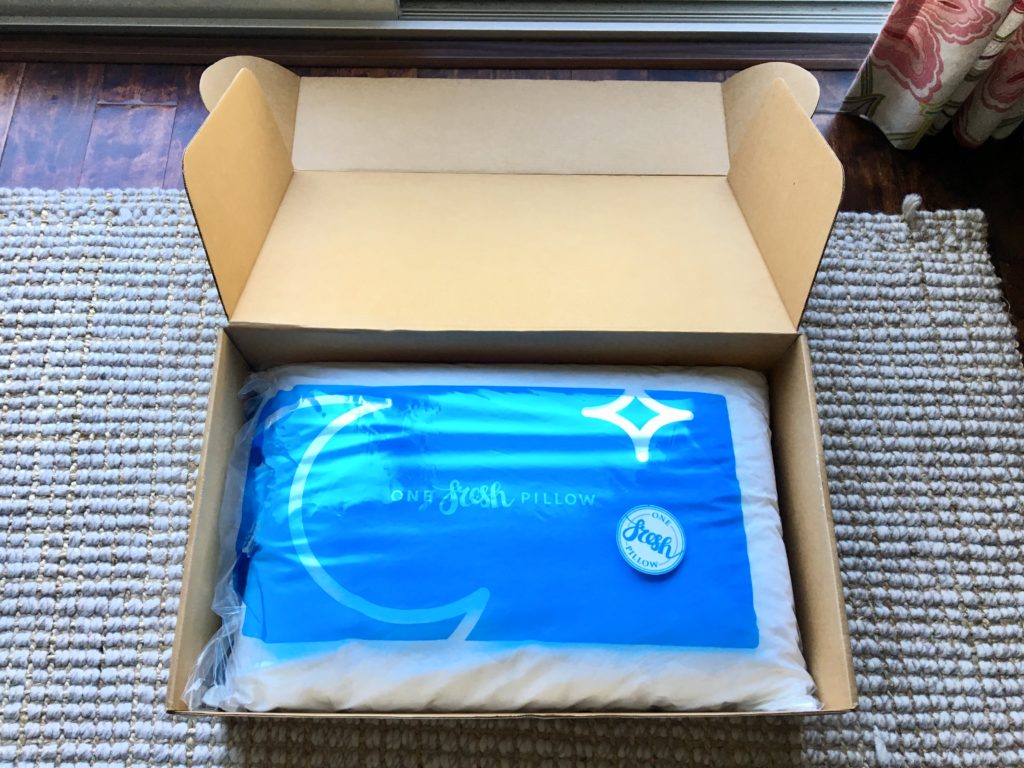 I ordered the standard size One Fresh Pillow and the delivery was super fast, about 3 days. I was pleasantly surprised by the cute and durable packaging.
It looked heavenly even from the box and the first thing I did was give it a big hug test and it felt sooo good!  A fabulous pillow needs that hug factor!
In recent years I've used a memory foam pillow but it's over a year old and it just didn't feel fresh anymore. I could tell it was feeling heavier than when I first bought it.
The idea behind One Fresh Pillow is to get a new one delivered to your doorstep as often as you like at a great value. While subscribing is not a requirement, it will afford you 15% off and free delivery.
If the thought of getting a new pillow every 6 months sounds strange to you, it shouldn't. We spend a third of our lives sleeping and over time, pillows become breeding grounds for bacteria due to sweat, mold, dead skin cells, and dust mites…yea gross, and that's why my old pillow was becoming heavy.
Have you ever tried washing your favorite pillow? That never seems to work out and usually the end result is a lumpy pillow with a different shape, and it's no longer your favorite pillow at all.
One Fresh Pillow to the Test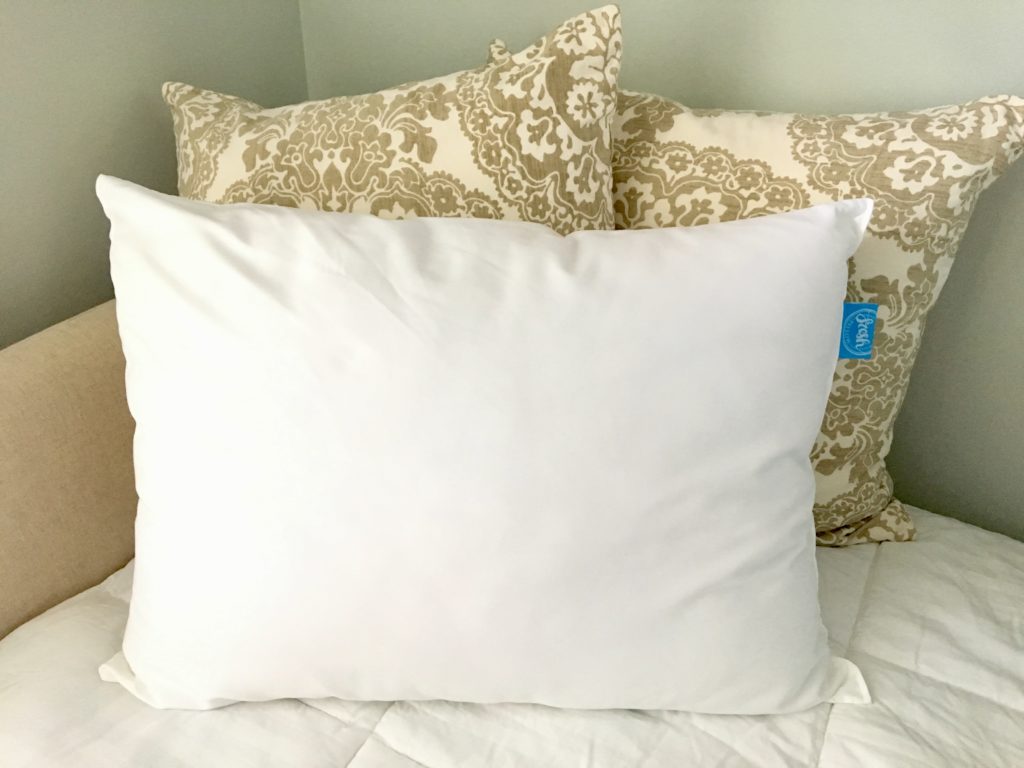 My One Fresh Pillow came with a soft, white pillowcase and I washed it first, which is always a good idea. Everything felt super soft – the pillowcase, the outside cover, and the actual pillow itself.
The moment my head hit the pillow that night I knew l'd found a winner. I nestled in and was instantly comfortable! It has a nice, soft feel and just enough give while still being supportive.
As I mentioned, I'm a side sleeper so I use the memory foam side to sleep. I curl up in a fetal position and need my neck supported at just the right level, and this pillow provides the perfect elevation.
I get just the right amount of neck support so that my spine is aligned and it allows the right amount of space for my shoulder so it doesn't feel crushed or uncomfortable.
I play beach volleyball and have some nagging shoulder problems as well as tendonitis in my right arm so comfort and restorative sleep is crucial.
I've found that I enjoy having the optional soft down side as well, for reading or for short cat naps. At night, I prop my myself up on the down side, then when I go to sleep I flip it over to the memory foam side and my other pillow goes between my knees.
I get a very refreshing night of sleep and have zero complaints about my One Fresh Pillow, I absolutely love it!
My only regret is that I didn't get the king-sized one to match the rest of my pillows. Next time I will get the big one, and I'll get two so that I can replace my knee pillow and have not One Fresh Pillow — but two!
My House Guests Tried My One Fresh Pillow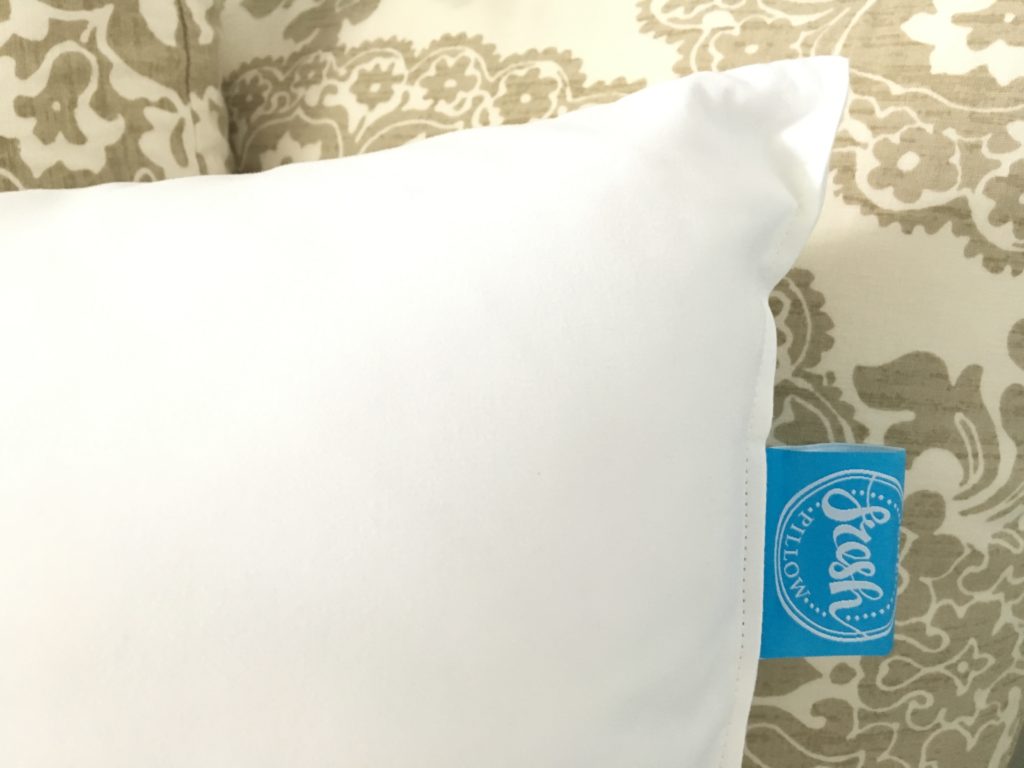 Oy vey! Houseguests in March…. when you live in Florida and your family lives in New Jersey, your home can quickly become a bed and breakfast, LOL!
My mother-in-law usually brings her own pillow, but she didn't this trip and mentioned needing to buy one for her vacation rental (they do enjoy their own place down here as well).
She's a back sleeper and I told her she needed to try my new pillow for the night.  Over coffee the next morning, she told me she'd gotten a very restful night's sleep and that the pillow was just right.
My mother also spent a night here and she was also talking about needing a new pillow, so I said I have something you need to try!   She's a side sleeper like me, and loved it!  But sorry moms…gotta buy your own!  🙂
It's not often you find a pillow that suits everyone, and so far it's made 3 people happy in my life who have tried it, so I'd say they make a great product!
One Fresh Pillow – What's it Made Of
Side One (for back sleepers) is a fluffy-soft silky alternative down, made of 100% siliconized polyester fibers.
Side Two (for side sleepers) is supportive shredded memory foam, 100% polyester.
One Fresh Pillow is hypoallergenic.
The Importance of Sleep Quality
Proper sleep is one of the most important elements of good health, if not THE most important thing, aside from keeping stress levels down.
The old saying "I need my beauty rest" is not just an old adage, but a key element to good health and anti-aging.
Having a good pillow is an easy way to improve the quality of your sleep, which can have a domino effect on your health.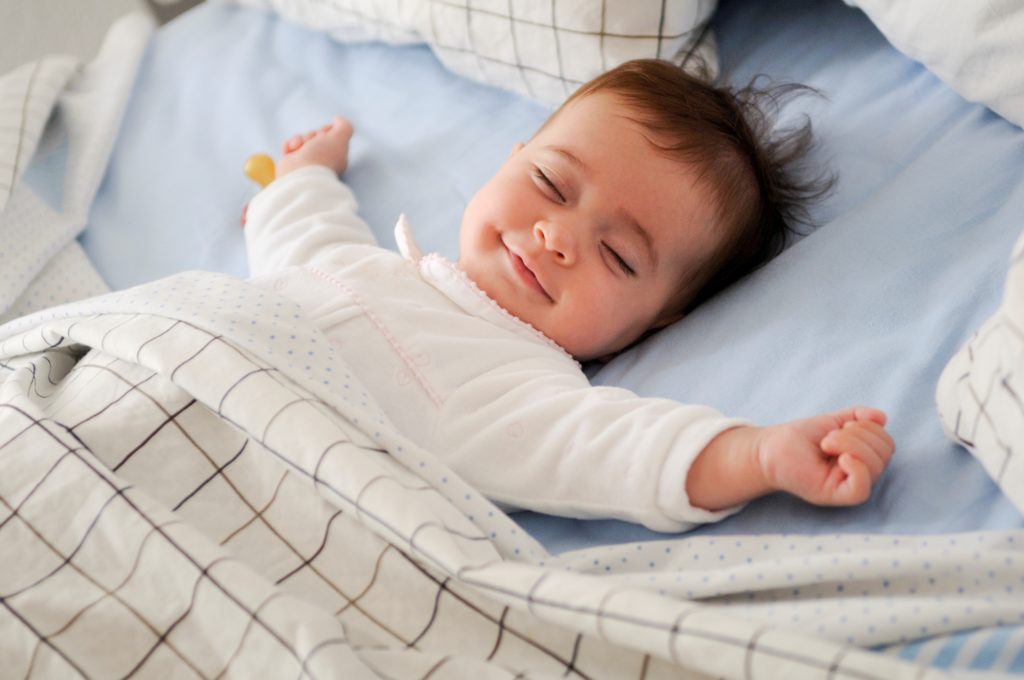 Here are a few good reasons to make sure you're sleeping like a baby:
Poor sleep can make you pack on the pounds – Not getting enough sleep is one of the strongest factors linked to obesity. If you're trying to lose weight, it's crucial you get a good night's sleep.
Good sleepers tend to eat less  – The less you sleep, the higher levels of ghrelin, the hormone that stimulates appetite, and less leptin, the hormone that suppresses appetite, leading to an increased BMI.
Brain function – Good sleep can improve concentration and productivity. Poor sleep can negatively impact brain function much like a long night of boozing.
Reduce chronic disease – Sleeping less than 7-8 hours a night is linked to an increase of heart disease and stroke, and pre-diabetes. Sleep loss is also known to activate inflammation markers and cell damage.
Depression and social interaction – Poor sleep is linked to depression and it reduces your ability to interact socially. No one feels chipper when they need sleep. You'll smile more with plenty of rest!
Beauty & Skin – If you want to wake up vibrant, avoid bags under your eyes, puffiness, wrinkles, and stay healthy – you need to catch plenty of zzz's! During deep sleep, the rise in growth hormones allows damaged cells to become repaired, and water and hydration become balanced. Sleep is everything! 
One Fresh Pillow – Price and How to Order
One Fresh Pillow comes in one style, made to suit everyone! You just have to choose your size and order from the One Fresh Pillow official website.
The standard size costs $75 for a one-time purchase, and the king-sized is $85. If you subscribe, you'll receive 15% off your purchases, FREE shipping, and you choose the delivery time.
One thing I love about One Fresh Pillow is that they recycle!
When your new pillow comes, you'll receive a shipping label to mail your old pillow back in the same box. They also offer a 30 day return policy from the date of delivery.
I hope you enjoyed my One Fresh Pillow review! Now get your beauty sleep!
Visit www.onefreshpillow.com today
User Questions and Answers
User Questions and Answers
---
Q: I oscillate between sleeping on my back and my side with my legs splayed out to encompass my queen sized bed. I have a pillow that I hug because it's one of those "cool" pillows. Does this pillow provide that cool factor? -Shauna
A:
Hi Shauna, so the synthetic down and shredded foam allow for airflow unlike a molded foam pillow, but they don't have cooling gels or anything like that so they don't make the claim that it's a "cooling" pillow. Temperature is relative to each sleeper depending on how hot or cold they run. I haven't experienced any temperature issues and I sleep fairly hot at night. Hope this helps! I really love the pillow. Thanks! Rachel
Was this question helpful to you?

---