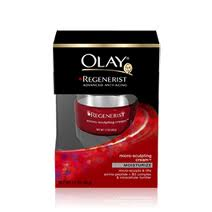 Olay Regenerist Micro-Sculpting Cream Review
Olay Regenerist Micro-Sculpting Cream Overview
There are multi-purpose and all-purpose skin care products that generally moisturize and attempt to minimize fine lines and wrinkles all over the face.  Then there are specific formulations made to target particular areas of the face and address the issues associated with it.  Olay Regenerist Micro-Sculpting Cream belongs in the second category of skin care products.  Olay claims it will lift and sculpt your skin's appearance in areas prone to sagging.  It is also designed to regenerate the skin's volume and shape with intracellular hydration.
In a single lab hydration test, Olay Regenerist Micro-Sculpting Cream was shown to hydrate better and longer than some creams costing as much as $500.  This is a big claim.  Let's look into how it works and see if customers have found the same results.
Olay Regenerist Micro-Sculpting Ingredients and How They Work
Olay uses some of the more typical ingredients found in anti-wrinkle creams:
Aminopeptide to help the skin create more collagen.  Collagen is found in skin naturally, and it is what makes skin appear firm and elastic.  As we age, our skin produces less and less collagen. Peptides encourage the production of more, so our skin can look more like it did when we were younger.
Hyaluronic Acid for moisture.  HA is a water binding agent.  It attracts moisture to the skin and locks it in, creating a softer, more dewey complexion.
Naicinamide for strengthening skin and providing moisture.  Niacinamide has been shown to decrease skin discoloration, minimize wrinkles, and strengthen the outer layer of skin.
Green Tea and Vitamin E as antioxidants.  Antioxidants are important for maintaining the cellular health and structure of the skin.  Environmental damage creates free radicals, which are basically partial cells looking for completion.  They break up other intact cells in order to make themselves whole.  This causes a chain reaction that leads to dull, damaged skin.  Antioxidants work by completing the partial cells so they no longer need to disturb healthy cells.
You should apply a small amount of Olay Regenerist Micro-Sculpting Cream to your face in an upward circular motion, focusing on areas that need support, like the jaw and brow lines.  Twice daily use, in the morning and at night, is recommended.
Pros and Cons
Advantages of Olay Regenerist Micro-Sculpting Cream
It contains good solid moisturizing and anti-wrinkle ingredients.
It has been shown to hydrate better than some $500 creams.
Olay Regenerist Micro-Sculpting Cream reviews are mainly positive in regard to its moisturizing and minimizing of fine lines and wrinkles.
It's inexpensive compared to other quality creams.
Disadvantages of Olay Regenerist Micro-Sculpting Cream
There is a strong smell which is distracting to some customers.
Several reviewers complain of bad reactions to this product, such as acne and allergic breakouts.
Very few user saw the lifting and firming that is promised by Olay Regenerist Micro-Sculpting Cream.
It's about the most expensive of the drugstore products.
Where to Buy
For anywhere between $20 and $30, you can buy a 1.7 oz pot of Olay Regenerist Micro-Sculpting Cream.  It will be cheaper online at outlets such as Drugstore.com and Amazon.  But if you prefer, CVS, GNC, and Target, among other brick and mortar stores will sell it to you for closer to the $30 mark.
Conclusion
Olay Regenerist Micro-Sculpting Cream positions itself as the high-end cream of the low-end brands.  When compared with other drugstore creams, it's quite expensive.  But when a study put it up against luxury creams selling for up to $500, Olay Regenerist Micro-Sculpting Cream came out on top.  The ingredients list and positive reviews lead us to believe that this could be a great every day moisturizer, and that it should work reasonably well on lines and wrinkles.  Our only dispute is with the sculpting claim, which is, after all, in the name.  There are no ingredients that have this ability and very few reviews that even mention it.  But if a really good wrinkle cream for a relatively low price is what you're after, Olay Regenerist Micro-Sculpting Cream could be it.
Have You Used Olay Regenerist Micro-Sculpting Cream?  Leave Your Review Below!
User Questions and Answers
User Questions and Answers
No Questions Have Been Answered For This Article.