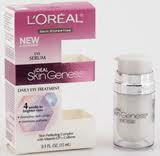 L'Oreal Skin Genesis Eye Serum Review – Is It Worth Trying?
L'Oreal Skin Genesis Eye Serum Overview
The skin under your eyes is very thin and fragile, and faces a particular set of problems as you age. Whether it's puffiness, dark circles, crows feet, or deep set lines and wrinkles, your eyes will someday start to reveal your age.  In order to combat this, you need to use a product specifically designed to correct these issues.
L'Oreal Skin Genesis Eye Serum claims to be a lightweight, daily treatment that will strengthen the skin around the eyes, layer by layer, making the eye contour area look tighter, brighter, and younger.  Let's take a look and see what it does and how it does it.
Ingredients and How They Work
There are a couple of main ingredients that L'Oreal Skin Genesis Eye Serum uses to accomplish its goals:
Pro-Xylane is L'Oreal's patented ingredient used in most of their Skin Genesis line.  It is based on an extract from the beech wood plant to help stimulate the production of cell strengthening molecules in the deeper layers of skin.  It is also said to protect against moisture loss.
Hyaluronic Acid is another moisture attraction and retention ingredient, and it is widely used in skin care products.
L'Oreal Skin Genesis Eye Serum is meant to be used sparingly in the morning and at night.  Pump a pea sized amount into the palm of your hand.  Then dot onto the under eye area of both eyes using your ring or pinky finger.  Gently smooth and massage the serum in until it is completely absorbed.
L'Oreal Skin Genesis Eye Serum Pros and Cons
When deciding whether or not to purchase a new product, it is often helpful to list out the pros and cons, and see which list speaks to you.
Advantages
It is fragrance-free which can be important for eye creams because of the sensitivity of eyes themselves and the skin around them.
It is less expensive than high-end department store products.
A little goes a long way, so one bottle could last months, even with twice daily use.

L'Oreal Skin Genesis Eye Serum

reviews demonstrate that users are largely happy with the moisturizing effect.
Disadvantages
Most reviewers claim it doesn't have any long term effect on dark circles or puffiness.
The Skin Genesis line is being discontinued by L'Oreal so there will come a time when you will no longer be able to purchase it.
Where To Buy
Since L'Oreal Skin Genesis Eye Serum has been discontinued, it's hard to find in stores.  The L'Oreal website has a store finder that can direct you to a store that still carries it in your area, but most stores just don't have it anymore.  Alternately, it is still widely available online at this time.  Prices range all the way from $3 to $20, so make sure to do your homework.
Conclusion
As far as eye creams go, this one seems like a pretty middle of the road product.  It's fragrance-free, so most customers won't find it irritating to the skin or eyes.  But it doesn't offer much more than good solid moisturizing.  If you've got dark circles or puffiness around your eyes, you'd be better off with one of the many products that address these issues with specific ingredients.  It's also worth noting again that L'Oreal Skin Genesis Eye Serum has been discontinued, so eventually, you won't be able to find it at all.  With all that said, it's pretty cheap, so if you're in the market for an eye serum that provides moisture without irritation, this one could be worth giving a try.
Have You Used L'Oreal Skin Genesis Eye Serum?  Leave Your Review Below!
User Questions and Answers
User Questions and Answers
No Questions Have Been Answered For This Article.