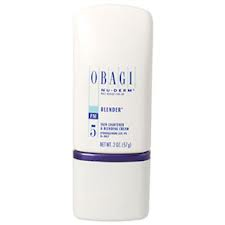 Obagi Nu-Derm Blender Review – Worth a Dr Visit?
Obagi Nu-Derm Blender Overview
Their tag line is "Nothing Works Like Obagi Because Nothing Else Is Obagi."  This is a skincare company that attempts to set itself apart.  One of the ways they do this is by offering most of their products only by prescription through medical and skincare professionals.  Their signature line, Obagi Nu-Derm, is dedicated to reducing all the signs of aging due to photodamage as well as the inevitable passage of time. These products can be used together or separately, and you are encouraged to make that determination with your doctor or esthetician.
Obagi Nu-Derm Blender is a topical prescription solution made to lighten the hyperpigmentation that can be caused by age, hormones, acne scars, sun exposure or any other reason.  It lightens and brightens skin, leaving you with a smooth, even skin tone.  It works at the cellular level to improve skin texture as well. Obagi recommends that for best results, you should use Nu-Derm Blender in combination with the other product also within the Nu-Derm line.
Obagi Nu-Derm Blender Ingredients and How They Work
The main active ingredient in Obagi Nu-Derm Blender is 4% Hydroquinone. Hydroquinone is thought by dermatologists to be the most effective skin lightener available.  It inhibits the production of melanin, the dark pigment in skin.  2% Hydroquinone is widely available without a prescription, but the 4% strength requires a prescription.
The other active lightening ingredients are lactic acid – an exfoliant, and ascorbic acid – an antioxidant and skin lightener.
You should apply a small amount of Obagi Nu-Derm Blender evenly to your clean face in a feathery motion twice daily.  For best results, it is recommended that you use it with the entire Obagi Nu-Derm system, especially Tretinoin cream.  If you don't see results after 12 weeks of treatment, you should discontinue use.  And always use a strong sunscreen to prevent re-pigmentation.
Obagi Nu-Derm Blender Pros and Cons
Choosing the best product can be made easier by listing out the pros and cons about each of them.
Advantages of Obagi Nu-Derm Blender
It is recommended by dermatologists and other skincare professionals.
It is part of a powerful line of anti-aging products.
It contains the most powerful lightening ingredient, hydroquinone.
All the

Obagi Nu-Derm Blender

reviews that we saw were positive.
Disadvantages of Obagi Nu-Derm Blender
A prescription is technically required.
Some believe hydroquinone can cause cancer or other skin diseases.
It is expensive, especially if you use with the rest of the line.
Since it is not sold directly through the manufacturer, they offer no guarantee.
Where to Buy Obagi Nu-Derm Blender
If you're interested in Obagi products, the best thing to do is visit your dermatologist.  They'll assess your needs and help you come up with a course of action to improve your pigmentation issues and any others you may have.  The Obagi website has a provider finder feature to help you find a professional that offers their products.  You can also buy Obagi Nu-Derm Blender online, but Obagi says it cannot verify that it's the real thing unless you get it from a professional.
Conclusion
If you have serious issues with hyperpigmentation, Obagi Nu-Derm Blender could be the way to go.  You would be using it under the care of a professional, so you can monitor your progress with them, determining whether or not to continue as time goes on.  We would not recommend buying Obagi Nu-Derm Blender over the internet. 4% hydroquinone requires a prescription because of potential dangers.  You'll want professional guidance on this one.
Have You Used Obagi Nu-Derm Blender?  Leave Your Review Below!
User Questions and Answers
User Questions and Answers
No Questions Have Been Answered For This Article.