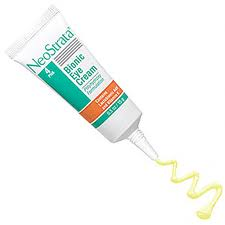 NeoStrata Bionic Eye Cream Review – Does It Work?
NeoStrata Bionic Eye Cream Overview
If you're going to spend money on a dedicated eye cream, you want to make sure it addresses all the issues you need it to.  And since we're talking about the skin around your eyes, that would generally include dark circles, puffiness, and of course lines and wrinkles.  NeoStrata Bionic Eye Cream claims to have you covered with all of those, so we looked into it to see if they can be believed.
NeoStrata Bionic Eye Cream is fragrance-free which can be important to the sensitive eye area.  It's also been tested and found to reduce dark circles after 4 weeks for 83% of users.  By targeting all the signs of aging particular to the fragile skin around the eyes, NeoStrata Bionic Eye Cream claims to leave you with healthier, brighter, younger-looking eyes.
NeoStrata Bionic Eye Cream Ingredients and How They Work
NeoStrata Bionic Eye Cream uses a fairly unique set of ingredients to achieve its goals:
Vitamin K strengthens leaky capillaries that cause dark circles under the eyes.
Lactobionic Acid and gluconolactone remove dead skin cells through chemical exfoliation, leaving the fresh new skin to shine through.
Vitamins A and E are antioxidants that protect skin from free radical damage while it nourishes and smooths.
Green Tea to act as an antioxidant in addition to reducing puffiness.
Cucumber soothes and cools eyes while also reducing puffiness.
You should apply it with your ring finger, morning and night, gently smoothing it in until it is absorbed.  It's recommended that you apply sunscreen after.
NeoStrata Bionic Eye Cream Pros and Cons
A quick look at the pros and cons associated with using a product is a great way to make a well thought out decision about whether or not to buy.
Advantages of NeoStrata Bionic Eye Cream
It contains lots of antioxidants.
It combats dark circles and puffiniess.
The opaque tube packaging will keep the antioxidants from breaking down.
Disadvantages of NeoStrata Bionic Eye Cream
NeoStrata Bionic Eye Cream

reviews are mixed.  Plenty of women love it, but just as many say they saw no results at all.
It's expensive.
Where to Buy
The NeoStrata website has a retail and physician locator to help you find a local source for their products, including NeoStrata Bionic Eye Cream.  You can usually find it at Ulta stores.  There are several online retailers that carry it as well.  The ½ oz tube sells for $56 at most stores we checked.  You'll want to look for your best shipping deals to keep the price as low as possible.
Conclusion
What we like most about NeoStrata Bionic Eye Cream is that it addresses each eye issue individually with ingredients that make sense.  Cucumber and Green Tea for puffiness, Vitamin K for dark circles, and Antioxidants for protection against aging and the environment.  And it doesn't neglect the need for protective packaging.  If you've got $56 to spend on eye cream, we think NeoStrata Bionic Eye Cream is a great option.
Have You Used NeoStrata Bionic Eye Cream?  Leave Your Review Below!
User Questions and Answers
User Questions and Answers
---
Q: I have been using NeoStrata Bionic Eye Cream for almost 2 month but still didn't see any change. I have dark circle from my childhood and try almost all product but no change at all. What do u advice? -Pabitra
A:
Pabitra, dark circles from childhood are hereditary. These are tough cases to treat and could be caused different issues, one is vascular congestion of the eye area due to blood vessels pooling in that area and having thin skin so it shows through. Rubbing also makes it worse.  There is only so much a cream can do for this. From what I've read, the best treatment is a filler (to make the skin not so thin so the dark doesn't show through), or another type of laser, depending on what's causing the darkness. If it's melanin (meaning brown skin) then that can be treated with IPL laser. If you can't consider seeing a Dr. right now, I would seek out a spa that sells Image Skincare and try the "Iluma" line eye treatment. This is actually what I use a lot of the time and it brightens the eye area. You may see better results with this line than the NeoStrata. You'll have to visit the Image Skincare .com website and use their map locator to find a retailer near you, and just go buy some. You can't buy this stuff retail in stores, but it's worth seeking out. Also, exercise will increase blood flow, and be sure and drink a lot of water, because if you become dehydrated, or stay in a semi-dehydrated state most of the time, your skin is going to be even thinner because it's not plumped up. Take care and good luck. I wish I had some better answers for you but this is a good place to start. Rachel
Was this question helpful to you?
1 out of 1 people found this question helpful.
---