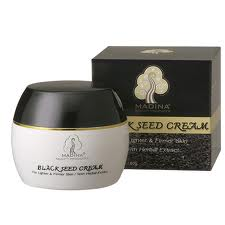 Madina Black Seed Cream Review – Can It Lighten Your Skin?
Madina Black Seed Cream Overview
Many skin brighteners also work as overall skin moisturizers, combining lightening with good basic skincare.  Madina Black Seed Cream is one of these as it contains ingredients to improve the overall health of your skin as much as to lighten and brighten it.  It claims to leave you with lighter and firmer skin that's been infused with nutrients and the correct moisture balance, and that is protected from environmental damage.
Madina Black Seed Cream Ingredients and How They Work
We were unable to find any ingredients in Madina Black Seed Cream that help significantly lighten skin.  Most of what we found are moisturizers and moisture retainers.  But we'll go through the list and let you decide:
Black Sesame Seed Oil is a natural oil that forms a moisture barrier to hold moisture in your skin to keep it hydrated.
Mineral Oil also forms a moisture barrier for skin though it can tend to clog pores as well.
Glycerin is also a humectant used to provide moisture to skin.
Aloe Vera soothes skin and helps encourage the production of collagen for skin firmness.
Shea Butter works as both a moisturizer and a collagen booster.
Vitamin E is an antioxidant to help protect skin from damage.
There is not much information at all to be found on Madina Black Seed Cream.  Though we did, at long last, find an ingredient list, there is no explanation of how any of them work.  We did our own research and truly found nothing leading us to believe that any of the ingredients in this product works to lighten or brighten skin.
Madina Black Seed Cream Pros and Cons
Weighing the good with the bad is always a good idea before deciding whether or not to make a purchase.
Advantages of Madina Black Seed Cream
Black seed oil is well known as a good moisturizer for skin.
It contains antioxidants.
It is inexpensive.
Disadvantages of Madina Black Seed Cream
There are no skin lightening ingredients.
There are only a few Madina Black Seed Cream reviews available, and most of them mention the terrible smell of this cream.
Where to Buy
You can buy Madina Black Seed Cream online at Amazon and Beauty of New York (as well as other online retailers) for prices ranging from $3 to about $12 for a 2 ¾ oz jar.
Conclusion
If this product were marketed simply as a daily moisturizer, this recommendation might be a little different.  With Aloe Vera, Black Seed Oil, and Vitamin E, there may be some benefit in terms of hydration and smoothness.  But given that it is meant to be a skin brightener, we have to recommend that you pass on Madina Black Seed Cream, and find something with ingredients that support its claims.
Have You Used Madina Black Seed Cream?  Leave Your Review Below!
User Questions and Answers
User Questions and Answers
No Questions Have Been Answered For This Article.