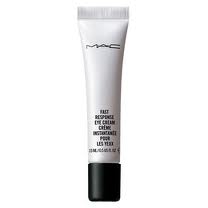 MAC Fast Response Eye Cream Review
MAC Fast Response Eye Cream Overview
If you're like us, you think of MAC as a great brand for makeup.  But did you know they make skin care too?  Turns out they do, and from what we've heard, they have at least a few pretty good offerings.  What we decided to look at today was MAC Fast Response Eye Cream.  MAC describes it as a "super-charged caffeinated cream with instant effects."  And they assure us that MAC Fast Response Eye Cream works on lightening dark circles, decreasing puffiness, and fading fine lines and wrinkles.
We found plenty of MAC Fast Response Eye Cream reviews, and it seems as though customer opinion is all over the map – one of those love it or hate it kind of things.  So a look at what goes into it, how it's used and some of the reports from women who've used it should help us figure out if this is the stuff that'll put MAC skincare on the map.
MAC Fast Response Eye Cream Ingredients and How They Work
MAC, coming primarily from the cosmetic side of things, has really put the focus on the "look" of your eyes in this product. While it has ingredients to help slow the appearance of the aging process of your skin, it's primary focus making you look good in the immediate term.
Caffeine "wakes up" your skin by immediately reducing puffiness with its anti-inflammatory properties.  It also stimulates circulation which helps decrease dark circles over time.
Silicones provide a smooth surface to help your concealer go on flawlessly.
Antioxidants are included to help repair skin by fighting against free radical damage.
Retinyl Palmitate helps renew skin by speeding up cell turnover.
Squalene and Sodium Hyaluronate attract and bind moisture to plump out fine lines and wrinkles.
MAC Fast Response Eye Cream also contains ingredients that reflect light and help create the illusion that your lines and dark circles have been eliminated.  The effect is temporary, but it is there nevertheless.
MAC Fast Response Eye Cream Pros and Cons
Let's face it.  Nothing is all good or all bad.  Taking a look at both sides of a product can help make sure you make a good decision about whether or not to buy.
Advantages of MAC Fast Response Eye Cream
It's made by a trusted company.
The opaque tube packaging will keep the antioxidants stable.
It works immediately and over the long term.
Many MAC Fast Response Eye Cream reviews come from customers who love how it immediately makes puffiness and dark circles disappear.
Disadvantages of MAC Fast Response Eye Cream
The amount of caffeine could cause irritation.
Plenty of reviewers, even MAC devotees, found no real results with MAC Fast Response Eye Cream.
Where to Buy
You can find MAC Fast Response Eye Cream at department stores and online at the MAC website or Amazon.  The half ounce tube sells for anywhere between $30 and $40.
Conclusion
After weighing the good and bad aspects, we find ourselves landing on the side of good.  The smooth, silky texture, the light reflecting properties, and the antioxidants are all pluses to us.  Our only concern is the caffeine, and if it doesn't cause you irritation, it will probably improve the look of your eyes.  Another great thing about MAC Fast Response Eye Cream is the price.  It's not super-cheap, but it's relatively affordable.  And if it does what it says it does, it's well worth it.
Have You Used MAC Fast Response Eye Cream?  Leave Your Review Below!
Click here to submit your review.
---
Love it!
MAC Fast Response Eye Cream Review
I was very skeptical thinking this would be a nothing product. But I was desperate and was guaranteed a refund within 30 days if I kept the receipt. What did I have to lose? I tried it and could not believe what I was seeing that night as I inspected my face in the mirror. A definite reduction in the bags under my eyes! I couldn't believe it, but, yeah, there was a difference! I even thought of calling the store to thank the sales girl for introducing me to this product. Thanks Mac! I will be buying this again and will CD telling my family and friends. Very satisfied with this product. ?

---
User Questions and Answers
User Questions and Answers
No Questions Have Been Answered For This Article.