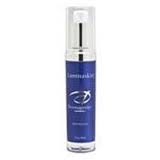 Lumnaskin Review – Is It Effective?
Lumnaskin Overview
One often overlooked condition in the fight against aging skin is hyperpigmentation or uneven skin tone.  There can be so many reasons for this.  It could be due to hormones from pregnancy or birth control pills, stubborn old acne scars, damage from too much time in the sun, or just plain age spots.  The fact is, these things make your skin look dull, lifeless, and old.  Younger skin means radiant skin, and that's where skin brighteners like Lumnaskin come in.
Lumnaskin is made by Dermagevity, a skincare company known for many anti-aging products like Skinlastin and Eyelastin.  Even though it is an all-natural, plant based formula that contains no hydroquinone or kojic acid, Lumnaskin claims it can give you the radiant, peaches and cream glow your skin had when you were a child.
Lumnaskin Ingredients and How They Work
Lumnaskin uses natural botanical ingredients in a specially formulated micro-emulsion serum that penetrates deeply into the layers of skin where it can do the most good.  Included in the formula are:
Biowhite Serum:  A powerful combination of plant extracts that block the activity of tyrosinase – the key enzyme involved in the production of melanin.  This stops melanin formation in its tracks.  Biowhite Serum also helps exfoliate skin to promote healthy skin cell renewal and shields skin from UV radiation to help prevent future darkening.
Gigawhite: Extracted from seven Swiss plants that together inhibit tyrosinase.  While these extracts can have a positive effect individually, together they create a synergistically effective compound.
Hyaluronic Acid:  A very potent skin cell hydrator.  It binds to moisture and can hold hundreds of times its own weight in water.  It's abundant in young, healthy skin, but declines with age.  It's necessary to replace it so skin can appear plump, smooth, and radiant.
Grape Seed Extract:  A powerful antioxidant and source of Vitamin D that can help protect skin from free radical damage caused primarily by environmental factors.  It's also been shown to decrease the effects of hyperpigmentation due to melasma.
You should use Lumnaskin once or twice daily on freshly cleansed skin.  Allow it to absorb and dry thoroughly before continuing on with your regimen.
Lumnaskin Pros and Cons
Looking into the positive and negative sides of a product is the best way I've found to come to the right conclusion about whether or not to buy.
Advantages of Lumnaskin
It is gentle.

Lumnaskin

contains no hydroquinone.
There is a money back guarantee.
Disadvantages of Lumnaskin
It is only available online, so there is no opportunity to try before you buy.
It's difficult to find independent Lumnaskin reviews from customers.
It is fairly expensive as an additional product in your regimen.
Where to Buy
You can buy Lumnaskin online through the Dermagevity website or Amazon.  Both sites sell the 1 oz pump for $44.99.  You'll get a 30 day money back guarantee from the Dermagevity website, though, but all opened product will be charged a 25% processing fee.  There are also combination deals available through Dermagevity where you can get a couple of products at once and save on both.
Conclusion
It seems as though there are plenty of women who like Dermagevity products and the company is making a bit of a name for itself.  Lumnaskin is all natural and it's guaranteed.  If you want skin brightening, but not the chemicals normally associated with the process, try Lumaskin.
Have You Used Lumnaskin?  Leave Your Review Below!
Click here to submit your review.
---
Scam!!!!!!
Lumnaskin Review – Is It Effective?
This is a scam! I saw an ad that said I could try this product and only had to pay $4.95 for shipping and handling but shortly after I was charged $70 & $80 and when I went to call and explain that this was a mistake not only was I given the run around they actually hung up on me twice. Plus when I asked to speak to a manager they just kept ignoring me. I don't believe this is a company in the up and up. I think it is just one big scam to take advantage of people.

---
Dermagevity
Lumnaskin Review – Is It Effective?
I have been using Lumnaskin product for about 3 years now. It is clean, fresh and definitely improves the appearance of the skin. I have no affiliation with the company, just a customer who is very happy and loves the product.

---
User Questions and Answers
User Questions and Answers
No Questions Have Been Answered For This Article.