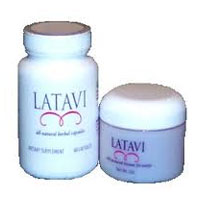 Latavi Breast Enhancement Review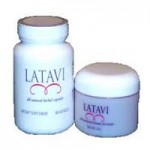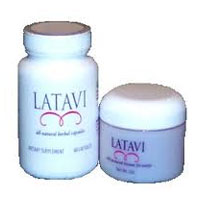 New to the breast enhancement market is the two-part product called Latavi. It uses a pill and a crème to create breast growth and tissue firming. This means it is marketed to women of all ages who are hoping to increase breast size and to repair sagging breast tissue. We were interested in learning what the two products contain and if they generate the same sort of results as the other "outside-inside" programs. We visited the manufacturer's website to find the ingredients and then scouted around for reviews.
How Latavi Works and Ingredients
Unlike other two-step programs, the makers of Latavi don't feel it necessary to freely list the ingredients. Instead, their website goes through a very prolonged explanation of the ways the body might fail to produce the chemicals necessary for larger breasts and how the two-step product addresses this for women of all ages. We were hoping to see a long list of phyto-chemicals from plants like saw palmetto, fennel seed powder, dong quai, damiana, wild yam, fenugeek and more, but this was totally absent. They also do not tell consumers what is in the crème to be applied to the breasts either. Though the text continually describes it as an alternative to surgery, it is difficult to know if this is possible because we cannot say what is in each of the compounds.
User Reviews
We started with professional reviews and found that these tended to agree with our general feeling that the manufacturer was not giving out adequate information for the kind of claims being made. Latavi is a two-part system, we understand that to be the case, but that is where the explanations end. Consumers and professional reviewers were not happy about being kept in the dark, and not many were comfortable purchasing another 30-days to see if they got better results over the long term.
A sample review of Latavi we found:
"I noticed only some firming in my breasts, but not enough to spend another $90 at the manufacturer's website."
Charlotte, TX
Where to Buy
The only place to purchase Latavi is directly through the manufacturer or an affiliate site. It is not that easy to come by in general and we don't honestly believe that the product has a lot of longevity in terms of gaining a wide following or audience.
Recommendation
Though we tend to approve of the two part systems with their breast cream and pills, we do not recommend Latavi. It just doesn't provide an adequate amount of information or noticeable results, and this means that it may not be worth the high cost asked for the formula.
User Questions and Answers
User Questions and Answers
---
Q: Where can I order Latavi? -Emily
A:
Hi Emily, I'm really not sure, this is a really old review so it may no longer be available. The one I've recommended for over 7 years is Total Curve pills and gel combo, it's been around a long time and is a quality product that works. Good luck, and thanks for your question. ~Rachel
Was this question helpful to you?

---