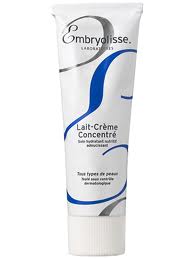 Lait-Creme Concentre Review – The Multipurpose Cream
Lait-Creme Concentre Overview
If you're French, or if you've been lucky enough to spend a brief spell living in or around Paris or the French countryside, you're probably very familiar with Lait-Creme Concentre from Embryolisse.  You can find it in just about every pharmacy in the entire country, not to mention every medicine cabinet and vanity.  What I'm trying to convey is that this multi-purpose wonder cream is ubiquitous in France, which makes it worth checking into stateside as well.
Lait-Creme Concentre is more than just a moisturizer.  Embryolisse claims that you can use it to remove makeup, to prime your skin for a fresh application, and that it's a great post-shave soother.  We found hundreds of really very favorable reviews for Lait-Creme Concentre, so let's take a deeper look.
Lait-Creme Concentre Ingredients and How They Work
Lait-Creme Concentre is not a natural product, but it is pretty simple.  There really isn't a whole lot more to it than the moisture.  What you'll find in the ingredients list for this water-based cream is:
Mineral Oil which is why Lait-Creme Concentre works as a makeup remover.
Shea Butter for rich emollience.
Aloe Barbadensis for soothing softness.
Hydrolyzed Soy Protein for superior hydration.
That's it.  No ultra-modern, highly tested, state-of-the-art anti-aging ingredients, nothing to plump out fine lines, no fancy particles to affect how light reflects off your face.  Just simple moisture.  Truthfully, I don't see why this stuff gets such great reviews. But the comment that pops up repeatedly is that it makes their skin feel soft and smooth, without greasiness.  And I guess when you find  something that does that and doesn't cost an arm and a leg, you go with it.
Lait-Creme Concentre Pros and Cons
Secure in the belief that there are both good and bad aspects to all things, we like to list them out together to make a fair comparision.
Advantages of Lait-Creme Concentre
It's quite inexpensive.
It comes in a convenient and sanitary tube.
The Lait-Creme Concentre reviews we've seen are overwhelmingly positive, saying that it's nicely moisturizing without being heavy.
Disadvantages of Lait-Creme Concentre
The mineral oil may clog pores so it's probably not the best choice for oily skin.
It's lacking in anti-aging ingredients so you may have to use a treatment in addition to this.
Where to Buy
You can purchase Lait-Creme Concentre online through beauty product retailers.  The 2.6 ounce tube retails for $28.
Conclusion
I certainly wouldn't recommend that it be the only product you use, but judging from the opinions of so many ladies, Lait-Creme Concentre is definitely worth having around.  Buy a tube first, and decide how you want to use it later.  Day cream, night cream, makeup remover, after-shave lotion.  There's bound to be something you love about Lait-Creme Concentre.
Have You Used Lait-Creme Concentre?  Leave Your Review Below!
User Questions and Answers
User Questions and Answers
No Questions Have Been Answered For This Article.