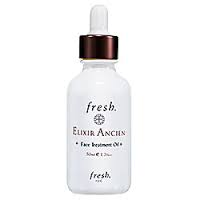 Fresh Elixer Ancien Review – Handmade to Perfection?
Fresh Elixer Ancien Overview
You know what I always say… If it's hand blended in a monastery in the Czech Republic, it's got to be good.  Okay, I jest.  But seriously, this is how Fresh Elixer Ancien is made, and I have to assume this is how they "justify" the extraordinarily high price tag ($260 for 1.7 ounces).  And since we started right off with the bad news, let's see if Fresh Elixer Ancien can work backward to convince us that it's worth every penny.
Fresh Elixer Ancien has been through a couple clinical studies.  Some of the findings are:
An immediate reduction in the number of wrinkles by 56%
An immediate reduction in the length of wrinkles by 62%.
After 24 hours, increased moisture.
After 3 weeks, increased elasticity, radiance, and plumpness to skin as well as a smoothing of fine lines.
Fresh Elixer Ancien reviews we've come across tend to be positive, but it's difficult to get out from under the heavy load of that $260 price tag.  What I mean is that it's got to be better than pretty good to be worth that kind of expenditure. Maybe the answer can be found in the formula.
Fresh Elixer Ancien Ingredients and How They Work
Fresh Elixer Ancien is a blend of precious oils, each with a unique and important benefit for your skin.  The primary ingredients in focus are:
Meadowfoam Seed Oil which is an easily absorbed fatty acid that moisturizes and nourishes your skin.
Seabuckthorn Oil which is rich in Omegas 7 and 9 as well as several antioxidants to protect skin against damages caused by the environment.
Black Currant Seed Oil which is full of antioxidants and protective properties.
Commiphora Extract which is soothing and calming to the skin.
Fresh Elixer Ancien comes in an eyedropper applicator.  Apply 1 to 2 drops to face and neck after cleansing and toning.  Lots of customers say it works best and absorbs quickly when you apply it just after cleansing, while skin is still damp.
Fresh Elixer Ancien Pros and Cons
Knowing what's good and what's bad about a product you're considering purchasing is a great way to come to the best decision as to whether or not to go forward.
Advantages of Fresh Elixer Ancien
It's got lots of antioxidants.
Most 

Fresh Elixer Ancien

reviews are positive about everything but the price.
Disadvantages of Fresh Elixer Ancien
It's super expensive
It contains a couple of oils that could be irritating to skin.
It may clog pores so wouldn't be appropriate for oily skin.
Where to Buy
You can purchase Fresh Elixer Ancien online, through QVC, or at Sephora.  The 1.7 ounce bottle retails for $260.
Conclusion
Fresh Elixer Ancien seems like an okay serum, but I'm just not willing to recommend that you spend this much money on an okay serum simply because it was handmade by monks in the Czech Republic. There are other, much less expensive products that can yield similar results.
Have You Used Fresh Elixer Ancien?  Leave Your Review Below!
User Questions and Answers
User Questions and Answers
No Questions Have Been Answered For This Article.