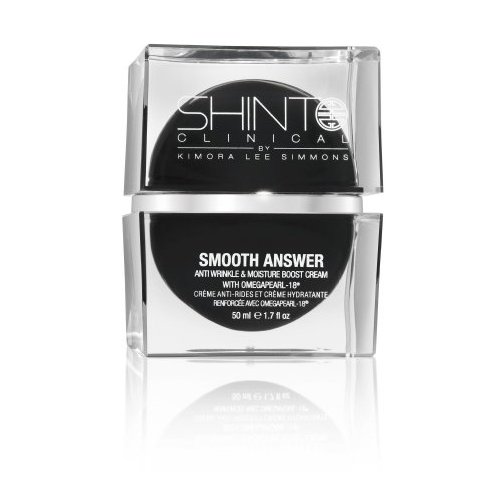 Shinto Clinical Smooth Answer Review – Does It Work?
Shinto Clinical Smooth Answer Overview
If it has to do with beauty or style, Kimora Lee Simmons has something to say about it.  She may be best known for starting and growing the Baby Phat brand, but she has branched out considerably from there.  Shinto Clinical is her mid to high end skin care line, and one of its most popular products is Smooth Answer Anti Wrinkle and Moisture Boost Cream.
Shinto Clinical Smooth Answer is a rich, velvety cream that binds moisture directly to the skin.  When it does this, what happens is a tightening and firming effect.  Your skin is instantly nourished and hydrated and you end up with a dewy, soft appearance.  As an added bonus, your pores will appear diminished as well.  According to an independent clinical study, Shinto Clinical Smooth Answer decreases the appearance of fine lines by up to 60% in one month's time.  It also boosts moisture by over 400% within only 2 days.
Shinto Clinical Smooth Answer Ingredients and How They Work
The Shinto Clinical website lists all the ingredients and goes on to explain the contributions of the active components.  The main active ingredient is OmegaPearl-18 Complex, which is made up of:
Pearl Powder – powder made from freshwater pearls, it contains minerals and amino acids that work against inflammation and toxins.  It also encourages skin cell turnover.
Wakame Kelp – inhibits the loss of hyaluronic acid in the skin. Hyaluronic acid is important because it attracts moisture to the skin, making it appear more firm and hydrated.
Beta-Glucan Mushroom – protects skin against immune dysfunction. It has been shown in clinical studies to hydrate skin and improve firmness, color, and elasticity.
Omega 3, 6, and 9 – essential fatty acids that relieve dry skin, making it more dewy and radiant.  They reduce inflammation, lessen the appearance of wrinkles, and improve skin's firmness.
Also in the formula:
Green Tea Leaves – which combat free radicals that contribute to the breakdown of collagen and elastic tissue in the skin.
Pomegranate – which promotes elasticity by prolonging the positive effects of fibrolasts which are the cells that manufacture collagen and elastin.
Vitamins A, B, and C – which nourish skin while providing free radical protection.
Coconut, Cocoa, and Shea Butters – for a rich creamy texture.
Shinto Clinical Smooth Answer Pros and Cons
Advantages of Shinto Clinical Smooth Answer
It has been clinically tested with positive results.
There are several positive Shinto Clinical Smooth Answer reviews.
The website explains how the ingredients work.
Customers love the look of the jar.
Disadvantages of Shinto Clinical Smooth Answer
It's pretty expensive.
Some customers think the scent is too overpowering.
Where to Buy Shinto Clinical Smooth Answer
The website sells a 1.7 oz jar of Shinto Clinical Smooth Answer for $65. It's also available at a similar price point at some other online retailers like Amazon.  It's also available at Nordstrom online, but we were unable to determine if that means you'd be able to find it at Nordstrom stores as well.
Conclusion
The clinical studies and positive customer reviews make Shinto Clinical Smooth Answer seem like it may be a great addition to your anti aging skincare regimen.  Unfortunately, it's a little on the pricey side.  If it is available at Nordstrom beauty counters, maybe you could get a sample or at least try it in the store.  That way, you can really know what you're getting before spending that much money.  On the other hand, if you're lucky enough that money is not an issue, we think you should give Shinto Clinical Smooth Answer a try.
Have You Used Shinto Clinical Smooth Answer?  Leave Your Review Below!
User Questions and Answers
User Questions and Answers
No Questions Have Been Answered For This Article.