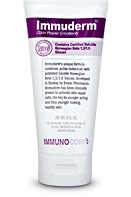 Immuderm Review – Does it Work?
Would you like it if your skin looked younger and acted younger?  According to Immunocorp, the manufacturers of Immuderm, that is what will happen when you use their product on a daily basis.  They claim that not only will your skin regain its dewy glow and fine lines and wrinkles will fade, it will also regain its resiliency and its youthful ability to defend itself from environmental assaults such as sun, smoke, and airborne pollutants.  They say it will ease the signs of stress and aging that appear on your face and your skin will become radiant.  Does Immuderm really have the power to deliver on its promises?
Immuderm – Its Ingredients and How it Works
The only official website to be found for Immuderm is a small site by the parent company where it promises to "give your skin the power to mend and defend".  The website actually provides very little information.  It's main purpose is to make pretty promises and to allow you to order the product for $89.95.  There is a page that lists all the ingredients, but there is no explanation at to why those ingredients would be  beneficial to your skin. There are a few ingredients that are natural elements, such as tea tree and sunflower oil, that are good moisturizers, but nothing shines through as a proven anti aging product. There was also no money back guarantee or free trials offered at the website.
More information was found at retailers' websites and in other reviews.  According to those sites, the old Immuderm website explained more about the beta glucan that is one of the primary ingredients in the cream.  Beta glucan is an extract from baker's yeast, but no one seemed to know why it would help improve skin.
All the reviewers were put off by the lack of information, clinical proof, or even customer testimonials to back up the claims made for Immuderm. However, at one retailer's site, I did find  some impressive customer reviews.
Where to Buy Immuderm
Immuderm is available from the Immunocorps website for $89.95 for 6 ounces.  It is offered at other websites as well, however, so if you choose to try Immuderm, do some comparison shopping first.  I found the cream available at Amazon.com for $52.95 for 6 ounces.
Immuderm Pros
Available at several online retailers
Can be used daily
Some happy customer reviews
Full ingredients list provided
Immuderm Cons
Uninformative website
Expensive
No guarantee
No clinical trials or explanation of ingredients
Our Conclusions
We like the fact that there were some independent consumer reviews from users that were satisfied with the results they experienced after using Immuderm.  The lack of information provided by the website and the apparent lack of any guarantees, however, are a complete turn off to me.  I felt it gives the impression the Immuderm manufacturer just doesn't care enough about its customers to put more effort into their website.  As a result, I just don't care to recommend this product.
Read about our Top Wrinkle Creams
Have You Tried Immuderm?  Leave Your Review Below!
How Women Found This Review:
and immuderm reviews, and immuderm
User Questions and Answers
User Questions and Answers
No Questions Have Been Answered For This Article.