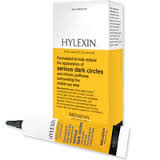 Hylexin Review – Does it Make Dark Circles Disappear?
Hylexin Overview
If you've been following along, you know I have some very specific requirements when it comes to eye creams.  My philosophy is that if you go through the bother of using a separate product on your eyes, it had better address the specific problems that are unique to that area.  Namely, dark circles and puffiness.  Anti-aging components that address lines and wrinkles should be included in products you use on your entire face.  An eye cream should be particularly suited for its specific purpose.  Many eye creams aren't.  Some are basically the same as any other cream, just sold in smaller packages at higher prices.
Hylexin is certainly a dedicated eye cream.  Made by Bremmen Research Labs, it even claims to only be for people with serious dark circle problems.  They explain it this way.  Some people get dark circles occasionally, after a particularly long night, or maybe several particularly long nights.  These are not the people Hylexin is made for.  Hylexin is made for people who inherited thin skin under their eyes and broken or leaky capillaries that cause that bluish purple darkness that makes them look always drained.  The Hylexin reviews we've found from customers have been very mixed.  Some people love it and say it really works.  Others are seriously disappointed.  So our next step is to look at the formula.
Hylexin Ingredients and How They Work
Hylexin contains an ingredient that has been studied and shown to repair leaky capillaries and use enzymatic activity to help stop the formation of the bluish-red coloring beneath the eyes.  It's called Hesperidne Methyl Chalcone.
Additional anti-aging ingredients include:
Glycerin for skin identical moisture.
Silica to smooth out the skin.
Peptides to stimulate the production of collagen to firm up the skin and it's support structure.
You are instructed to apply Hylexin twice a day to clean skin by gently applying under your eyes and lightly rubbing it in until it is absorbed.  You may feel a warm sensation that lets you know it's working.
Hylexin Pros and Cons
Advantages of Hylexin
The tube packaging is sanitary and helps make sure the ingredients remain stable.
There is a 30 day  money back guarantee if you buy from the manufacturer.
Some reviewers say it works like a charm.
There are a couple of good anti-aging components.
Disadvantages of Hylexin
It is expensive.
There are lots and lots of Hylexin reviews from disappointed customers who found it just didn't work like they'd hoped.
Where to Buy
If you purchase Hylexin through the Bremenn Research Labs website, the ½ ounce tube sells for $59 and there's a 30 day money back guarantee.  You can also find it for less at other online sites like Amazon and Skinstore.
Conclusion
If you're plagued with serious dark circles, you'll probably try anything to make them go away.  If that's the case, I wouldn't blame you at all for trying Hylexin.  It seems like there are some people who've been helped, so if that's true, maybe it could help you.  I'd buy it from the website so you can return it if it doesn't work.
Have You Used Hylexin?  Leave Your Review Below!
User Questions and Answers
User Questions and Answers
No Questions Have Been Answered For This Article.