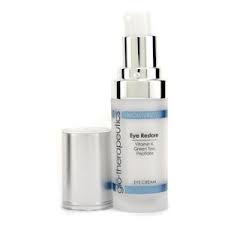 gloEye Restore Review – A Triple Threat?
gloEye Restore Overview
It's really very simple.  We want an eye cream that does it all.  Is that too much to ask?  Lots of products promise they do it all.  But very few deliver.  Let's step back just a moment to define what "all" is.  When it comes to eye creams, all means minimizing fine lines and wrinkles, reducing puffiness, and eliminating dark circles, whatever their cause or origin.
Our latest contender is gloEye Restore, and it certainly makes the promises we look for.  According to the marketing materials,  this multi-tasker has been clinically studied and shown to improve fine lines by 57% and increase skin's firmness by 27%.  And it doesn't neglect the other eye issues of puffiness and dark circles.
The gloEye Restore reviews we've seen are really quite positive, so let's go deeper and find out if this is a product we can count on to deliver.
gloEye Restore Ingredients and How They Work
The gloEye Restore formula is actually packed with beneficial ingredients, so we'll touch on the highlights here:
For moisture and hydration, there's Glycerin, Shea Butter, and several Botanical Oils.
For moisture barrier protection, there's Niacinamide and Allantoin
For antioxidant protection, there are several botanical extracts as well as Vitamin E.
For skin's support structure, there are collagen building peptides
For lightening dark circles, there's Titanium Dioxide.  This has a lightening effect, but it is temporary, and washes off when you cleanse your skin.
It is recommended that you use gloEye Restore morning and night for your best results.
gloEye Restore Pros and Cons
Advantages of gloEye Restore
It contains several good anti-aging ingredients offering numerous benefits.
It's reasonably priced.
The vast majority of gloEye Restore reviews from customers we read were glowingly positive.  People are getting good results with this stuff.
Disadvantages of gloEye Restore
Where to Buy
You can purchase gloEye Restore online through several different retailers. The half ounce pump generally retails for about $20.
Conclusion
If you want something affordable, that can address all the typical concerns surrounding the skin around your eyes, gloEye Restore is a good product to try.  Most everyone who uses it loves it, and a recommendation really can't get much better than that.
Have You Used gloEye Restore? Leave Your Review Below!
User Questions and Answers
User Questions and Answers
No Questions Have Been Answered For This Article.