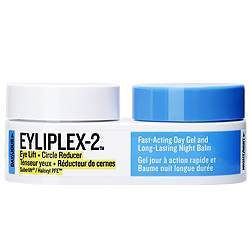 Eyliplex-2 Review – How Effective Is It?
Eyliplex-2 Overview
The real giveaway to someone's age is often their eyes.  Little lines and crows feet, shadows, and puffiness are all telltale signs of aging.  Eyliplex-2 from Good Skin Labs is a treatment created to help reduce those symptoms and  restore a more youthful look.  Does it effectively rejuvenate the problematic eye area?
Eyliplex-2 – Its Ingredients and How it Works
When you purchase Eyliplex-2, you actually get two treatments in a dual container that looks like a big contact lens case.  One of the treatments is Fast Acting Day Gel and the other is Long Lasting Night Balm. This regime is supposed to give the skin around the eyes support around the clock.
The day gel is meant to lighten and lift the skin, making it look smoother and less tired. It is said to produce immediate results.  This formula contains Rho-Cite an "exclusive antioxidant and mineral complex",  Suberlift to fill in lines, and Haloxyl PFE, an ingredient often found in skin lightening formulas.
The Eyliplex-2 night balm also contains Haloxyl PFE. Both products leave a lot to the imagination when it comes to deciphering exact ingredients in the formulas.
They do claim clinical results show that Eyliplex-2 resulted in 64% of participants reporting an immediate improvement and younger looking eyes.  After using the products for four weeks, 20% of subjects noticed a visible diminishing of under eye shadows and 31% said their skin was firmer.  Eight weeks of use resulted in 56% saying they could see a lifting of the skin. It is not stated whether the clinical tests were conducted by an independent tester of if the company conducted the tests themselves.
Where to Buy Eyliplex-2
Eyliplex-2 is available exclusively at Kohl's retail stores and Kohls.com. The price is $39.50 and that includes both the day gel and the night balm.
Eyliplex-2 Pros
Good price for 2 products
Easily found at Kohl's stores or their website
Eyliplex-2 Cons
Complete ingredients not disclosed
Questionable, unimpressive clinical test results
No guarantee located
Our Conclusions
This product is affordable and comes in innovative packaging.  It's convenient to be able to visit your neighborhood Kohl's store and pick it up.  Unfortunately, we are failed to be impressed by trademark ingredients that don't really tell us what is in the formula and the clinical test results are not only disappointing but are unable to be verified.  It seems that too much information is being withheld about Eyliplex-2 so we are unable to give it our stamp of approval.  We suggest that you choose an anti-aging eye treatment that is more transparent about what is really in it.
Have You Tried Eyliplex-2?  Leave Your Review Below!
User Questions and Answers
User Questions and Answers
No Questions Have Been Answered For This Article.