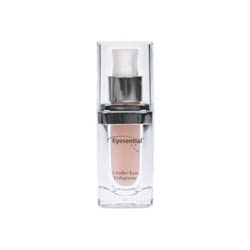 Eyesential Review – Is it Effective?
Eyesential Overview
Want to know about one of the "beauty secrets of the stars"? Eyesential Under Eye Enhancer claims to have been used by celebrities for over 30 years and now you can  use Eyesential, too.  The product promises to reduce fine lines and wrinkles and lessen the visibility of dark under eye shadows and puffiness.  Does it live up to its claims or is it just another Hollywood tale?
Eyesential – Its Ingredients and How it Works
Eyesential says you'll look years younger just minutes after you apply this cream.  Skin will tighten, wrinkles will disappear, and those pesky dark circles below your eyes will vanish. According to the manufacturer, this was one of Hollywood makeup artists' best kept secrets until the product became available on the open market. To support that claim, the Eyesential marketing materials include a list of celebrities that have used the product, superstars like Sara Jessica Parker, Madonna, Brad Pitt, and George Clooney.
Unfortunately, that is almost all the information about Eyesential available at this time.  There doesn't seem to be a working website for the product and it was impossible to find a list of ingredients used in this under eye cream.  Of course, there is no clinical test results provided. either.
Some of the retailers' websites did include some videos showing the effects of Eyesential.  A dab of the cream is gently rubbed into the skin beneath the eye.  The directions instruct you to wait 3 minutes for the cream to dry completely.  At the end of that time, the area should be less puffy, lighter and brighter, and you will no longer see lines and wrinkles. The effects are temporary and are said to last about 10 hours.
Where to Buy Eyesential
There are several websites offering Eyesential for sale.  Prices vary considerably between websites, ranging from $69 to $99, so some comparison shopping will be needed if you decide to give this eye cream a try.
Eyesential Pros
Works quickly
Available at multiple websites
Claims to have been used successfully by celebrities for three decades
Some positive reviews online
Eyesential Cons
No working website
No ingredients list available
No results of clinical trials
No guarantee shown
Our Conclusions
The list of celebrity that supposedly love and use Eyesential is impressive since it includes some of Hollywood's favorite stars.  What they fail to tell us, though, is any information we can use to judge the product.  There is no working website, no ingredients list, and no testimonials from any of the celebrities mentioned in the marketing material.  We love the idea that this product  makes us look younger in just 3 minutes, but there is not enough information available for us to feel justified in recommending it.  Until those circumstances change, my suggestion is to pass the Eyesential.
Have You Tried Eyesential?  Leave Your Review Below!
User Questions and Answers
User Questions and Answers
No Questions Have Been Answered For This Article.