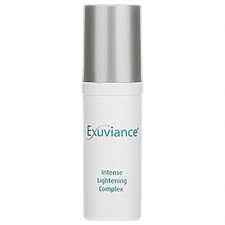 Exuviance Intense Lightening Complex Review
Exuviance Intense Lightening Complex Overview
Lightening dark spots on your skin is not an easy or quick process.  Anyone who's tried it knows this. You buy a product from the drugstore because you saw a commercial or magazine ad, and you think your skin will be bright and even in a week.  Well, sadly, this is not the case.  Skin lightening is slow, and it usually isn't complete.  That said, real progress can be made if you find the right product and stick with it.  The trick is finding that right product.
Exuviance Intense Lightening Complex from NeoStrata is a serious contender, and it's the one we're looking at today.  The promises are that this light lotion will lighten skin discolorations such as freckles, old acne spots, age spots, and dark patches caused by pregnancy or hormonal birth control.  An important addition is that it stimulates skin cell turnover.  This is extremely helpful for skin lightening since it's the newer skin that will most show the difference in tone.  So the first thing we'll do is check into the formula and see what we find.
Exuviance Intense Lightening Complex Ingredients and How They Work
I have to admit.  This is starting to look good.  There's:
Hydroquinone at 2%.  This is the most recommended skin lightening ingredient we have.  Dermatogists use it at a higher concentration, but 2% is the max allowed without a prescription.
Polyhydroxy Acids for real chemical exfoliation.  This is important because in order for dark spots to go away, you have to remove that outer layer where they've been imprinted.  Without further intervention, the spots will just keep coming back, but without exfoliation, you'll get nowhere.
Kojic Acid is the most popular natural skin lightener we have.  It works a lot like Hydroquinone in that it inhibits the production and action of melanin, which is the dark pigment in skin.
It's recommended that you use Exuviance Intense Lightening Complex by applying a thin layer to the affected area just after cleansing twice a day.  Because of the Hydroquinone, they say you should discontinue use if you don't see results in 3 months.
Exuviance Intense Lightening Complex Pros and Cons
Advantages of Exuviance Intense Lightening Complex
It's got ingredients that should work.
Most Exuviance Intense Lightening Complex reviews we've seen are positive, with customers saying it really lightened their dark spots.
It's made by the well-respected NeoStrata company.
Disadvantages of Exuviance Intense Lightening Complex
Hydroquinone may be associated with a skin disease that involves the thickening and hardening of skin.
The results may not be as dramatic as you might hope for.
Where to Buy
You can purchase Exuviance Intense Lightening Complex online or in stores like Ulta.  The  1 ounce pump sells for $55.
Conclusion
If you're willing to try whatever it takes to get rid of your dark spots, Exuviance Intense Lightening Complex should be on your list.  The ingredients are effective, the price isn't too terribly bad, and the customer feedback is overwhelmingly positive.
Have You Used Exuviance Intense Lightening Complex?  Leave Your Review Below!
User Questions and Answers
User Questions and Answers
No Questions Have Been Answered For This Article.