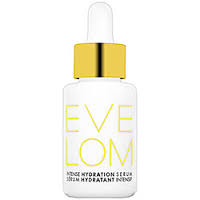 Eve Lom Intense Hydration Serum Review
Eve Lom Intense Hydration Serum Overview
One of the most important things to note about the Eve Lom line is that the products are mainly fairly simple, each one addressing basically one issue.  This may be a good thing or a bad thing depending on your perspective I suppose.  On the one hand, maybe you don't want ingredients addressing problems you don't have.  On the other hand, maybe you don't have thousands of dollars to spend on 5, 6, 10 different treatments, each targeting only one problem.
Well, with that said, we're looking today at Eve Lom Intense Hydration Serum.  The one issue here is hydration.  To be sure, it's an important issue.  Even for oily skin and especially for dry skin, hydration is at the core of all skin improvements.  And if the hydration uses skin-identical technology, all the better.
The promise of Eve Lom Intense Hydration Serum is that it gives your skin an instant and long-lasting moisture surge and visibly plumps up skin, making lines and wrinkles less visible.  It's concentrated, yet easily absorbed, and it provides the basis for all other skin care to work, by creating of your skin a smooth, well-hydrated canvas.
Eve Lom Intense Hydration Serum Ingredients and How They Work
Being a one-issue product, the Eve Lom Intense Hydration Serum formula is very simple indeed.  There are only two key ingredients, and they are both found naturally in skin, though in smaller and smaller amounts as we get older:
Glycerin which is naturally present in skin, though not at high enough levels as you get older.  It attracts moisture to skin and helps skin repair itself.
Sodium Hyaluronate which is the form of Hyaluronic Acid that is best absorbed by skin when applied topically.  Hyaluronic Acid attracts and binds to water molecules. This has the effect of hydrating skin while also plumping out and filling in lines and wrinkles.
And that's it.  Very simple indeed.  You should apply 2-3 drops to face and neck using the eye dropper pipette after cleansing and before moisturizing or applying another treatment.
Eve Lom Intense Hydration Serum Pros and Cons
Advantages of Eve Lom Intense Hydration Serum
It contains two very good skin-identical hydrators.
The opaque bottle will maintain the ingredients' integrity.
Eve Lom Intense Hydration Serum reviews indicate that it provides hydration without causing breakouts.
It's hydrating enough to be used alone if your skin is oily, and helps boost the effect of your subsequent moisturizer if your skin is dry.
Disadvantages of Eve Lom Intense Hydration Serum
It's very expensive, considering its simplicity.
It addresses only the issue of hydration.
Where to Buy
You can purchase Eve Lom Intense Hydration Serum at Sephora or Nordstrom locally, or if you prefer, it's available through several online retailers.  The 1 ounce bottle retails for $95.
Conclusion
Clearly, Eve Lom Intense Hydration Serum is good at what it does.  So in that sense, it's a great product.  The only problem is that many, perhaps most, women need their skincare products to address more of their anti-aging needs, especially the ones that cost this much.
Have You Used Eve Lom Intense Hydration Serum?  Leave Your Review Below!
User Questions and Answers
User Questions and Answers
---
Q: What are all the ingredients in Eve Lom serum? -Barbara
A:
Barbara, their ingredients are very simple, I copied this from Sephora's website. Mainly glycerin and hyaluronate acid.

Water, Glycerin, Phenoxyethanol, Sodium Hyaluronate, Panthenol, Ethylhexylglycerin.
Was this question helpful to you?

---