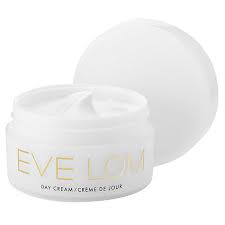 Eve Lom Day Cream Review – Simply the Best?
Eve Lom Day Cream Overview
Sometimes simple is best.  Not always, but sometimes.  This appears to be the approach of Eve Lom Day Cream.  It's not loaded up with anti-aging powerhouse ingredients.  It doesn't have a big fancy name.  It's not even organic or all-natural.  It's just Eve Lom Day Cream, and here's what it claims to do:
Softens and soothes skin, increasing suppleness.
Reduces the appearance of fine lines and wrinkles.
Provides antioxidant protection against environmental damage.
Leaves skin with a matte finish perfect for using under your makeup application.
All simple claims that any day cream could make.  So lets see the formula to determine whether or not in this case simple equates to effective.
Eve Lom Day Cream Ingredients and How They Work
Cocoa Butter and Avocado Oil are there to provide moisture and emollience, to soften and condition the skin.
Sesame Oil fortifies the skin's moisture barrier to help lock moisture in for all day hydration.
Vitamin E nourishes skin and provides antioxidant protection against environmental aggressors.
Plant Oils to provide further antioxidant protection.
The marketing materials talk about how Eve Lom Day Cream controls excess sebum production, but does not indicate what ingredient or ingredients in the formula are responsible for that effect.
You should apply Eve Lom Day Cream to your face after cleansing and treating, before applying makeup.
Eve Lom Day Cream Pros and Cons
Separating out and really taking a look at what's good about a product and what's not so good about it is a great way to figure out whether or not it's worth your time and money.
Advantages of Eve Lom Day Cream
It's simple and hydrating.
It's appropriate and effective for sensitive skin.
Disadvantages of Eve Lom Day Cream
It doesn't contain sunscreen.
The jar packaging means the antioxidant ingredients won't last.
Some Eve Lom Day Cream reviews indicate that it's not hydrating enough.  Others indicate that it's heavy and doesn't absorb.
Where to Buy
You can purchase Eve Lom Day Cream online through several retailers, including the Eve Lom website.  The 50 ml jar sells for about $70.
Conclusion
In the case of Eve Lom Day Cream, I'd say simple costs too much.  It's a fine day cream, but there's nothing in I to justify the price you'd pay.  If you're going to go with simple, it shouldn't be so expensive.
Have You Used Eve Lom Day Cream?  Leave Your Review Below!
User Questions and Answers
User Questions and Answers
No Questions Have Been Answered For This Article.