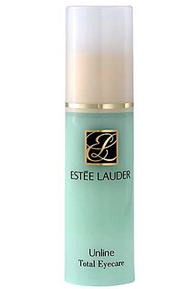 Estee Lauder Unline Total Eyecare Review
Estee Lauder Unline Total Eyecare Overview
No one wants to have unsightly fine lines and wrinkles around the eyes give away how old they actually are.  Everyone wants to hear that they look younger than they really are.  If you want to achieve this without the expense and inherent danger or plastic surgery than it is time to identify an eye cream that works well for your skin type.  After reviewing various types of anti aging skin creams, perhaps Estee Lauder Unline Total Eyecare is right for you.  Estee Lauder has long been a leader in producing beauty products that work well with all skin types.  This product is specifically designed to smooth out fine lines round the eyes and prevent dry skin in that sensitive area.  The product also works to help prevent more lines from appearing in the future.
How Estee Lauder Unline Total Eyecare Works and Ingredients
Antioxidants are very important if you want to maintain good skin health and this product contains a number of powerful antioxidants in the form of Vitamins A and C, as well as green tea extract.  Antioxidants help to protect the skin from free radical damage which can become more severe with overexposure to the sun.  Estee Lauder Unline Total Eyecare is lightweight and provides the moisture that the sensitive skin under your eyes so desperately needs. Not only does it help to moisturize the skin because the formula is lightweight it also helps makeup to stay in place when it is applied over the cream.  Estee Lauder products have long been respected for their quality ingredients and effectiveness and this product is no different.
Estee Lauder Unline Total Eyecare Pros and Cons
Even when a product is manufactured by one of the biggest producers of beauty products and cosmetics in the world there are still pros and cons that need to be considered if you are going to make the right choice about an eye cream.
Advantages of Estee Lauder Unline Total Eyecare include:
The pump is designed to dispense just enough product for each eye to avoid waste
The product is approved by dermatologists and ophthalmologists
Several natural ingredients used
Disadvantages of this product include:
The product is lightweight, but still a bit greasy
There is not enough information about the product on the official Estee Lauder website
There are not truly revolutionary ingredients in this product
It is somewhat alarming that when searching for this product on the Estee Lauder website the search turned up no matches.
Where To Buy Estee Lauder Unline Total Eyecare
Oddly enough the Estee Lauder website is not the place to go if you want to find the Estee Lauder Unline Total Eyecare, which will likely cost you about $40.  Estee Lauder products are sold at a variety of fine retailers including Nordstrom and Macy's though you may not be able to find this specific product.  A diligent search of the web turned up a few different smaller online retailers that carried the product. The lowest price found was $40.
Conclusion
Estee Lauder offers a number of different eye care products, but Estee Lauder Unline Total Eyecare may be one to stay away from if you can even find it at all.  The fact that Estee Lauder produces so many different skin care products means that products get rolled out and then taken off the shelves fairly regularly and this is perhaps the case with this product.  This usually means that the product was not really the best one on the market and you should probably look elsewhere for your eye care needs.  At the $40 price point there are several products that work better than this one and are much easier to find.
Have you tried Estee Lauder Unline Total Eyecare?  Leave your review below!
User Questions and Answers
User Questions and Answers
No Questions Have Been Answered For This Article.