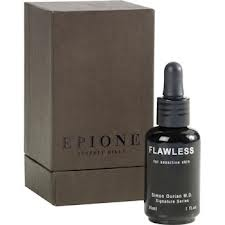 Epione Flawless Review – Forever Young?
Epione Flawless Overview
Epione Beverly Hills is a beauty spa and boutique made somewhat famous by the Real Housewives of Beverly Hills.  They and many famous faces in Hollywood are regular recipients of treatments at the spa and devotees of its founder, Dr. Ourian.  The products formerly used only on clients are now available to the general public, though they're expensive, so using the term "general public" may be a bit of an exaggeration.
Epione Flawless is a signature product of the line.  Recommended by Allure Magazine in their special "Beauty Secrets of the Real Housewives of Beverly Hills" edition, it's an anti-aging serum that claims to smooth fine lines and wrinkles, and dramatically improve the look and feel of your skin, while also providing protection against the environment.  This thick, intense serum is supposed to tighten skin, minimize pores, and create a smooth, toned surface.  It also constructs a moisture barrier to maintain proper hydration levels for your skin.
Epione Flawless Ingredients and How They Work
The Epione website does not list the ingredients in Epione Flawless.  This is a little strange because the site does list ingredients for many of the other products.  None of the third party retailer sites list the ingredients either.  We found what we assume to be an abbreviated list of key ingredients through Allure Magazine, and they are – in a word – disappointing.  Three are listed and they are all forms of silicone:
Dimethiconol
Cyclopentasiloxane
Cyclotetrasiloxane.
Now, we're not saying there's necessarily anything wrong with silicone in your anti-aging products or in Epione Flawless.  To the contrary, it does a great job of creating the appearance of a smooth surface for your face, great for using under makeup.  The problem is that silicones don't do anything to treat aging skin.  They are simply a temporary fix.  And for almost $200, we want more than a few silicones we can get in a drugstore brand for a small fraction of the price.
We really tried to track down the full list of Epione Flawless ingredients, but to no avail.  This is definitely a bit worrisome because if these three silicones are the main actives, then we can't really see why anyone would use it, much less pay a lot of money for it.
Epione Flawless Pros and Cons
Advantages of Epione Flawless
It provides a moisture barrier.
The dark bottle and eye dropper dispenser will keep active ingredients (if there are any) intact.
Epione offers a money-back guarantee good for 30 days.
Disadvantages of Epione Flawless
It's expensive.
There are no known ingredients in the serum to help you win the fight against aging skin.
Many Epione Flawless reviews comment on how thick the serum is and as a result how quickly you can go through a bottle.
Where to Buy
Currently, there are a few different places you can buy Epione Flawless online.  The website sells the 1 oz bottle for $195.  Amazon sells it for $132.  And Costco's got it for $90. We can't vouch for the authenticity at any of the third party retailers, but we haven't seen complaints about either of the sites mentioned.  Costco as a 90 day return policy, so if you're a member, perhaps that would be the way to go.
Conclusion
We really don't see any reason to buy this stuff. Epione Flawless doesn't distinguish itself in any way except price.  I guess sometimes the old adage, "you get what you pay for" doesn't apply.
Have You Used Epione Flawless?  Leave Your Review Below!
User Questions and Answers
User Questions and Answers
---
Q: Is dermawand good -Rioma
A:
I haven't tried it but it looks like a free trial, here are their terms and conditions just so you're aware:

*Offer Terms: We will charge your card just $14.95 processing and handling today for your free DermaVitál® kit. There will be no charge to your credit card for your DermaWand® itself until 30 days after you receive it. Approximately 30 days after your receipt of DermaWand®, the card you used today will be automatically charged $39.95 plus $19.95 S&H. The remaining of two payments of $39.95 will be automatically charged to the card you've used today in 30 day increments. If you are not satisfied for any reason and you are in within 30-day satisfaction guarantee period, just contact customer service for return instructions. PLEASE NOTE : The DermaVitál® processing and handling charge is not refundable. Applicable taxes will be applied to orders from AZ, CA, GA, NV and PA. Canadian orders will also be subject to the appropriate sales tax.
Was this question helpful to you?

---