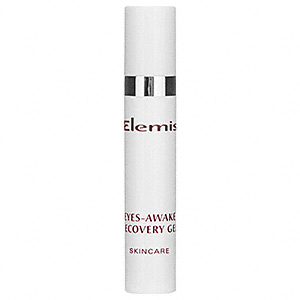 Elemis Eye Awake Recovery Gel – Does it Work?
Elemis is a leading luxury spa skincare line from Britain and is also sold in most high end stores such as Nordstrom. They make all kinds of skincare products and pride themselves on the ingredients of essential oils and aromatherapy. The Elemis Eye Awake Recovery Gel was created to reduce puffiness and provide instant relief from any eye strain, as well as soothe and hydrate the eye area. It has a gel like texture and is fragrance-free.
MarieClarie.com actually named Elemis Eye Awake Recovery Gel as one of their "buys of the day." But is this smell-good spa luxury product all its cracked up to be?
Elemis Eye Awake Recovery Gel Ingredients
The main ingredients in Elemis Eye Awake Recovery Gel are aromatic water of blue cornflower, chamomile, and mallow, which are all soothing, hydrating and relieve inflammation.  Polysaccharides actively support and moisturize the skin, while cooling horsetail, also known as "mare's tail" constricts tissue to help reduce puffiness around the delicate eye area. In fact horsetail is commonly used as a diuretic to reduce swelling caused by excess water retention, however it can be irritating to sensitive skin.
Other Elemis Eye Awake Ingredients:
Water (Aqua), Propylene Glycol, Centaurea Cyanus Flower Extract, Malva Sylvestris (Mallow) Extract, Chamomilla Recutita (Matricaria) Extract, Equisetum Arvense Extract, Sclerotium Gum, Carbomer, Tromethamine, Methylparaben, 2-Bromo-2-Nitropropane-1,3-Diol, Sodium Benzoate, Propylparaben.
Elemis Eye Awake Recovery Gel Pros and Cons
When investing into an eye serum or cream, its best to weigh the pros and cons before making the decision. In my opinion, why buy an expensive  eye serum that only fights puffiness when you can buy one that reduces puffiness AND fight wrinkles all in one shot? When I was 20, my first eye gel was Clinique's "No Puffery Cooling Eye Gel." While it was great at fighting puffiness, it did nothing for my fine lines  and left a sticky residue which gels usually leave.
Elemis Eye Awake Recovery Gel Pros
Cruelty Free

Frangrance free
It does what it's supposed to do
Smart packaging
Lightweight consistency lets you apply makeup without slippage
Instant gratification
Paraben Free
40% of customers said they would buy it again
Elemis Eye Awake Recovery Gel Cons
Expensive, $67 for 0.5 oz
Doesn't really have an anti-aging benefits
Customers complain of flaking
Complaints of the eye cream being average
Where to Buy Elemis Eye Awake Recovery Gel
While the Elemis brand itself is not hard to find (their more popular products), the Elemis Eye Awake Recovery Gel is extremely hard to find in stores.  The only place we could find it for purchase was online from the Elemis.com website, however it has a special link to purchase within the US and the link was not functioning (I received an error when I tried to purchase). We could not find this particular product on Amazon or Dermstore.com.
Elemis Eye Awake Recovery Gel Conclusion & Recommendation
From what most reviewers say about Elemis Eye Awake Recovery Gel, it is just an average eye gel that provides hydration and relief. With that kind of sticker price you should be getting anti-aging benefits as well, and with all the complaints about flaking occurring, I wouldn't make that kind of investment. Personally I much prefer a serum to a gel. Gels oftentimes leave a sticky residue while a serum, with its smaller molecules, allow the skin to absorb 10-15x more of the active ingredients.
I highly recommend Elite Serum RX , which not only reduces puffiness in less than 2 minutes, but it contains Dr. Oz recommended Argirilene, which relaxes the muscles which cause wrinkles to form. It also contains peptides to stimulate collagen production to plump up the eye area. It's my #1 eye treatment with proven results!
Have you used Elemis Eye Awake Recovery Gel? Leave us your review below!
User Questions and Answers
User Questions and Answers
No Questions Have Been Answered For This Article.