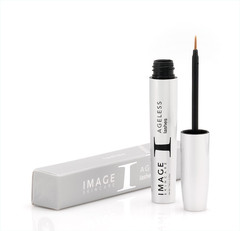 Image Ageless Lashes Review
For starters, Image Skincare is hands down one of the best skincare lines out there, I've used many of their products including moisturizers and peels and had very good results. Unfortunately, for most people it's hard to get if you don't have at minimum, an aestheticians license (which I do). But if you do your research, you can probably find it at your local spa. Image Ageless Lashes is specifically indicated for sparse and dull-looking and thin, brittle eyelashes.
Image Ageless Lashes is a great lash building serum that goes on just like a liquid eyeliner and works by stimulating follicle growth. It is made to improve the thickness, strength, and length of your lashes. It's a gel like substance that actually used to come in a black and blue formula, but it looks like they've gone back to just carrying the clear color, which is the same one that I have. Image Ageless Lashes comes in a .27 oz package and sells between  $44.00 and $54.00.
Many people who are battling Cancer and Alopecia have benefited from this product. Although it seems to take up to 8 months for Image Ageless Lashes to reach it's full potential, there haven't been many complaints. The wonderful thing about the Image Ageless Lashes is that there is a low risk of side effects, unlike so many lash growth products out there.
The side effects in other products can be as serious as altering the color of your iris! Be careful! In the event of possible allergic reactions, it is recommended that you perform a skin sensitivity test first before using the product.
Image Ageless Lashes Ingredients
Follicusan- Stimulates lash groth by promoting new collagen synthesis
Clotsfoot Flower Extract- Moisturizes the eyelash strands
Achillea Millefolium Extract- Nourishes the eyelashes
Cinchona Succirubra Bark Extract- Hydrates the eyelashes
Hydrolyzed Soy Protein- Helps repair broken strands of eyelashes; promotes growth 
Paraben free
Prostaglandin and drug free
Image Ageless Lashes Pros
Affordable price, but no specials (ex. buy 2, get 1 free)
Easy application
Positive reviews
Real results
Image Ageless Lashes Cons
Hard to find product
Takes a long time for product to work
Where to buy Image Ageless Lashes
As I mentioned previously, it's harder to find Image Ageless Lashes when you are out and about. Many spas carry Image Skincare so my suggestion is to google your local spas. You can also find Image Ageless Lashes on Amazon for a cheaper price of $44.29.
Conclusion
With all the lash enhancement products out there with their weird side effects, I'd recommend Image Ageless Lashes over most of them, especially because the price point is so low and it seems to have good reviews with little side effects reported. As long as you have internet access, you should be able to find the product. Image Skincare is a wonderful skincare line. I highly recommend many of their products.
Products Similar to Image Ageless Lashes
One of the most talked about eyelash enhancers is Idol Lash, and we have a review for you right on Womens Blog Talk! It has been extremely popular so do your research before making that final decision!
Have You Used Image Ageless Lashes? Leave Us Your Review Below!
User Questions and Answers
User Questions and Answers
No Questions Have Been Answered For This Article.