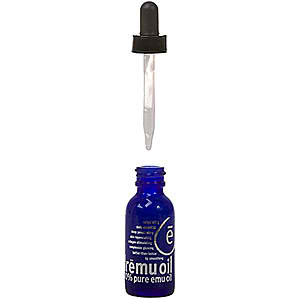 Dremu Oil Review – Does It Really Fix Everything?
Dremu Oil Overview
Dremu Oil is a light and non-pore clogging oil that reduces wrinkles without using needles. It absorbs immediately into the skin and is known as the world's most effective moisturizer. It does more than just help reduce wrinkles. Dremu Oil also quickens the healing process on wounds and burns, soothes roughness and moisturizes dry and chapped skin.
How Dremu Oil Works
It is recommended to only use 2-4 drops of Dremu Oil over your entire face. It contains fatty acids that regrows collagen and does not clog pores. Dremu Oil is hypoallergenic so anyone can use it and also offers benefits of an anti-inflammatory and pain relieving. Clinical research has shown that it has the same irritation level as water so anyone can use it. There is only one ingredient and that is pure triple-refine Emu oil. There are no preservative, stabilizers, fragrances or any other ingredients mixed with this product.
Dremu Oil Benefits
It not only helps get rid of wrinkles but of acne as well.
It has no scent.
It comes from humanely treated and free range Emus.
Dremu Oil helps to get rid of stretch marks.
Dremu Oil Drawbacks
It is expensive for only a .5 ounce bottle.
There are not that many reviews found that are good or bad.
Where to Buy Dremu Oil
Unfortunately, Dremu Oil is only sold online. Those online stores include Amazon, dremu.com, dermstore.com, essentialdayspa.com, buycheaper.com, dermatologistrx.com  and eskinstore.com.
Recommendation
Dremu Oil is a fabulous product that not only reduces wrinkles but has loads of other benefits as well. It can be used on babies for diaper rash, cuts, burns and even on your pets. The uses for Dremu Oil are endless. The website was very thorough and informative and provided a wonderful question and answer page that covers the majority of questions that people will ask.
It is a little pricey, but the amount of Dremu Oil that you actually use is very small so the 0.5 ounce bottle will last a long time. There were some reviews posted and they were all positive. It stated that it was clinically proven to help reduce wrinkles, but it would have been nice to see results from the studies. Overall, this is a product that you want to have in your bathroom cabinet.
Have You Used Dremu Oil Leave Your Review Below!
Click here to submit your review.
---
Amazing product
Dremu Oil Review – Does It Really Fix Everything?
I'be been using this product for about 8 years, and I can honestly say that it's the best moisturizer I've ever used. I have acne prone, sensitive, dehydrated, aging (late forties) skin. But this oil has kept my skin looking and feeling healthy, hydrated, radiant and I've never had any breakouts from it. I call George at Dremu to place an order every 6-7 months, he's the best!

---
RN
Dremu Oil Review – Does It Really Fix Everything?
This product has saved my skin!! Healthy Skin -soft-hydrated- and many less wrinkles. Excellent Customer Service to the point I call them family!! This product WORKS!

---
User Questions and Answers
User Questions and Answers
---
Q: how much is the dremu oil and what are the ingredients in the bingo lip serum? -
A:
Hi there, a 1 oz bottle of Dremu Oil (made from the Emu animal) runs about $149. Give a look to the Beautycounter No. 2 Plumping Oil. It's fabulous and a bottle costs $69. No animals use, just natural plant based and seed oils, nothing toxic. You can read about all 3 Beautycounter oils in my review here. My dad likes emu oil for his dry hands but I don't like the idea of using animal oils... because you know there is some detriment to the animal, and forget putting it on my lips, I use the peppermint lip balm.  Thanks for your question! xo Rachel
Was this question helpful to you?

---