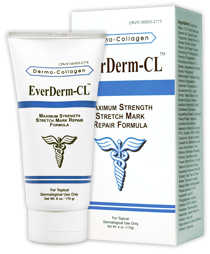 Everderm-CL Review – Is It Really That Great?
Everderm-CL Overview
Everderm-CL is a cream that has ingredients that reduce stretch marks, scar tissue and wrinkles. It contains Biopeptide-CL that will help to improve the production of collagen and hyaluronic acid. Everderm-CL can be used all over the body and contains the same active ingredients as other stretch mark products, but it is much cheaper than other stretch mark creams.
How Everderm-CL Works
Everderm-CL works by helping to increase the production of collagen and elastin to the body's normal production levels. It uses collagen fractions and herbal extracts to produce results. Collagen fractions have been created to increase the thickness of the skin, which in return gives it a younger and healthier look. The herbal extracts also stimulate collagen production as well as increasing elasticity. A list of the full ingredients are posted on the website.
Everderm-CL Benefits
Everderm-CL can be used all over the body, not just on the face.
Depending on if you use it just on your face or other parts of your body, it can last up to six months.
There is a full list of ingredients on the website.
Everderm-CL Drawbacks
The reviews were limited.
It can be expensive if you use it on your entire body.
Where to Buy Everderm-CL
Everderm-CL is sold at the following online stores. Those stores include vitabase.com, nutritionaltree.com, alibaba.com, wrinkles-solution.com and vitaminsandnutrition.shopzilla.com.
Recommendation
Everderm-CL can really be an extraordinary cream if it lives up to the description. A cream that not only works on wrinkles but on scar tissue and stretch marks as well is amazing. Everderm-CL used be called Revitacil and it is not clear why the name changed. It is only around thirty dollars per tube, which isn't bad if you only use it on your face. If you chose to use it on your entire body, it can get fairly pricey because you will have to obviously buy Everderm-CL more often.
There are a few reviews online and they are all positive. Everderm-CL definitely seems worth a try if you have wrinkles, scar tissue or stretch marks that you are interested in getting rid of soon.
Have You Used Everderm-CL? Leave Your Review Below!
User Questions and Answers
User Questions and Answers
No Questions Have Been Answered For This Article.