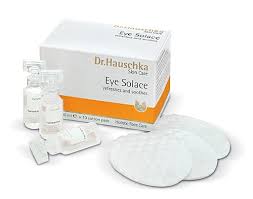 Dr. Hauschka Eye Solace Review
Dr. Hauschka Eye Solace Overview
Sometimes we just don't get enough sleep and anyone who looks us in the eye can tell. That's because in addition to the weariness in our eyes themselves, the skin around our eyes shows the effects of our lifestyle choices. Dark circles, puffiness, dull or drab looking skin, and dry lines and wrinkles are all ways your lack of sleep shows up in your eyes.
Dr. Hauschka Eye Solace claims to change all that. It's a compress-like treatment you use when your eyes need a pick-me-up. It renews and refreshes the look of your eyes with an herbal solution that soothes and de-puffs tired, irritated eyes.
Dr. Hauschka Eye Solace Ingredients and How They Work
Dr. Hauschka Eye Solace comes as 10 treatments in each box. Each treatment comes in a vial, the contents of which you empty onto one of the cotton pads. Then you separate the pad in two and apply one to each eye, lie back, and rest for 10 minutes.
Some of the active ingredients in the formula are:
Eyebright (aka Euphrasia Officinalis) which is a natural astringent for cleansing skin and toning pores. It's an anti-inflammatory that calms irritation and soothes sensitivity.
Chamomile for soothing irritation.
Black Tea for reducing puffiness.
Anthyllis to calm redness.
Dr. Hauschka Eye Solace Pros and Cons
A quick comparison of the good and bad qualities of a product are a perfect way to figure out for sure which side your preference comes down on.
Advantages of Dr. Hauschka Eye Solace
The Dr. Hauschka Eye Solace reviews we've seen are almost all favorable. Customers talk about seeing a hugely visible difference after using the treatments. The only complaints are really more like suggestions to make it better, such as providing pre-cut pads in the right size so you don't have to peel them apart, which can be a less than perfect science.
It's reasonably affordable if you use it as a once-in-a-while treatment.
Disadvantages of Dr. Hauschka Eye Solace
It contains alcohol which could be an irritant.
You may be able to get similar results with home remedies like ice packs or tea bags.
Where to Buy
You can purchase Dr. Hauschka Eye Solace online through the Dr. Hauschka website or a few other online shops. The box of 10 treatments sells for $32.95.
Conclusion
If a soothing treatment for puffy, red, irritated eyes sounds good to you, Dr. Hauschka Eye Solace is a good choice. Sure you could brew run water through teabags or apply an ice pack for a similar effect, but this is a splurge that just may be worth it.
Have You Used Dr. Hauschka Eye Solace? Leave Your Review Below!
User Questions and Answers
User Questions and Answers
No Questions Have Been Answered For This Article.