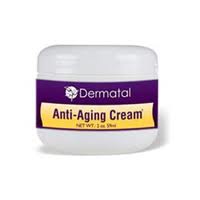 Dermatal Review – Should You Try It?
Dermatal Overview
It seems there are an endless number of manufacturers who realize there is a lucrative market in the anti-aging skin care industry.  Countless products are advertised as the best solution for aging skin.  One such product is Dermatal Anti-Aging Cream.  Should you try it?
Dermatal – Its Ingredients and How it Works
Dermatal claims to be a natural product that works so well you won't need to consider painful, invasive cosmetic procedures. According to the website, this cream boosts collagen production, firms sagging skin, reduces fine lines and wrinkles, moisturizes, evens the skin tone, and diminishes dark under eye circles.  That's a lot of promises to live up to.
The website provides a minimal amount of information about the product's formula and its ingredients.  It does report that the cream includes natural ingredients but it fails to tell us what those ingredients are or what they should do.  Promises abound at this website but there is no clinical evidence provided, no before and after pictures, no testimonials, no…well, you get the picture.  There's really no useful information found there.
We did find a few other sites which said that Dermatal contains popular skin care ingredients like Resveratrol, Retinyl Palmitate, acai, aloe, and some others, but there was not a complete ingredients list available anywhere.
Where to Buy Dermatal
At this time it seems that Dermatal is only available through free trial offers which end up being not free at all because you are automatically enrolled in the auto-ship program.  That means you will be shipped a new jar of Dermatal each month and your credit card will be charged just pennies shy of $200 per month.
Dermatal Pros and Cons
Normally at this point in the review, I would list the pros and cons of a product.  Unfortunately, I could not find any pros to include here.  Everything about the Dermatal company sends up red flags.
Our Conclusions
Although this anti-aging cream claims to be an all natural product, there simply is no evidence to back up those reports or to provide proof it lives up to its lofty claims.  Without any clinical proof, any testimonials or before and after pictures, there is no possible way to evaluate the product.  The inability to buy a single jar of Dermatal without having to enroll in an auto-ship program is also a strong negative.  Our only advice would be to steer clear of this product and don't get trapped into what could be a financial fiasco.
Have You Tried Dermatal?  Leave Your Review Below!
User Questions and Answers
User Questions and Answers
No Questions Have Been Answered For This Article.