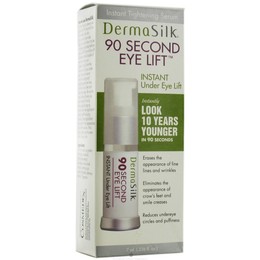 Dermasilk Eye Lift Review – Does It Work?
Dermasilk Eye Lift Overview
Are you eyes saggy?  Has the skin below your eyes become thin and weak?  If so now is the time to try an eye firming serum that can restore the skin beneath your eyes to the strength and beauty of years past.  Dermasilk Eye Lift promises to firm the skin under the eye and help rejuvenate and moisturize it.  The skin underneath the eye is some of the most sensitive skin on the body, so it is important that it be cared for with the proper kind of moisturizer.  Genetics and aging can cause the skin to change even more rapidly.  Dermasilk offers a 90 second eye lift cream that promises to improve the appearance of the skin under the eyes in less than 2 minutes.  One of the great things about the company website is that it lists a number of things you can do in addition to using Dermasilk to improve the skin under your eyes.
How Dermasilk Eye Lift Works and Ingredients
The ingredients of the eye lift are the key to living up to the claims of the product.  One of the key ingredients in Dermasilk Eye Lift is chamomile extract which works well as an anti-inflammatory.  Many who suffer from dark circles also have to deal with under eye puffiness and chamomile is a great ingredient to combat that puffiness.  Canadian willow bark extract is another natural ingredient in the eye lift that helps to fade the dark circles quickly.  The 90 second eye lift works better when a good moisturizer is applied to the skin under the eye first.  It is also important to only use the amount specified by the manufacturer since using too much can cause skin irritation.
Dermasilk Eye Lift Pros and Cons
Any product that promises to cause a noticeable difference in the appearance of the skin under your eyes has to have pros and cons.  You are probably wondering if the product actually works that quickly.
The advantages of this product include:
Reduces the appearance of fine lines and wrinkles around the eyes
Priced under average at $40
Reduces under eye circles and puffiness
Contains natural ingredients
The disadvantages of this product include:
While the product works quickly you will not see results in 90 seconds
Possible irritation if too much product is used
With any product it is good to thoroughly check the ingredient list to make sure that there are no ingredients that may cause issues, especially if you have allergies.
Where To Buy Dermasilk Eye Lift
It is always great when a product is available from a wide variety of sources.  Dermasilk Eye Lift can be purchased from a number of places including your local Walgreen's pharmacy for about $30.  Amazon offers the eye lift at an even more reasonable price at $25.  While you are at Walgreen's you may want to pick up some sunblock since the Dermasilk website points out that is a great way to help protect the skin under your eye from damage.
Conclusion
Basically every product that put a time constraint on how fast the product will work does not live up to the claim when it comes to time.  Dermasilk Eye Lift does work, and it works quickly considering want it is suppose to accomplish, but it will not produce visible results in 90 seconds.  The product works much better when you use a good moisturizer on the skin under the eye before you use the eye lift.  Having said that if you need a product that will improve the appearance of dark circles under the eye without spending a ton of money you should give Dermasilk Eye Lift a try.
Have you tried Dermasilk Eye Lift?  Leave your review below!
Click here to submit your review.
---
Dermasilk - A Scam
Dermasilk Eye Lift Review – Does It Work?
I purchased Dermasilk in March 2017 without reading the Terms and Conditions. I saw no difference in my skin using this product. When the second shipment arrived, that's when I discovered it was a continuing subscription. I was able to talk with someone at Dermasilk who told me to return the second shipment and I would be reimbursed for it. I returned the product and it was delivered and signed for on 3/20/17. On May 7 I tried to contact Dermasilk to ask about the refund. The phone number on their site was no longer active. The only methods of contact are by email and a message center on the site. I send an email on 5/9/17 and have yet to receive a response. Today, 8/12, I sent a message through their site. This is just one of the many scam cosmetic companies out there who lure you in with outrageous promises and are not upfront about the continuing subscription deliveries. How many of us actually read all the small print Terms and Conditions? Stay away from Dermasilk!

---
User Questions and Answers
User Questions and Answers
No Questions Have Been Answered For This Article.