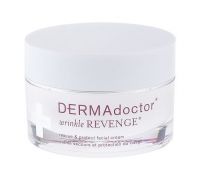 DERMAdoctor Wrinkle Revenge Review – Is it Worth It?
DERMAdoctor Wrinkle Revenge Overview
DERMAdoctor is a manufacturer that produces a variety of skin care products.  Included in their anti-aging line is a product called DERMAdoctor Wrinkle Revenge rescue and protect cream.  The price of DERMAdoctor Wrinkle Revenge cream is $54 for a one month supply.  Is it worth it?
DERMAdoctor Wrinkle Revenge Cream- The Ingredients
Peptides are a number of amino acids connected by a link called a peptide bond. These peptides signal the body to produce fibroblast, which is what makes the skin more elastic and firmer and facilitates skin repair and it has been scientifically proven that peptide technology does increase collagen synthesis.   According to the manufacturer, DERMAdoctor Wrinkle Revenge Cream's active ingredient is Peptide D58, a component that uses peptide technology to stimulate collagen synthesis and the production of fibroblast.
Other ingredients include urea to draw moisture into the skin, glucosamine to boost collagen production, and linoleic acid to moisturize. There is also a free radical fighting complex of antioxidants made up of extracts of pomegranate, grape seed, and white tea. This is meant to ward off any further skin damage from free radicals.  Yeast extract is included for the same purpose and there are a variety of moisturizers in DERMAdoctor Wrinkle Revenge cream as well.
The official website does offer some information about the ingredients in this face cream and unfortunately, the formula contains several parabens, which have been connected to cancer. There is no evidence of clinical trials for DERMAdoctor Wrinkle Revenge presented at the website.
One nice fact is that DERMAdoctor does no animal testing when creating their products. It is fragrance free, dye free, and has been allergy tested.
Where to Buy DERMAdoctor Wrinkle Revenge Cream
DERMAdoctor products, including Wrinkle Revenge Cream, are available at the official website. The rescue and protect cream sells for $54. Other online retailers also have the product available as well, though no real price difference was noted.  Major department stores such as Nordstrom's offer Wrinkle Revenge Cream at their cosmetic counters. The official website does offer a secure ordering system and a 30-day return policy.
DERMAdoctor Wrinkle Revenge Pros
Uses collagen synthesis
Contains botanical extracts
30-day return policy, with some restrictions
Accessible customer service department
No animal testing
Hypoallergenic
Secure website
DERMAdoctor Wrinkle Revenge Cons
No clinical trial info
Contains parabens
Few independent testimonials
Contains moisturizers, but few wrinkle decreasing ingredients
Our Conclusions
While it's true that DERMAdoctor Wrinkle Revenge facial cream does use scientifically proven collagen synthesis technology and contains a number of powerful antioxidants, many other products available at retail stores for a lower price also can make the same claims.  The amount of parabens in the formula is also something that concerns us.  Though we appreciate the fact that DERMAdoctor Wrinkle Revenge Cream doe not use animals for testing and that it is hypoallergenic, we think this will be more effective at preventing future wrinkles rather than a way to decrease the visibility of wrinkles already present.
Have You Tried DERMAdoctor WRinkle Revenge?  Leave Your Review Below!
User Questions and Answers
User Questions and Answers
No Questions Have Been Answered For This Article.