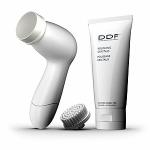 DDF Revolve 400X Micro-Polishing System Review
DDF Revolve 400X Micro-Polishing System Overview
As technology continues to advance beauty products are definitely not left out of the picture.  One of those advancements is the DDF Revolve 400X Micro-Polishing System.  This beauty product, manufactured by DDF (Doctor's Dermatologic Formula) is designed to cleanse and exfoliate the skin through microdermabrasion.  The microdermabrasion pads help to even skin tone and polish away imperfections.  It also helps to minimize the appearance of pores.  The DDF microdermabrasion device is just one of a number of similar products that promise to slough away dead skin and help rejuvenate your skin's appearance.  How well does this product succeed?  Let's find out.
How The DDF Revolve 400X Micro-Polishing System Works and Ingredients
The Micro-Polishing system is made up of a few different parts.  The Micro Polisher is capable of rotating up to 400 rotations per minute, which allows the device to transmit more energy to your skin than many of the similar devices that only vibrate or oscillate.  The Micro Polisher operates on 2 AA batteries, which are included when you buy the kit.  Two microdermabrasion pads are included with the kit as well as a deep cleaning brush.  Both of these can be enhanced by the exfoliating sodium crystals which are also included in the kit.  Another big plus of the Micro-Polishing system is what it does not contain including parabens, synthetic fragrances and dyes, and petrochemicals, all of which can either cause allergic reactions.  If you decide to purchase the DDF Revolve 400x Micro-Polishing system be sure to follow the directions carefully.
Pro's and Con's
The Micro-Polishing system may be a bit different from other skin care products that you have purchased before.  Most skin creams simply require that you either rub them into the skin or allow them to sit for a while and then remove them.  The Micro-Polishing kit does use the exfoliating sodium crystals to enhance the affect of the Micro Polisher, but it is also important that you learn how to use the Micro Polisher properly to get the best results.
Advantages of this product:
8x better exfoliation that using just an exfoliating scrub by itself
Skin care products absorb better into the skin after using the Micro Polisher
Visible improvements are immediate; they can be seen after just one use
Disadvantages of this product:
The Micro Polisher requires batteries
If too much pressure is used with the Micro Polisher it can cause skin irritation
Where To Buy The DDF Revolve 400X Micro-Polishing System
Another benefit of the DDF Revolve 400x Micro-Polishing system is that it is available from a variety of sources.  It can be purchased from the DDF website for $98.  Refill kits can also be purchased from the site for $48.  The refill kit includes two more microdermabrasion pads and an additional deep cleaning brush, as well an additional tube of sodium polishing crystals.  If you prefer to make your purchase in store, you can pick up the system at your closest Sephora location.
Conclusion
If you are interested in giving something new a try when it comes to cleaning your skin and ensuring that it looks rejuvenated and exfoliated than you will definitely want to give the DDF Revolve 400X Micro-Polishing system a try.  The rotations when help to massage and energize your facial skin and the powerful exfoliating action will help to unlock the healthy, radiant skin that lies just beneath the surface.  If you would like to ask questions with someone who has more experience with using the product you should visit your local Sephora store and speak with a member of their very knowledgeable staff.
Have you tried DDF Revolve 400X?  Leave your review below!
User Questions and Answers
User Questions and Answers
No Questions Have Been Answered For This Article.