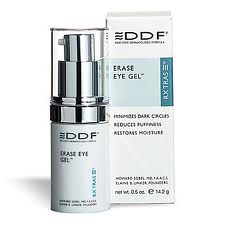 DDF Eye Erase Gel Review – Does It Work?
DDF Eye Erase Gel Overview
If your suffer from dark under eye circles  you know that it can be hard to find a eye cream that permanently improves the appearance of those circles.  DDF Eye Erase Gel promises to promise to minimize the appearance of dark circles, reduce the appearance of puffiness, and moisturize the sensitive skin under the eye.  The gel uses a number of natural ingredients to produce these results.  The company website offers some information about these natural ingredients, but unfortunately not enough to make a clear determination that the product will live up to its claims.  There are a number of different skin care products to try in the DDF line though, so even if the eye erase gel is not right for you there likely is a product in the line that will work for your needs.
How DDF Eye Erase Works and Ingredients
While this eye erase product contains fewer natural ingredients than others on the market it does contain fraxinus excelsior bark extract.  This extract is included to help with the claim of reducing puffiness and adding moisture to the skin.  Besides the bark extract closer inspection shows that there are really no other natural ingredients to speak of.  This does not bode well for the effectiveness of the serum.  The instructions encourage applying the serum to the skin under the eye with a massaging motion to promote circulation.
DDF Eye Erase Gel Pros and Cons
The pros and cons should be considered when deciding if you should give any skin care product a try, including DDF eye erase gel.  In the case of the eye erase serum unfortunately the list of cons outweighs the list of pros.
Advantages of this product include:
Pretty reasonably priced at $56 in the eye cream market
Available from a number of locations, both online and in store
Disadvantages of this product include:
The lack of natural ingredients
No special active ingredient to help the cream live up to its claims
No product specific website
Not very effective
It is hard to recommend DDF eye erase gel with a con list this long, but it should always be kept in mind that a product works a little differently on every individual so there is a chance that it may work well for you.
Where To Buy DDF Eye Erase Gel
As pointed out in the list of pros if you you decide to try the eye erase gel you will find that it is available from a number of stores including Ulta and Sephora , as well as online retailers like Amazon and the DDF company website.  The price of $56 is pretty standard no matter where you choose to purchase the DDF Eye Erase Gel.  As you look at the websites of the online retailers where you can purchase the gel you will notice that most of the reviews are not positive.  In general if a product has a large number of reviews with the overwhelming majority of them negative it is a good sign to steer clear of the product.
Conclusion
DDF Eye Erase Gel makes some great claims, the kind of claims that you are likely looking for if you suffer from dark under eye circles and puffiness.  There are a number of products that actually do help with under eye dark circles and puffiness that you can purchase instead of the DDF Eye Erase Gel.  If you are able to obtain a free sample of the gel during a visit to one of the retail stores that sells it then of course feel free to give it a try.  In general the regular $56 purchase price is not worth the results.
Have you tried DDG Eye Erase Gel?  Leave your review below!
User Questions and Answers
User Questions and Answers
No Questions Have Been Answered For This Article.