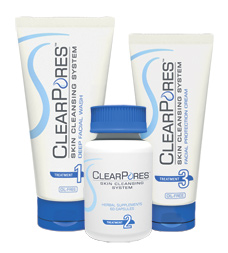 ClearPores Skin Cleansing System Review – A Solution for Acne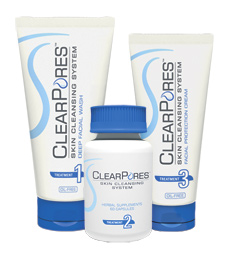 Note: This is my personal review, Click Here to visit the official site for ClearPores
Stop letting acne rule your life and feel confident with clear, beautiful skin! If you've read some of my other articles, you'll know that I'm a firm believer that treating your face topically is only part of the equation to clear skin.
Since your skin is the largest organ of your body, nourishing it from within with the proper nutrients can and will make a difference in the clarity of your skin and help to prevent breakouts.
Today I'm reviewing an effective acne solution called ClearPores Skin Cleansing System – the Facial System. I chose to review this system because it has great reviews, real testimonials, and it's recommended by health care professionals.
Clear Pores Facial System and Clear Pores Body System
The ClearPores Facial System is a 3-step system which includes a daily herbal supplement to help restore the internal balance of your skin and fight acne from within, a facial wash to clear breakouts and prevent flare-ups, and a protection cream to give your skin a healthy glow while providing further protection against future breakouts.
They also have the ClearPores Body System, which consists of a similar 3-step system, but when you order you can choose which one is right for you, or both. I love the fact that this is a system, since all the ingredients are able to work together in harmony while taking the guess work out of choosing separate products.
If you want to say goodbye to embarrassing acne blemishes, stop breakouts at the root, reduce the appearance of redness, swelling and scarring, and keep your skin looking healthy, radiant and fresh, then ClearPores may be for you!
Click Here to learn more about the difference between the Facial System vs. Body System
Step 1 – ClearPores Deep Facial Wash
ClearPores Deep Facial Wash gently exfoliates to slough off dead skin build up and bacteria, while unclogging pores. It works gently without stripping your skin of the naturally occurring oils that you need to maintain your skin's health.
Despite what you may think, you do need some oil in your skin, or else your skin will overcompensate by producing too much oil which can cause break outs.
ClearPores Deep Facial Wash is scientifically formulated to quickly clear up existing breakouts allowing your natural, healthy glow to show!
Removes bacteria that causes acne
Sloughs away dead skin cells encouraging fresh, healthy cells to regenerate
Reduces shiny skin by removing excess sebum
Clears up existing pimples, whiteheads and blackheads
Prevents further pore blockages
PH level is restored to a natural level
Added nutrients helps support faster healing
Step 2 – ClearPores Herbal Supplement
ClearPores Herbal Supplement helps to regulate hormones, flush the body of waste and toxins, maintain healthy blood circulation, cleanse the liver, and help regulate digestion.
All of these factors are associated with acne flare ups, so keeping these internal functions balanced is the key to healthy skin. The formula is 100% natural and praised by health care professionals with no prescription needed and no reported side effects!
Natural herbs assist to rid the body of acne causing bacteria
Helps to regulate hormones that can aggravate acne
Flushes the body of acne causing toxins
Rejuvenates the skin for a healthy glow
Nurtures the body to maintain against inflammation, swelling and redness
Helps to keep sebum production down to normal levels which reduces shiny skin
Step 3 – ClearPores Protection Cream
ClearPores Protection Cream is an oil-free moisturizer scientifically formulated with the combination of both alpha hydroxy acid and beta hydroxy acid.
The alpha hydroxy acid retains moisture into your cleansed, exfoliated skin to prevent flaky, dry skin and also that tight feeling you can get from other acne treatments.
The beta hydroxy acid (which is 2% salicylic acid) helps to prevent pores from accumulating dead skin cells which causes them to be blocked. With daily use, it protects from future breakouts while moisturizing the skin and giving it a radiant, healthy glow.
Reduces inflammation in the skin
Softens skin and makes it feel more healthy
Prevents pores from clogging
Minimizes bacteria growth
Moisturizes the skin to give you a healthy glow without adding oil
Recommendation and How to Purchase ClearPores Skin Cleansing System
We recommend trying ClearPores Skin Cleansing System and believe it to be an effective method for fighting and preventing acne by not only nourishing the skin from the inside out, but cleansing and treating topically with effective ingredients.
We like the fact that ClearPores is recommended by health care professionals and that we were able to find real reviews and testimonials online that this system works.
The best part about trying ClearPores is that you can try it risk free. They offer a 90 day money back guarantee! You will notice from most of my recommendations, that I like companies that are so confident in their product, that they're able to offer such a guarantee.
A one month supply of the ClearPores Facial System costs $64.95, however if you buy a 3 months supply, you will receive a 25% discount. Since the skin's natural regeneration cycle is 28 days, we recommend buying at least a 3 months supply, so you can achieve optimal results.
Trying something for a week or two and then giving up, will only keep giving you the same failed result – you've got to stick with it and commit to a program!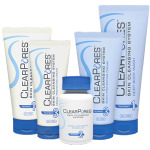 A one month supply of the ClearPores Body System costs $67.95, and buying a 3 months supply will also afford you the 25% discount. If you have acne on both your body and your face, you can buy a one months supply of the ENTIRE system for only $98.95 and it also comes with the 25% discount option.
In order for the manufacturers 90 day money back guarantee to be honored, you must purchase the system from the Clear Pores Official Website.
Have you tried ClearPores Skin Cleansing System? Leave your review below!
Click here to submit your review.
---
Clear Pores
ClearPores Skin Cleansing System Review – A Solution for Acne
I am 16 years old and have bad acne. My mom bought me Clear Pores and after a month my skin was much better. It doesn't dry my face out like some stuff if you use all the products in the system.

---
User Questions and Answers
User Questions and Answers
No Questions Have Been Answered For This Article.