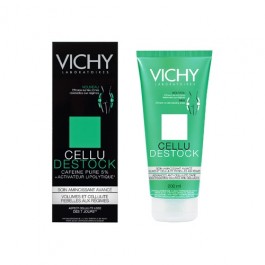 CelluDestock Review – Does it Work?
CelluDestock Overview
Vichy CelluDestock Intensive Treatment for the Appearance of Cellulite is a big name for a tube of anti-cellulite cream, but because it's manufactured by a well respected company, we hope the results are big as well.  The company has introduced CelluDestock and claims it diminishes cellulite quickly and leaves skin smoother and more attractive.  Does this anti-cellulite treatment live up to the Vichy reputation?
CelluDestock – Its Ingredients and How it Works
A large majority of women in the US have cellulite and some men do, too, so the anti-cellulite business is big. New products are constantly being brought on the market and they all claim to be the best and most effective. Out of all the companies manufacturing such products, however, CelluDestock is one of the few anti-cellulite creams that offers clinical proof of its effectiveness.
The official Vichy website is user friendly and offers detailed information about each of their products and CelluDestock is no exception.  When you visit the site you'll find that the results of clinical trials are provided, stating that participants noticed visibly smoother skin in just 7 days and significant reduction of cellulite within a month.
The website does provide a complete ingredients list as well.  The formula contains 5% caffeine, an agent that stimulates metabolism and encourages the elimination of toxins and excess fluids.  The Lipocidine™  in the cream  is meant to promote Lipolytic activation so fat storage will be reduced in the cells, keeping cellulite at bay.
The directions say to use CelluDestock twice a day and massage the cream into the problem areas. It is reported that it dries quickly and does not leave a greasy feeling.
Where to Buy CelluDestock
CelluDestock is available at the official Vichy website and costs $39.50 for a 6.74 fl. oz. tube.  It is also available at numerous online retailers such as Amazon, where the same size tube is available for $32.50.  The manufacturer does offer a 30 day guarantee but there are some limited return restrictions.
CelluDestock Pros
Informative website
Clinical test results provided
Complete ingredients list at site
Well respected manufacturer
30 day return policy
Moderately priced
CelluDestock Cons
Limited return policy
Some negative reviews online but outnumbered by positive ones
Our Conclusions
We expect good things to come from Vichy and it seems that CelluDestock is going to stand up to the company's reputation.  The website offers evidence of the cream's effectiveness and it is moderately priced compared to many similar products.  If you are looking for an anti-cellulite treatment, we believe CelluDestock could provide the results you are seeking.
Have You Tried CelluDestock?  Leave Your Review Below!
User Questions and Answers
User Questions and Answers
No Questions Have Been Answered For This Article.