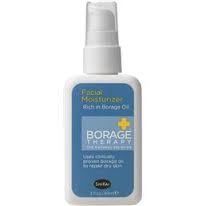 Borage Therapy Facial Moisturizer Review
Borage Therapy Facial Moisturizer Overview
We usually put skin care products into two broad, general categories – department store brands and drug store brands. But actually, there's another category. Admittedly, it's a smaller group of products, but nonetheless it probably deserves a mention. It's "health-food store" products. These tend to be smaller lines, usually mostly natural and/or eco-friendly. And they usually cost a little, though not much, more than drug store brands.
ShiKai is one of those brands. They use primarily natural ingredients in their product line, which is fairly extensive. Today, we're taking a look at Borage Therapy Facial Moisturizer for dry skin. It's described as being an all-day moisturizer that provides protection for sensitive and dry skin with a formula that's both light and rich, and it leaves skin smooth, soft, and repaired. Most of the Borage Therapy Facial Moisturizer reviews we've seen tend to agree. There are a few, however, that don't So let's take a closer look at that formula to see if we like what we see.
Borage Therapy Facial Moisturizer Ingredients and How They Work
Borage Oil is the signature ingredient in this line and this product. It builds up the cellular moisture barrier of skin, and it acts as an anti-inflammatory and antioxidant as well as providing natural botanical moisture.
Most of the rest of the formula is also made up of botanical oils that include Avocado Oil and Jojoba Seed Oil, Glycerin for skin identical hydration, Shea Butter for rich emollience, and Vitamin E for added antioxidant protection.
Borage Therapy Facial Moisturizer also comes in a formula with SPF 15. It uses Octinoxate for that, which is effective but can also cause irritation and breakouts for some people with sensitive skin. My hunch is that the negative reviews that mention breakouts and irritations were probably related to the sunscreen.
Borage Therapy Facial Moisturizer Pros and Cons
Advantages of Borage Therapy Facial Moisturizer
It's affordable.
It's got a good formula with moisture, anti-inflammatory agents, and antioxidants.
Most Borage Therapy Facial Moisturizer reviews are very positive.
The opaque pump dispenser is ideal for preserving the antioxidants and other botanical ingredients.
Disadvantages of Borage Therapy Facial Moisturizer
It doesn't contain any skin repairing or collagen building ingredients.
The Borage Therapy Facial Moisturizer version with sunscreen may cause irritation.
Where to Buy
You can purchase Borage Therapy Facial Moisturizer online or in health food stores. I notice it's also available at Walgreens. The 3 ounce pump retails for $18.
Conclusion
The price, the formula, the reviews – they all lead me to conclude that Borage Therapy Facial Moisturizer is a product you should have in your anti-aging arsenal. If you know you have a sensitivity to chemical sunscreens, choose the non-SPF version. Otherwise, as you know, sun protection is always the better choice for daytime.
Have You Used Borage Therapy Facial Moisturizer? Leave Your Review Below!
User Questions and Answers
User Questions and Answers
No Questions Have Been Answered For This Article.