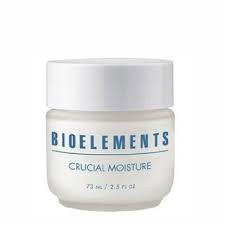 Bioelements Crucial Moisture Review
Bioelements Crucial Moisture Overview
Dry skin can be brutal, especially in the winter. That's why having a super-hydrating moisture cream in your arsenal is so important to keeping your skin looking young and healthy. Finding the right one can be tough. And that's why you're here. Well, you came to the right place because I'm about to take you buy the hand and walk you through one of your super-hydrating options.
Bioelements Crucial Moisture has a light and creamy, almost whipped texture. A little goes a long way, and its moisture leaves no oily residue. It sinks in quickly to soften and smooth your skin, and make fine lines and wrinkles disappear. So if you have dry skin, even if you have normal or combination skin that gets drier in the winter, read on to see if Bioelements Crucial Moisture may be for you.
Bioelements Crucial Moisture Ingredients and How They Work
Handily, the Bioelements website details its key ingredients for us. I the case of Bioelements Crucial Moisture, these include:
Dimethicone which is a great lubricant that makes this cream super smooth and silky.
Ginseng, Sumac, Gotu Kola, and Dong Quai. These herbs are packed with antioxidant power to protect skin from the damages of free radicals picked up from the sun and the environment.
Sandalwood, Clary Sage, and Geranium Essential Oils for calming and soothing the skin.
If you apply Bioelements Crucial Moisture both morning and night, the 2.5 ounce jar should last about 3 months, so it looks like a little goes a long way.
Bioelements Crucial Moisture Pros and Cons
Advantages of Bioelements Crucial Moisture
There are tons of favorable

Bioelements Crucial Moisture

reviews from customers who love the way it goes on, feels, and smells.
A little goes a long way.
Disadvantages of Bioelements Crucial Moisture
It doesn't contain much beyond hydration.
The jar packaging won't allow the botanical ingredients to remain effective long after the package is opened.
Some reviewers don't like the strong smell and say the hydration doesn't last long.
Where to Buy
You can purchase Bioelements Crucial Moisture through several online retailers. The 2.5 ounce jar sells for $32.50, which seems like a lot, but if it lasts 3 months really isn't so bad.
Conclusion
If you're in the market for a go to emollient moisturizer for dry skin, Bioelements Crucial Moisture could be a good choice. The biggest problem, however, is that it doesn't really have much else besides moisture going for it. And the moisture it does provide is pretty ordinary. Nevertheless, the stellar reviews from people who use it mean a lot. There must be something pretty good about Bioelements Crucial Moisture for it to have so many devoted fans.
Have You Used Bioelements Crucial Moisture? Leave Your Review Below!
User Questions and Answers
User Questions and Answers
No Questions Have Been Answered For This Article.