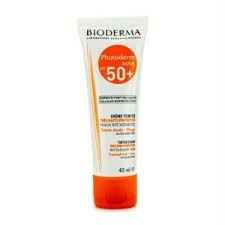 Bioderma Photoderm MAX Cream Review
Bioderma Photoderm MAX Cream Overview
We all know that sunscreen protection is the most important anti-aging weapon to have in our arsenal, but finding a product that gives us this in a palatable way and provides the rest of what we want and need is a difficult task to say the least. We've got a contender today, in the form of Bioderma Photoderm MAX Cream. It comes in 50 SPF and 100 SPF strengths, but aside from the level of protection, they are virtually identical, so we'll talk about them together, as if they were one.
According to the product webpage, what you can expect in terms of benefits from Bioderma Photoderm MAX Cream is:
Superior broad spectrum protection against the damaging rays of the sun.
Protection against cell damage.
Soft, comfortable skin with no white marks or streaks.
No potentially irritating fragrance.
Most of the Bioderma Photoderm MAX Cream reviews I've read are quite favorable so it's definitely worth taking a closer look.
Photoderm MAX Cream Ingredients and How They Work
The fragrance-free, water-resistant formula uses Avobenzone and Tinosorb for high SPF broad spectrum protection against both UVA and UVB rays. When it comes to other anti-aging components, there aren't too many, but you will find some antioxidants in the form of Vitamin E and Vitamin C and some water binding ingredients, like Caprylic/Capric Triglyceride.
Instructions would have you apply generously to clean skin before going out into the sun, and to reapply after a couple hours or after swimming or sweating. Bioderma Photoderm MAX Cream can be used on the face and on the body, and it comes in a tinted version as well.
Bioderma Photoderm MAX Cream Pros and Cons
Advantages of Bioderma Photoderm MAX Cream
It provides a high level of broad spectrum SPF protection.
Most of the Bioderma Photoderm MAX Cream reviews we've seen are positive, expressing that it goes on well, doesn't streak or cake, and protects as it says it will.
It comes in clear and tinted versions.
Disadvantages of Bioderma Photoderm MAX Cream
It contains far fewer anti-aging ingredients than it could, which means that you still have to use all your other products.
Avobenzone can be irritating to a lot of people with sensitive skin.
Where to Buy
You can purchase Bioderma Photoderm MAX Cream online at the Bioderma website. The 40 ml tube sells for about $25.
Conclusion
If your goal is to get the highest level of sun protection for your face in a cream that's not sticky, cakey, or streaky, Bioderma Photoderm MAX Cream is a very good choice. But if you want skin cell communicating and repairing ingredients, you'll need to add these on.
Have You Used Bioderma Photoderm MAX Cream? Leave Your Review Bel
User Questions and Answers
User Questions and Answers
---
Q: What's the best lotion or cream for the black skin?? -Hamidah
A:
Hi Hamidah, you should check out the Beautycounter line of skincare. If you have dry skin, the Nourishing Day Cream is fabulous and very gentle and hydrating. Thanks! Rachel
Was this question helpful to you?

---