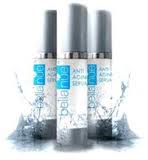 Bellanue Anti Aging Serum Review – Nowhere to be Found
Bellanue Anti Aging Serum Overview
We all want to look our best, and anti-aging skin care companies are right there ready to help.  The market is flooded with tried and true creams and latest and greatest serums.  The trouble is, there are plenty of companies just out to make a quick profit by preying on women's hopes for eternally youthful skin. They all make big promises, but they don't all deliver.  The trick is to figure out which ones they are before you spend your money on another big disappointment.
Bellanue Anti Aging Serum was a peptide skin cream that claimed to offer a 68% reduction in wrinkles, decreasing their volume, density and depth.  It looked good, boasted an impressive list of ingredients, and had a flashy website with numerous testimonials from customers thrilled with their results.  Now, Bellanue Anti Aging Serum is nowhere to be found.
Bellanue Anti Aging Serum Ingredients
Peptides, retinol, argireline – Bellanue Anti Aging Serum had it all.
Matrixyl 3000 is a popular peptide meant to stimulate the production of collagen to make your skin fuller and firmer.
Argireline is also a peptide, but it works to relax facial muscles, releasing tension to minimize the formation of lines and wrinkles.
Retinol renews and regenerates skin cells.
Osilift smoothes the surface of the skin.
Acai Berry and Pomegranate are antioxidants that protect skin from free radical damage.
That all sounds great, but the problem is that in order to be truly effective, these ingredients need to be present in the proper amounts.  Bellanue Anti Aging Serum did not provide information on that.
Bellanue Anti Aging Serum Pros and Cons
Particularly because there are so many options, when deciding on an anti-wrinkle product, it can be helpful to list out the advantages and disadvantages of each.
Advantages of Bellanue Anti Aging Serum
It contained ingredients known to be effective in the fight against aging skin.
Disadvantages of Bellanue Anti Aging Serum
They offered a free trial that didn't turn out to actually be free.  You could try the product for 15 days.  If you did not return it within that time, you would be charged for the "free" product, and automatically enrolled in a monthly shipping program.  One of the problems with this offer is that 15 days is not long enough to know whether or not it really worked.
Bellanue Anti Aging Serum is no longer available.
Where to Buy
Bellanue Anti Aging Serum is no longer available.  There are many online links to the free trial offer, but all those links are no longer valid.  The Bellanue website has been taken down.
Conclusion
Bellanue Anti Aging Serum was most likely a quickly thrown together product that provided little benefit to the women who used it.  We found no evidence of legal action taken against the company.  It is possible that they just reformulated and are now selling the same product under a different name.  No doubt, that one comes with a "free-trial offer" too.  When shopping online for skin care, it is important to be aware that these scammers are out there.  Bellanue Anti Aging Serum was likely one of them, and they are no longer around.  But there are others who are, so be cautious when you encounter them and their "free-trial" offers.
Have You Tried Bellanue Anti Aging Serum?  Leave Your Review Below!
User Questions and Answers
User Questions and Answers
No Questions Have Been Answered For This Article.