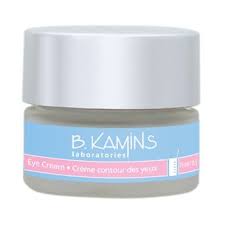 B. Kamin, Chemist Eye Cream Review
B. Kamin, Chemist Eye Cream Overview
Known as "the gentle cosmeceutical" company, B. Kamins products are based on their patented Bio-Maple Compound, a discovery from within certain Northern Canadian maple trees that can withstand the harshest of environmental assaults. B. Kamin, Chemist Eye Cream starts there and goes on to soothe and protect the delicate skin around the eye. Now you know me, if I'm going to recommend an eye cream, it's got to do something about those annoying bags and dark circles. So does B. Kamin, Chemist Eye Cream deliver? According to the claims, it does. So let's get into the details of this product and see what we can find out.
B. Kamin, Chemist Eye Cream Ingredients and How They Work
The signature ingredient is of course the Bio-Maple Compound. It attracts and bind moisture while it also bolsters the skin's moisture barrier. This hydration provides real protection against both the years and the elements.
Filling out the formula is:
A healthy dose of Vitamin E to provide antioxidant protection against free radical damages caused by exposure to sun and other toxic aspects of the environment.
Sodium Hyaluronate which also attracts and binds to water to plump out wrinkles and fine lines, creating a smooth surface to your skin.
Glycerin to provide skin-identical moisture.
Retinyl Palmitate to encourage new skin cell turnover.
Instructions are to apply a small amount of B. Kamin, Chemist Eye Cream by tapping it around the orbital area gently after cleansing. You can also apply it over makeup if you need a little boost during the day.
B. Kamin, Chemist Eye Cream Pros and Cons
Advantages of B. Kamin, Chemist Eye Cream
It comes in a jar or a pump so you can choose whichever is convenient for you. I would recommend the pump so the botanical ingredients remain potent longer. It's also more sanitary.
It contains a range of anti-aging ingredients.
It's fragrance-free.
Disadvantages of B. Kamin, Chemist Eye Cream
It's expensive.
It says it addresses circles and bags, but there are no ingredients that do specifically that.
Where to Buy
B. Kamin, Chemist Eye Cream is a spa product but you can purchase it online. The half ounce jar or pump sells for $60.
Conclusion
B. Kamin, Chemist Eye Cream is a fine eye cream, but I don't know if it's worth $60, especially if you buy it in the jar packaging. I wish there were more customer reviews. If there were a bunch of raves about B. Kamin, Chemist Eye Cream, I'd give it a higher rating, but as it is, we just don't have enough feedback.
Have You Used B. Kamin, Chemist Eye Cream? Leave Your Review Below!
User Questions and Answers
User Questions and Answers
No Questions Have Been Answered For This Article.