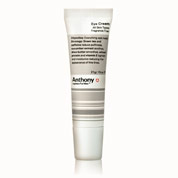 Anthony Logistics Eye Cream Review – Does It Work?
Anthony Logistics Eye Cream Overview
Anthony Logistics Eye Cream is a cream that is specifically formulated for use by men.  Those men out there that have dark circles under their eyes and puffiness may perk their ears up at the sound of a skin care product that is just for them!  But, you also have to put the product to the test to see if it actually works.  Let's take a look at this cream and see how it measures up.  This product is manufactured by Anthony Logistics, which is a company that has been around for over ten years.  They have a variety of different products, but mostly their products are geared towards men.
How Anthony Logistics Eye Cream Works and Ingredients
This product is made up of a variety of different ingredients, and most of them are all natural.  That is usually a big advantage when it comes to a facial cream for men or women.  The main ingredients include caffeine, green tea extract, and cucumber extract.  The application is simple- you must put a small amount of the cream under the eyes in the morning and the evening.  Anthony Logistics eye cream promises that you will see results including reduction of fine lines and wrinkles, less puffiness, and lightening around the eyes where dark circles once were.
Pro's and Con's
As with any product, you will find that this eye cream has a few pros and cons.  You should always take these into consideration when you are looking for a product to use.  Instead of just spending your money on every product that you see, become informed about the products and how they can help you.
The advantages of this product include:
Free of fragrances that may irritate skin around the eyes
Green tea extracts and caffeine which are both great for the skin
Anthony Logistics eye cream is Easy to use
The disadvantages of this product include:
Limited to men only
May irritate sensitive skin
Lack of clinical studies showing the effectiveness
It seems that the main advantages are great advantages, and the disadvantages are going to vary from one person to another.  For instance, if you do not have sensitive skin then it may work wonders for you!
Where to Buy Anthony Logistics Eye Cream
You can find the Anthony Logistics Eye Cream anywhere that Anthony products are sold.  Many people have found their products at Sephora.  You will be paying around $35 per tube if you buy it in a store near you.  In order to save some money, you may want to consider shopping around and comparing prices.  In fact, I found it for as little as $22 when you purchase from Amazon.com.  There are really no money back guarantees that come along with purchasing it from an authorized retailer; therefore, you might as well go ahead and just purchase it cheaper online.
Conclusion
After closely reviewing the Anthony Logistics Eye Cream, it is tough to give a complete go ahead on the product.  At the same time, it is tough to say that it simply does not give good results at all.  Some men have tried it and had fantastic results, while others have tried it and not seen any improvement.  It is safe to say that you can give it a try, especially if you are looking for a great moisturizer for the eye area.  Just remember, it can be irritating to sensitive skin so you may want to check with your doctor or dermatologist if you have sensitive skin.  It may make matters worse.
Have you tried Anthony Logistics Eye Cream?  Leave your review below!
User Questions and Answers
User Questions and Answers
No Questions Have Been Answered For This Article.