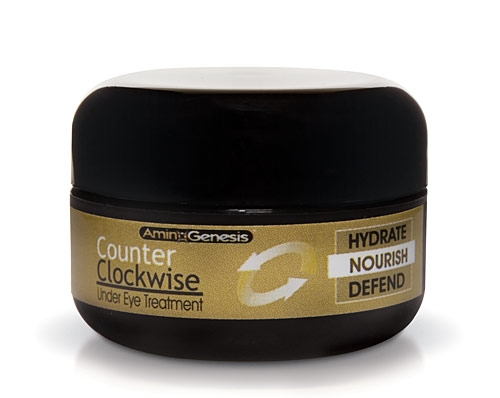 AminoGenesis Counter Clockwise Under Eye Treatment Review
AminoGenesis Counter Clockwise Under Eye Treatment Overview
AminoGenesis Counter Clockwise Under Eye Treatment is a gel based cream that is used to reduce the signs of aging around the eyes.  Since the skin around the eyes is very delicate and sensitive, it requires a special type of cream.  AminoGenesis manufactures a variety of facial care products that help to reduce the signs of aging and care for the skin.  Their products were created by Dr. T Joseph Lin, who has been known for his work in the field of science and medicine.  Their products use amino acids in order to help nourish the skin and give it the vital nutrients that it needs.  By visiting their site, you can take a look at all of their skin care products.  How does the AminoGenesis Counter Clockwise Under Eye Treatment stand up to the test?
How It Works and Ingredients
This Under Eye Treatment is made up of a blend of amino acids that helps to hydrate the skin and leave it feeling silky smooth.  These amino acids also help to smooth out any lines or wrinkles and help to improve the elasticity of the skin.  It also includes ingredients such as Chamomile extract and Witch Hazel, which help to calm the skin and hydrate it even more.  It is made for those that have sensitive skin around their eyes, and it can help to reduce under eye puffiness and reduce the appearance of dark circles or bags under the eyes.
Pro's and Con's
As with any product, Counter Clockwise Under Eye Treatment has some definite pros and cons.  Make sure that you are well aware of these before you spend your money on the product.  You will want to weigh the advantages and disadvantages to make sure that you are making a wise investment.
The advantages of this product include:
Made up of 17 amino acids
Helps to diminish fine lines and wrinkles
Helps to diminish dark circles under the eyes
Reduces puffiness
Extremely moisturizing
The disadvantages include:
Lack of clinical studies to show the effectiveness of the product
There appears to be no money back guarantee if you are not satisfied
Where to Buy
If you are on the hunt to find AminoGenesis Counter Clockwise Under Eye Treatment, you will be looking to pay around $40 for it full price from the AminoGenesis website.  However, if you want to save some money you can buy it on Amazon.com for right at $10.  This is a substantial savings!  Many people want to find ways to save money by shopping online, and when it comes to this product you will definitely be able to save a lot!  There are stores that carry the product in your area as well, and you can find a complete list of these locations by visiting the AminoGenesis website.  You will just have to be prepared to pay a higher price for the product.
Conclusion
All in all, it is safe to say that Counter Clockwise Under Eye Treatment is a good product to use.  I would definitely give it two thumbs up!  This is because it is not only cost effective at just $10 when you purchase online from Amazon, but it is also a great moisturizing cream.  Therefore, while there may not be substantial evidence that it actually reduces wrinkles and turns back your clock, it is still a great way to keep your skin hydrated around your eyes.
Have you tried Counter Clockwise Under Eye Treatment? Leave your review below!
User Questions and Answers
User Questions and Answers
No Questions Have Been Answered For This Article.