Click Here to visit Pruvit's website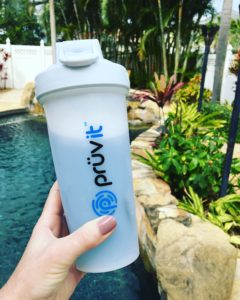 If you're following anyone on social media who's in on the growing ketones conversation, you may have seen some posts on Pruvit's new flavor Keto//OS Amped Blue Ocean and wondering what all the hype is about.
And without further ado, I'll just go ahead and get this song stuck in your head right here:  "if you like pina coladas…."
This new flavor is an AMPED UP version of Keto-OS containing Pruvit's patented AC-11 DNA repair and is supercharged with more caffeine and and a stronger ketone blend.
Pruvit's Amped Blue Ocean used to be an "event only" prototype flavor and tastes like a Pina Colada. I thought that was a bit weird, until I tried it, it's DELICIOUS!!

With the Keto OS Max flavors already being 40% stronger than the original Keto OS, this new "amped" version has definitely piqued my interest.
Intense energy and hyper fat burning? Yes please!
Pruvit's New Flavor: Keto//OS Amped Blue Ocean
Here are some quick facts on Pruvit's new Keto-OS Amped Blue Ocean:
Blue Ocean has more caffeine and a base blend that makes the ketones even stronger!
Patented AC-11 DNA repair (anti-aging!)
Contains additional B vitamins plus niacin
Tastes like a refreshing Pina Colada
You can only buy Blue Ocean on flash sales (it's not on the regular menu yet or available to put on Smartship).
So how can you get your hands on some of this supercharged blue pina colada? And how are people feeling all amped up on Blue Ocean?
Well I've done some digging and talked to a few peeps who attended the recent Pruvit Keto Kademy and More Event in Vegas, and I've gotten some intel, plus I finally had a chance to try it myself!
*And*…….I snagged several boxes of Blue Ocean during the flash sale so I've got some!
What's it Like to be Amped up on Keto//OS Blue Ocean?
This is the fun part, how are people feeling on these supercharged ketones?!
I got a kick out of some of the responses I got from people who have tried Blue Ocean, and hearing some of these made me want it bad…like yesterday!
OMG this drink makes me feel like I'm in the Turks and Caicos feeling the breeze and the beautiful smell of the ocean & it gives me the power of the HULK, LOVVEEEEE ITTTT <3 <3 <3

Pruvit just RELEASED THE BEAST – AMAZINGNESS!

"If you like Pina Coladas" you will LOVE this new flavor! Delicious and loaded with AC-11, which literally repairs your DNA (reverses aging)!

It is literally the best thing you will put in your mouth and gives you the most amazing energy boost!
I don't know about you, but I definitely have some days where I could use some super hero power!
My Experience Drinking Blue Ocean – Finally Tried it!
Well, now I understand all the hype around this new pina colada flavor! I tried my first serving and I was definitely AMPED! It tastes super YUM!
I could have fasted all day, it zapped my appetite completely and I was so incredibly focused – talk about no brain fog!

I did feel slightly anxious later in the day and that night I felt a little nauseous (this only happened my first time). I'm guessing that's because I had barely any food in me. I lost 2 lbs overnight!
The next time I drank it, I felt all that awesomeness (even better) without any unwanted side effects.
Now, I keep it stocked and I LOVE the Blue Ocean. For those days I  have a lot to do work wise, household chores, or a hard workout, I always go for the Blue Ocean.
Where Can you Buy Pruvit's "Event Only" Keto//OS Amped Blue Ocean?
Pruvit had their first ever flash sale on Sept. 26th 2017 to promoters and current customers, and I knew I had to jump fast, more like sprint!
Pruvit offered up a limited quantity in a 2-day sale of the new Amped Blue Ocean and it sold out in less than four hours!
They've had periodic flash sales since then, and usually offer it up once or twice per month.

My Advice if You Want to Try Keto-OS
My suggestion is that if you want to try Pruvit Keto OS, don't just seek out Blue Ocean, but taste the rainbow!
Buy some samples from me if you want to try first, it's a great way to get started. 
Why? Well, it actually always surprises me which flavors people turn out loving, and committing to this drink is all about finding the flavor you love!
But good luck with that, because Pruvit hasn't made a bad flavor yet! They are the category king when it comes to ketones, flavors and efficacy.
See the Pruvit Sales, Specials and Sample Packs I offer here!
Benefits of Drinking Pruvit Keto OS
Speaking of benefits, what are the benefits of drinking daily ketones? There are many!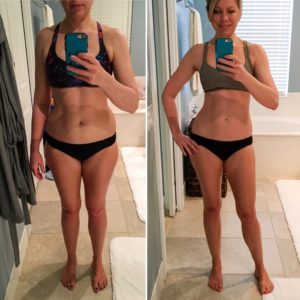 I'm actually living proof that ketones work, for fat loss, for energy, for better skin, a better mood, and no more brain fog or afternoon crashes.
I've been drinking ketones daily since Jan. 2017 and I can't live without it!
I've lost 17 lbs and I lost that my first few months on ketones! My workouts have never been better and I feel great drinking them daily.
Ketones are a fuel source and provide 38% more energy than carbs. I love to do some intermittent fasting with the help of ketones, and it makes it easier because I'm never hungry!
Ketones are also anti-inflammatory so I don't get as sore as I used to, recovery is faster, and I'm stronger! This is also why it has helped my skin.
Be sure and check out my full testimonial on Pruvit's Keto OS and Keto Max here, including more before and after pics.
I provide a ton of info on how ketosis works, all the different flavors, and what to expect when drinking ketones.
Benefits of ketones:
FAT LOSS
MUSCLE PRESERVATION
FAST & SUSTAINED ENERGY
REDUCES BRAIN FOG
INCREASED FOCUS
APPETITE SUPPRESSION
STRENGTH GAIN
BETTER MOOD
BETTER SLEEP
BETTER DIGESTION
How to order Blue Ocean if you're not a customer yet….
The most recent flash sale was offered to CURRENT customers and promoters only, which is typical for the new flavors. So my best advice is to become a customer, so the next time it's offered you can grab some.
If you're reading this during a flash sale, and you need to become a customer in a hurry, follow these instructions:
Use my Pruvit link and add something to your cart (anything), sign up with your info and then LOG OUT. Log back in with your user ID and password and you'll be able to see the Blue Ocean offer! Remove the previous item from your cart and add Blue Ocean to your cart. Voila!
What Does the Term Blue Ocean Mean Anyway?
Before I wrap this up, what does the term "Blue Ocean" actually mean?
The Blue Ocean strategy refers to the creation of a company of a new, uncharted and uncontested market space that makes competitors immaterial, or irrelevant.
Pruvit has coined the phrase Blue Ocean because they brought exogenous ketones to the market place in October 2015. They are the leaders and they have the best tasting ketones around!
Basically, Pruvit is the Cadillac of ketones! They are innovative and on the leading edge of research and they are only just beginning.
I've heard they are working on a "Protone Shake" which is a protein powder with ketones, and an advanced form of ketones called ketone esters which are stronger than exogenous ketones.
"Be a shark in a world of goldfish and get your Blue Ocean before it's gone."
Learn More About What Pruvit has to Offer:
Pruvit Keto//OS Testimonial and Before and After Pics
Pruvit Keto//OS Sales, Specials and Samples!
Pruvit Keto//OS Amped Midnight
Pruvit AC-11 DNA Repair and why it should be part of your anti-aging routine
My Families Results on Pruvit Keto//OS (My Mom and my Brother)
Becoming a Pruvit Promoter – Bootcamp
Our #1 Choice for Fat Loss – Keto//OS
Keto-OS is a powder you mix with water that delivers ketones to the blood allowing you to biohack your own body into ketosis to burn FAT instead of carbs (glucose).
Keto-OS has a unique ability to facilitate fat loss while increasing energy, focus, endurance, fighting chronic inflammation and improving insulin sensitivity. It's a very safe and effective means to feel GREAT while you lose weight, tastes great, and there's a flavor for everyone!
Click Here to read my Keto OS blog post review
Click here to watch a short video explaining ketones and ketosis
User Questions and Answers
User Questions and Answers
---
Q: I am 68 years old with a bad case of blepharitis/Occular Rosacea. I do things like warm compresses and massage the lids of my eyes as well as using baby shampoo on the lids and lashes. I also use artificial tears and one eye doctor put me on ALPHAGAM eye drops. I have also increased my intake of Omega 3s. Would Ketones help me with this condition? -Jimmy
A:
Hi Jimmy, sorry I'm tardy in replying to you, thanks for your message. I went from a stage 3 blepharitis down to a level 1 in a matter of a month drinking ketones. Now, eight months later I just had a check up and I don't even think I'm a 1. My Dr. was impressed, I even gave him a sample! I ate a ketogenic diet but only my first month on ketones, you don't have to follow a strict diet, just drink one drink every day. Ketones are an anti-inflammatory, my eyes are clear, my skin is clear, and I feel better all around. My daily routine does still consist of good eye care, but nothing over the top, not like when I was first flared up really bad. My routine consists mainly of one drop in each eye of Lotemax which is a steroid each morning, and my moisture drops one in each eye at night before I go to bed. I don't go crazy with the compresses anymore, just take care in removing all my makeup and give them a wash in the morning as well and use my warm washcloth for less than a minute. Omega 3's help but I haven't been consistent with taking an Omega supplement. I do try to get plenty of healthy fats in my diet from nuts, salmon, and coconut oil and I'm sure that helps, but I think the ketones have made a real difference. I would say emphatically yes, I feel ketones can help with a lot of issues stemming from inflammation, and rosacea of the eye and blepharitis is one of those. Best of luck and I hope you'll give them a try. They should be having a Black Friday sale, so you can keep an eye on the Pruvit site here if you want to check it out. Let me know if you have any more questions. I drink one Max per day, mostly Maui Punch or Raspberry Lemonade but they've had some new flavors come out lately that are really good. The Splash is the new watermelon grapefruit but it's not been fully released yet. If you'd like to try samples before you commit to a flavor, email me at [email protected] Thanks and good luck! ~Rachel p.s. this is a super annoying condition but having white, clear eyes has been an amazing feeling! Sorry for the long message, but I do love my ketones! :)
Was this question helpful to you?
2 out of 2 people found this question helpful.
---
Q: Do u have to be on a diet and exercise -Mary
A:
Hi Mary, Ketones will naturally change your diet as it squashes sugar and carb cravings, but no you don't have to do any specific diet or exercise to experience benefits from ketones. If weight loss is your goal, then a lower carb diet and exercise will definitely get you there quicker. But ketones have many health benefits, it's not just about fat loss. That's just a side effect of being in ketosis. Rachel
Was this question helpful to you?

---