This is my personal review, Click Here to visit the official Prüvit Keto OS website
Be sure and check out the new Bio Max Maui Punch and watch the Campfire video which explains ketosis!
**Updated with Rachel's Before and After Pics towards the bottom**
JUST IN!
24 Hour Flash Sale – Brand New Pruvit Keto Max Swiss Cacao!
Today is the day!! Pruvit has released their brand new flavor Max Swiss Cacao to the public!
For 24 hours you can buy it buy it by the box in a 20 pack! Sale ends at midnight April 25th!
I got my hands on some Swiss Cacao about a week ago to try it for the first time, and it is absolutely delicious! I've been drinking it every morning and I liken it to iced hot chocolate.
It contains real cocoa and all the benefits of their Max line (most bio-available level of ketones), so all you chocolate lovers better grab a box quick before it flies off the shelves!
Click here to visit Pruvit's official offer on Keto Max Swiss Cacao
Back to My Pruvit Keto OS Review – But That News Couldn't Wait!
Hello! Today I'm reviewing a supplement called Keto OS, which is a powder you mix with water and drink twice daily that throws your body into a fat burning state of ketosis within 30 minutes.
What is ketosis? Ketosis is when your body is burning ketones for energy instead of glucose (carbs/sugar).
The skinny is – you're burning FAT rather than carbs. Good for weight loss? Heck yes! And extremely safe, by the way.
Remember the Atkins Diet – high fat, low carb? A freaking miserable diet if you've ever tried it, but one that works to shed weight quickly if you can endure the food restrictions.
A similar diet is the Ketogenic Diet which is a high fat/moderate protein/low carb diet (and by low carb I mean less than 5% carbs per day!) and there are plenty of restrictions – it's similar to the induction phase of Atkins.
But what if you don't want to follow a strict diet but you still want the fat burning/weight loss benefits of being in ketosis?
Or what if you're following a ketogenic diet and you're having trouble staying in ketosis? Or want to be able to cheat and live a little?

This is where a Keto OS sets itself apart from every other supplement on the market!
Why Am I Writing About Pruvit Keto OS?
The reason I chose to review Keto OS is because my sister lost 12 lbs in 3 weeks and looks amazing! It's also helped her energy level, mental clarity and focus, and it's safe for her to drink with her medical condition.
My sister has epilepsy and her Dr.'s have always recommended a Ketogenic diet (which is anti-inflammatory diet), but she has a hard time with diet restrictions.
Drinking Keto OS has been a safe and effective way for her to lose weight – weight that's been impossible to lose since she's on so many meds that cause weight gain!

So what is Keto OS and how does this first-of-its-kind supplement put your body into ketosis?
What results can you expect with Keto OS? And does Keto OS have side effects? Let's find out!
What is Prüvit Keto OS and How Does It Work?
Prüvit's KETO//OS (Ketone Operating System) is a proprietary formula which delivers ketones into your system and allows you to "Bio-hack" your own body to go into instant ketosis to lose weight. 
Keto OS contains a patented and proprietary engineered ingredients formula of ketone mineral salts and fat sources for optimal protein synthesis that equals high energy fuel, and the recommended dose is to drink it twice per day.
Ketones produce 38% more energy than glucose (carbs/sugar).  Ketones are the ideal choice to fuel the body with more power by burning fat.
The brain absolutely loves ketones, that's why this product provides so many other health benefits aside from weight loss, such as mental focus, energy, and protection from Alzheimer's (more on that later). 

Normally, ketones are only produced in the body during periods of fasting, but when's the last time you fasted?
What is Ketosis?
When we were hunter-gatherers, we would go into ketosis and burn fat instead of muscle until we found our next meal.
But think about it – when's the last time you had to endure a prolonged period of fasting? Give up pizza or bread? Yea, never, let's be real!
We are a carb-loving society for sure, and that's why our waistlines have gotten out of control.
Metabolic syndrome is projected to surpass cigarette smoking as the leading factor for heart disease. Obesity and lack of activity are to blame.
We, as a population (me included) love all the carbs that are so abundant. We don't eat enough good fat (salmon, avocado, omega 3's) and we surely don't eat enough veggies and fruit.
We will never go into a state of ketosis naturally unless we follow an extremely strict ketogenic diet and even then it can take weeks to get there.

The long of the short is, drinking Keto OS twice per day can allow your body to safely go into ketosis and burn fat for fuel without having to follow a strict diet.
In fact, you can pee on a ketone test strip 45-60 minutes after you drink it to "pruvit." These are available at drug stores.
Do You Have to Eat a Special Diet to Lose Weight on Keto OS?
Many people ask me how to take Keto OS, and this is my recommendation:  Drink Keto OS and a new diet will follow naturally – because you won't be as hungry or have carb cravings!

The folks at Pruvit recommend a ketogenic diet for optimal results (low carb/high fat), but you certainly don't have to follow this diet for Keto OS to put you into ketosis and provide results.
If you're following a ketogenic diet already and have trouble getting into or staying in ketosis – drinking Keto OS can help you stay there.
If you want to cheat with carbs now and then, you will stay in ketosis if you're drinking Keto OS. In other words, live a little while staying on track which is what I do!
I eat carbs and I'm still losing weight! Some days I'll have a protein shake with blueberries and ground flax seed, and when I do eat carbs, I try to focus on eating good carbs like sweet potato. But sometimes I'll eat a sandwich, or a slice of pizza! Gotta live!
How Do You Drink Keto OS and What Does It Taste Like?
Keto OS Orange Dream Version 2.1
Keto OS came out with the new new Orange Dream 2.1 version in April 2016 which is a newer, more optimized version. Here's a picture of the Orange Dream Ingredients.
The Orange Dream Keto OS comes in two versions, the "Charged" version, which has about the same amount of caffeine as a cup of coffee (120 mg), and the "Non-Charged" decaffeinated version (all the flavors have Charged and Decaf versions).
The Orange Dream flavor tastes just like a creamscicle, and if you add a squeeze of lemon it tastes like lemonade! It's yummy!
Keto OS Drink – How Many Should you Drink? And When?
The recommendation (and what I did at first) is to start by drinking one-half of an envelope in the morning per day to allow your body to adjust to it for a few days, then drink a whole one each morning.
Once you do that for about a week, you can add the afternoon serving.
What I normally do is get up, have a cup of coffee with cream, then drink a plain glass of water, then drink a full serving of Keto OS. Then I don't eat breakfast until I'm hungry!
Then usually around 3 or 4 is when I drink my second serving. If I'm doing an afternoon workout, I will usually drink another charged – Keto OS, especially the Maui Punch flavor, it a GREAT pre-workout. If I'm not working out, I'll drink a decaf.
You can read more about Keto OS 2.1 Orange Dream by clicking here
Keto OS Drink Recipes
Keto tastes really good mixed with a sparkling water, like La Croix! The Keto OS website offers some fun recipes you can whip up with your Keto powder.  My favorite is the Maui MaxTai and here is the recipe:
1 pack Keto OS Max Maui Punch
16 oz pineapple-strawberry flavored sparkling water
1/2 oz fresh lime juice
Shake, pour over ice, sip, and pretend your on an island on vacation – it's so refreshing!
New Flavor: Keto OS Chocolate Swirl Version 3.0
Keto OS has just unleashed a new flavor in a new 3.0 edition of Keto OS – Chocolate Swirl! And with it, a new and improved formula. Here's a picture of the Chocolate Swirl ingredients. It tastes just like a tootsie roll!
They've added a prebiotic to the Chocolate swirl, so if you have any kind of gut issues then I would recommend the Chocolate swirl.
What's Different about Chocolate Swirl 3.0?
Ratio of BHB salts for faster peak into the system which creates sustained ketone levels throughout the day
Added Ketogenic Amino Acids and Short Chained Fatty Acids which use the same transporters as ketones so you're getting that same direct quick uptake into your system
Includes a Prebiotic – a food source for the good bacteria in the gut making them stronger and more able to fight off the bad bacteria and also helps with gastro intestinal upset
Vegan, Dairy and Gluten Free so now there's a product suitable for everyone.
You can read more about the Keto OS 3.0 Chocolate Swirl by clicking here.
Keto OS Bio Max Maui Punch Flavor – Most Advanced Version
*UPDATE 1/10/17* I just got the Bio Max Maui Punch today!

I tried the Bio Max this morning for the first time and it's hands down my favorite flavor – it tastes just like Hawaiian Punch! It's lighter than the Orange and it's very easy to drink.
The Bio Max has the most pure, most bio-available form of ketones, meaning your body can absorb it better.
Bio Max is gluten-free, dairy-free, Vegan and Kosher Certified (like the Chocolate) and is the most advanced ketone delivery drink they offer.
After a week on the Maui Punch, I've lost 6 lbs!!
This stuff is absolutely amazing. I'm energized all day, and I have so much motivation to work out and eat healthy. I have to remind myself to eat since it suppresses my appetite so much.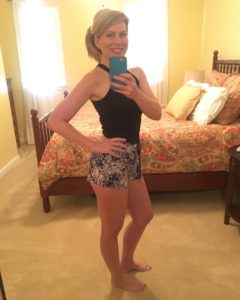 Currently I'm drinking a Maui punch charged in the morning and another half serving in the afternoon, or a whole decaf.

**UPDATE 1/24/17** Still going strong!! Down 7 lbs and I'm toning up! Check out my latest pic.

This latest picture of me was taken a couple days ago and you may have seen my instagram post (follow me @womensblogtalk).
I bought these shorts in my "old size" as motivation and I'm fitting into them now! *high-fives*
**UPDATE 2/10/17** Lost a total of 10 lbs! Check out my before and after pictures towards the bottom. 
You can read more about the Keto OS Bio Max Maui Punch Charged by clicking here (watch the video!!)
Keto Kreme – Healthy Fat Source for Your Coffee
Pruvit offers a companion product called Keto Kreme which is a powder you mix with your coffee or other hot beverage. Here's a picture of the Keto Kreme ingredients.
This is their version of "bulletproof coffee" which is pretty much a staple with a ketogenic diet.
It contains a healthy serving of FAT, yes fat (16 grams). Fat burns fat. Keto Kreme is made from coconut oil, MCT Powder and is sweetened with stevia and also contains cinnamon – yum!
I add it to my hazelnut coffee sometimes and it's delicious!  If you're following a ketogenic diet, this is a GREAT addition to get a healthy serving of good fats which will rev up your metabolism.
If you're more focused on weight loss, drinking a cup of coffee with the Keto Kreme is going to really fill you up, and help your body to burn fat.
Follow the Keto Kreme with a serving of Keto OS and this is great way to really kick your weight loss into high gear. I do this at least 3-4 times per week!

But remember, the Keto Kreme doesn't contain the ketone blend like the other flavors, this would be in addition to the Keto OS, or, if you're just looking to get more fat in your diet.
Keto Kreme Pancakes
My sister and I made some Keto Kreme pancakes the other day and they are amazing!
One pack Keto Kreme, two eggs, two tablespoons of cream cheese, and fry them up in coconut oil.
So easy and quick! Here's me and my sister making pancakes the other morning. Yum!

Click here to learn more about Keto Kreme
Does Keto OS Have Any Side Effects?
Like any supplement, not everyone will have the same exact experience. If you're sensitive to caffeine and drink the Keto OS Charged version late in the day, then you may have trouble falling asleep, just like coffee may keep you up.
Some people report an upset stomach or feeling sick when they are adjusting to the Orange flavor (since it contains the MCT oils), and this is the reason to start with half a pack for at least a few days.
My sister had an issue for a couple days but it passed, and I did feel nauseous a couple times while drinking the Orange but it didn't last and it was completely random (not at the beginning). Your body should adjust! This is called "keto-adaption."
One more thing, you may notice you pee more frequently your first week or two. This is normal as being in a state of ketosis naturally flushes the body of water and along with it goes the fat and electrolytes, so be sure and drink plenty of fresh water throughout the day! (half of your body weight in ounces if you can).
How I've Felt on Keto OS
What I've felt since I started drinking Keto OS is increased energy and my ability to focus on tasks without becoming distracted is remarkable.
I've been sailing through each day no longer experiencing those slumps of energy like I used to, or staring into space when I got bored or didn't feel like working.
I haven't even been drinking my afternoon cup of coffee at all. I just don't get tired so I don't crave it.
The Keto keeps me fueled and energized all day, but definitely NOT in a jittery-energy sort of way. Just an awake, let's conquer the day feeling!
I want to add that it's a very level feeling of energy, unlike coffee where you might feel pepped up for a little while but then crash. Ketones are brain food – my brain is so much more sharp!
I've also been powering through my workouts at the gym and pushing myself through those somewhat painful moments but gaining strength because of it, whereas before I might just stop when it got too tough.
It gives me energy to get my ass to the gym when I would sometimes blow it off….you know how that goes. Half the battle is getting there!
Even my volleyball game has improved. Having the endurance to play game after game has been easier, more fun, and made me more competitive!
How Much Weight Have I Lost on Keto OS?
I have lost a total of 11 lbs! Why is this huge for me? Well, over the past year I gained about 15 lbs going through fertility treatments. I went through 3 IVF cycles, lost a pregnancy, and went through a D&C surgery.
The hormones were no joke. I have never "not" been able to lose weight if I tried, but no matter WHAT I did, the scale did not budge. For months!! It was very discouraging and I didn't feel like myself.
However, after starting the Keto OS I have found that I'm losing weight easily and never hungry! It does suppress your appetite and what I've noticed is that I'm not snacking anymore at night and a smaller meal fills me up.
It's harder to lose weight the closer that you are to your IDEAL weight. So that's why this has been such a big score for me personally.
So if you have a lot of weight to lose, Keto is going to make it real easy!
If you have more than 10 lbs to lose, be SURE and drink 2 servings per day so that you stay in ketosis for 24 hours – you'll be burning fat while you sleep!
My Keto OS Before and After Photos
My before pictures were taken four weeks before my after photos. So in 4 weeks, I've lost about 11 lbs total. Whoop!

You can tell by my photos how my body composition has changed. I have replaced fat with some muscle and I'm a lot less bloated.
I lost the most weight around my middle, my back, rear end and top of my thighs.
My face is slimmer, less puffy and my skin looks great!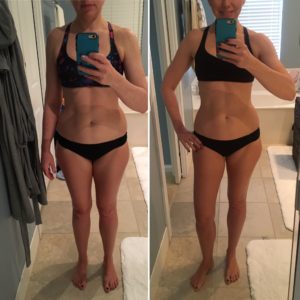 I'm happy because my love handles are gone and I can fit into my size 6 skinny jeans again!
Keto OS N8TIVE ZONE – For the Hardcore Athletes
If you're reading this and you consider yourself more hardcore, i.e. you're a weight lifter, crossfitter, triathlete, someone who wants to get completely shredded, willing to eat a ketogenic diet and do some intermittent fasting for optimal results, read about Pruvit Keto-OS's plan for getting into the N8TIVE ZONE.
I have been doing Orange Theory HIIT training 2-3 times per week and my workouts have never been better!
One of the best ways to boost weight loss and lose body fat is to drink a Keto OS (Maui for me) in the morning and do a class or a workout in a fasted state fueled by ketones!
Your body will NOT feel low on blood sugar because you haven't eaten – you will feel powerful and strong and get shredded!
What Other Ailments/Illnesses Can Keto OS Help With?
Aside from the obvious weight loss benefits, Keto OS has many other health benefits and the research section of their website has a ton of published PubMed research and clinical trials to back up their claims.
For me personally, inflammation is an issue. I have blepharitis of the eyes (ocular rosacea) and my eyes have definitely improved from the anti-inflammatory benefits from drinking Keto-OS.
Rosacea is inflammation, so if you treat the root of the problem, you're going to see an improvement. For the first time in a while, my eyes actually look white instead of red! And my skin looks amazing!

Here are some highlights of what Keto OS can help with aside from weight loss:

Keto OS fights chronic inflammation, which for some can mean chronic pain or achy joints
Provides cognitive improvement and neuroprotection for the brain, which can ward off Alzheimer's disease.
Improves insulin sensitivity for the treatment of diabetes.
Improves cellular health and longevity, along with anti-aging benefits.
Weight loss – fat loss without muscle loss.
Cancer inhibiting – cancer cells can't live using ketones as fuel (I'm definitely not trying to say Keto cures cancer, because it does not, only that cancer cells don't thrive in ketosis).
Keto OS has been seen on ABC, NBC, Fox news, and studied at Yale University and Oxford. Keto OS is lab tested, Doctor approved, has its CFA (Certificate of Analysis) and has a patent on its proprietary formula.
Where Can I Buy Keto OS & How Much Does it Cost?
The only place to purchase Keto OS is online from their official website and it comes with a 100% 90 day money back guarantee – basically risk free!

The cost varies depending on how much you buy, and if there's one drawback to this product, it would be that it's a bit pricey! But you can't put a price on your health, or your self confidence!!
The Smartship option does provide 17% savings – this is where they'll automatically send it to you each month. This is the best deal, and you can cancel anytime.
NOTE ON SMARTSHIP: If you sign up for smartship, it ships monthly and it will show you the next ship date (about a month away).
So if you sign up for smartship, I recommend doing a one time order as well so that you're not waiting for weeks to get started!
A one time order you'll receive in about 5-7 days via UPS and you'll also get it at a discount since you're setting up smartship.

So when you go through checkout, what you want to choose is "today and smartship."
With each package, you'll pick which flavor you want, and whether or not you want the charged or the non-charged.
15 servings (OTG) = $85 ($76 w/Smartship)
30 servings (OTG) = $160 ($144 w/Smartship)
30 servings (Kan) = $144 ($133 w/Smartship)
60 servings (Kan 30 + OTG 30) = $300 ($255 w/Smartship)
90 servings – *Family Pack (90  OTG Mix Pack, Orange Dream & Chocolate Swirl) = $408
200 servings – *Experience Pack (200 OTG Mix Pack, 80 Maui Punch/60 Chocolate Swirl/60 Orange Dream) = $928
*Family Pack and Experience Pack are available to promoters only
A word of warning – I don't recommend buying from Amazon or ebay. You'll find most of the vendors who sell it are trying to unload the old formula and who knows how old it is or how they've had it stored.

Just like fake designer purses, there are fake supplements and skin care products galore! And you won't be eligible for money back guarantee unless you buy from the manufacturer.
Click Here to browse all of the Keto OS customer packages available on their website
Which Keto OS Package Should You Buy?
After my sister gave me a couple samples, I first bought the 60 Orange Dream Charged Pack which is 30 KAN servings (a scoop) and 30 OTG packs. I did the Smartship to get the $45 off.
The Smartship is totally worth it! It not only gives you a discount, but if you make any "one time" purchases in between you'll get 17% off!
Since my husband also started drinking it with me and I like sharing, now I get the Family Pack. The Family Pack is 90 OTG servings and it has both flavors with a mix of everything (30 Orange Dream Charged, 30 Orange Dream Non-Charged, and 30 Chocolate Swirl Charged).
I also added a smart ship of two boxes of the  20 Bio Max Maui Punch. It's very easy to change your smartship order if you change your mind. You just log in to your account and change your preferences with almost no lead time – which is awesome!

For those days that I want to drink two, I like drinking the charged in the morning and non-charged in the afternoon, and I like having the option of different flavors! It's great to be able to change things up so you don't get bored of the same flavor.
Good luck and I encourage you to try it! I have quickly become passionate about this product not only for the weight loss, but how great it's helped both me and my sister to feel!
If You're Still Unsure Which Keto OS Flavor to Buy
While ALL of the flavors contain ketones and will put you into ketosis to burn fat for weight loss, give you energy and focus, there are are some slight differences between the formulas.
If you're unsure, maybe these tips can help you decide.
Orange Dream – may provide a slight edge on appetite suppression since it contains MCT Oils and will help to keep you feeling full. Many people start with the Orange. (Gluten free, does contain a tiny bit of dairy). Some people have reported feeling sick from the MCT oils, but this is your body adjusting and it should pass. Most people have no issues.
Chocolate Swirl – contains a prebiotic and has a lighter taste than the Orange (doesn't contain MCT oils), great for a second serving in the afternoon (or pre-workout) or evening decaf, and very easy to drink. Vegan, Dairy and Gluten Free. Best for people with any stomach issues (or chocolate lovers;)
BioMax Maui Punch – The Cadillac of Keto! 😉 Great if you need an optimal energy boost and mental focus or as a pre-workout. It also tastes the absolute best in my opinion, very light and the easiest of all the flavors to drink. Vegan, Dairy and Gluten Free. I've had the best and quickest results while drinking the Maui and if it's something you love the taste of, you're going to be more apt to stick with it!
Like I said, you can't go wrong with any of them. I really feel it's best to have at least a couple of the flavors on hand so you can mix it up and also to see which one you like the best!
Do you need motivation or guidance on how to drink Keto OS? I can help you!
Contact me here to email me directly or at [email protected] and tell me about your goals or ask any questions you have!
New Flavor – Max Swiss Cacao!
24 Hour Flash Sale on Max – Offer ends at midnight April 25th!
Pruvit teased us by releasing a limited supply of the new Max Swiss Cacao! But for 24 hours, you can buy as little as one box!

Max Swiss Cacao is similar in formula to the Bio Max Maui punch except it's swiss chocolate flavor – like delicious, iced cocoa tasting flavor!  It contains real cocoa and is so freaking delicious!
The Max products give you the maximum level of ketones!
I got my hands on some last week, and Pruvit has outdone themselves with this new flavor! I am really enjoying it at breakfast time since it's like drinking chocolate milk!
I know many of you have been waiting patiently, don't miss out!
Becoming a Promoter for Pruvit
If you're interested in becoming a promoter, you can read more about it here and see what promoter packs are available.
Becoming a promoter means getting free product, commissions, and larger discounts! There are many benefits to becoming and promoter and it's a great community.
To start earning "pruvit bucks" for free product, you simply have to do three things: sign up as promoter, get on smartship for your personal use, and refer two friends, it's as easy as that!
Click Here to visit the official site for Pruvit Keto OS
Did you enjoy this review? Give my Facebook page a "like" or follow me on Instagram @womensblogtalk
Do you have questions about Keto OS? Leave your question or comment below!
How Women Found This Review:
and keto os reviews, and keto os scam, and pruvit reviews, and keto//os reviews, and keto os, and keto/os reviews
Click here to submit your review.
---
Keto/OS
Pruvit KETO OS Review – More Than Weight Loss?
I have been taking Keto/OS since February and love it! With diet and exercise I have lost 10 pounds and have shed several inches. It feels so good to be told you look amazing by friends you do not see on a daily basis. Loving how great I feel everyday as I have 3 boys to chase after.

---
Max Maui for preworkout
Pruvit KETO OS Review – More Than Weight Loss?
For any guys reading this blog, I found the Maui to be great fuel as a preworkout supp for weight lifting and it's made my workouts stronger, and I've lost a good bit of body fat. I don't eat a pure ketogenic diet and it still works. I try to eat healthy but I do eat my share of carbs. Only gave it 4 stars because it's a bit pricey but it's worth it.

---
Keto OS is amazing!
Pruvit KETO OS Review – More Than Weight Loss?
I was first introduced to Keto OS by a friend at volleyball. She told me that she started to drink it every day and has already started to drop weight. I saw the results that she was getting from it so I decided to try the samples that she gave me. I liked the way it tasted and the energy it gave me but was hesitant to purchase it because of the price but I decided to purchase it and give it a try. I am so happy that I made the purchase and now it is an essential part of my day. I purchased the KAN in the orange dream flavor. I drink it first thing in the morning, without it my day is not the same. Keto OS provides me with the energy that I need to get through my hectic days without the jittery feelings that other products give. I feel more focused, alert and happier when I take it. The energy that Keto OS provides is the perfect amount that I need to get through the day without crashing and I can fall asleep at night without any problems. Keto OS helps suppress my appetite as well. I don't feel as hungry and when I am hungry I am eating less. The weight loss that I have experienced on this is also phenomenal. I have not been trying to lose weight and I have not gone to the gym in months because my daily schedule is so hectic, I only play beach volleyball a few times a week but have managed to drop about 15 pounds. Everyone gives me compliments on how good I look and I don't even realize the weight I have lost until I try on clothes that used to be tight on me are now too big! Keto OS is an amazing product and I am so glad that I have tried it and I will continue to purchase it!

---
Great product!
Pruvit KETO OS Review – More Than Weight Loss?
I've been drinking this stuff for a year now! My favorite flavor now is the Maui! Like Kool-Aid or something! I had a similar experience to you! I make sure and eat healthy while drinking it, and make time to workout. With all the energy that it gives you, put it towards something useful, right?!

---
Pricey but good
Pruvit KETO OS Review – More Than Weight Loss?
I have lost 25 lbs on a ketogenic diet and stalled. Decided to try keto kreme and Max and it helped me break through my plateau. Really great flavors, the only drawback for me is the price.However, going to starbucks can be more expensive than a daily serving. I'm going to stick with it. only 4 stars instead of 5 because of the price.

---
Great review.
Pruvit KETO OS Review – More Than Weight Loss?
Great blog post and review! Good detail. Way to go.

---
MS and Keto OS
Pruvit KETO OS Review – More Than Weight Loss?
I have MS and have been taking Keto OS for a month and a half. I thank God for my friend who introduced it to me. My inflamation is so much better. I have energy for first time in over 3 years. I have lost 22 pounds, pain is better, brain fog improving, migranes have been for most part gone. Had one migraine in 6 weeks. I feel like playing with my grandson and the 2 other little angels I watch. I feel like a new me.
---
Finally found a product that works!
Pruvit KETO OS Review – More Than Weight Loss?
Keto OS is amazing! I've been drinking the Bio Max in the morning and chocolate decaf in the afternoon and I've lost 15 lbs this month! 15! This is huge for me. I have two kids and nothing seemed to work to shed some of this baby weight. I have a ton of energy for my kids now and into the evening to get all my chores done and still feel good. And I'm sleeping like a damn baby. Love Keto, thank you thank you!

---
Keto for energy
Pruvit KETO OS Review – More Than Weight Loss?
I bought this product initially for the energy. I've researched a lot on ketones for brain function. It's helping me to have energy all day at work and deal with my three kids at night. I'm a happier mom because of it and the weight loss side effect is an added bonus. I have lost 15 lbs so far in a month. It really helps with appetite. I am also sleeping like a baby. I drink both the Chocolate charged in the morning and the punch decaf in the afternoon. People are noticing a change in me.

---
Maui Punch Bio Max
Pruvit KETO OS Review – More Than Weight Loss?
I was eating a low carb diet but my energy levels were low. Started drinking the Biomax fruit punch flavor and my energy levels are incredible and I'm staying in ketosis. I needed something to help me with energy mostly but it's also suppressing my appetite which is a nice side effect. I'm a very happy customer.

---
User Questions and Answers
User Questions and Answers
---
Q: How much weight should I expect to lose daily? -Terry
A:
Hi Terry, everyone is different, but if you have more than 20 lbs to lose, some have reported up to a pound a day when they get started. For someone who is already closer to their goal weight, maybe closer to 1/2 lb. It also depends on your diet and whether you exercise. While you don't have to change your diet to lose weight using Keto, you'll always get faster results if you try to eat a moderate protein/high fat/low carb diet. Rachel-WomensBlogTalk.com
Was this question helpful to you?
23 out of 23 people found this question helpful.
---
Q: When I drink on an empty stomach in the morning I don't get hungry until sometimes 1:00. Is this bad to not eat for that long? It suppresses my appetite so much I almost have to remind myself/force myself to eat. I did read something about intermittent fasting but I wasn't sure if that was the best way. Should I eat even if I'm not hungry? I've lost 10 lbs in two weeks! And easily! Thanks. -Tiffany
A:
Tiffany, sometimes I do that, drink in the morning and then don't eat until I'm hungry. It is called intermittent fasting and it's ok to do. Just make sure you eat by lunch time if you're going to skip breakfast. Rachel
Was this question helpful to you?
19 out of 22 people found this question helpful.
---
Q: Hi there. What kind of workouts did you do to lose 10 pounds in 4 weeks on keto? -Heather
A:
Hi Heather, thanks for your email. I usually went to the gym 1-2x per week and I mostly did plyo body weight stuff in the back room along with some kettlebell swings (15 lbs),  and I like the ball slam (only use 10 lbs).  Some free weights also, but nothing with super heavy weights.  I also play beach volleyball 1-2x per week so that gives me my cardio. So I'd say on average, I was active at least 3 days per week with a pretty vigorous workout. But like I mentioned in my article, I had been doing all this and more and the scale was not budging! When I started drinking the keto, I got fired up with energy and it helped me to push myself a little harder in the gym and the weight finally started coming off. I'm not a gym rat by any means, but I do stay pretty active.   I will email you one of my plyo workouts, in case you're not familiar. I have a ton of these if you're interested in more. I find that if I go to the gym with a plan in hand, I do everything. I hate just wandering around the gym and never get as good of a workout in.    Thanks! Rachel
Was this question helpful to you?
5 out of 5 people found this question helpful.
---
Q: Ca I add a scoop of protein to my drink. -Jackie
A:
Jackie, you can, but it's more effective if you drink it separately. I actually asked this question recently...it's not a huge difference but every bit helps! So if drinking it separately was 100%, maybe mixing it with a shake it would lose some strength so make it 80 or 90%. Personally I would drink 30 minutes before or after. Good luck! ~Rachel
Was this question helpful to you?
5 out of 5 people found this question helpful.
---
Q: I'm a 50 year old female. I had a large brain tumor removed August 4th. As a result I've lost a lot of cognitive ability, memory issues, and focus problems. I also gained 40 pounds from no activity. Steroids and stress eating. I heard Keto/os might help. I purchased and notice I am in ketosis an hour after taking it but get not a trace within 2-3 hours. Does this mean it's not working for me? is it safe to take several times a day? -Michelle
A:
Hi Michelle, first of all, I'm so sorry you've had to endure so much! Are you peeing on the keto sticks? I never bothered.... I knew it worked for me because it suppressed my appetite, I lost weight, and I have great mental focus and energy. You can drink up to two per day (no more). This will definitely help keep you in ketosis longer and I've read that drinking 2x per day should keep you in ketosis for 24 hours, so maybe try again but don't get focused on the strip. One a day worked for me but everyone is different, and with more weight to lose, I would recommend two. I would do the decaf in the afternoon - the charged version may keep you up at night and you need your rest :) Good luck to you and I'd love to hear back from you to see how things progress. Rachel~WomensBlogTalk.com
Was this question helpful to you?
6 out of 7 people found this question helpful.
---