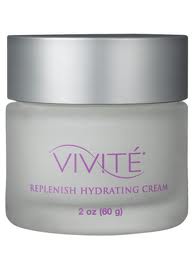 Vivite Replenish Hydrating Cream Review
Vivite Replenish Hydrating Cream Overview
Vivite Replenish Hydrating Cream uses a super-hydrating formulation to provide your dry skin with enough moisture to stay smooth, supple, soft, and younger-looking. It's extremely gentle and well suited for sensitive skin. It's purpose is to bind moisture to your skin and provide antioxidant protection against the damages caused by free radicals picked up from the environment we live in. It's often recommended and sold by dermatologists for anyone with sensitive and dry skin, and I have to say, the reviews are overwhelmingly positive.
In case you're familiar with Vivite, and you're expecting glycolic acid from a product of this brand, you should know that Vivite Replenish Hydrating Cream is one of the only non-AHA products in the entire line.
Vivite Replenish Hydrating Cream Ingredients and How They Work
This lightweight and oil-free cream contains a nice range of anti-aging ingredients:
Ceramides, Allantoin, and Urea strengthen the skin's protective moisture barrier.
Essential Fatty Acids and Millet Extract also protect the barrier and bind to water so skin stays plump and hydrated.
Superoxide Dismutase, Vitamin E, and Green Tea provide powerful antioxidant protection against free radicals.
Directions are simply to apply as needed in the morning and/or at night.
Vivite Replenish Hydrating Cream Pros and Cons
Advantages of Vivite Replenish Hydrating Cream
It's difficult to find a Vivite Replenish Hydrating Cream review that's not positively glowing. This is an extremely well loved product. Most reviewers simply call it The Best.
It's recommended by dermatologists.
It's oil-free and doesn't bother sensitive skin.
Disadvantages of Vivite Replenish Hydrating Cream
It's on the expensive side.
It's packaged in a jar so the antioxidant ingredients won't remain stable for long.
Where to Buy
You can purchase Vivite Replenish Hydrating Cream through doctor's offices and online. The 2 ounce jar retails for $50, and I've seen it for as little as $42 so shop around.
Conclusion
If you haven't found your holy grail moisturizer, I would try this. It is universally loved by people with dry skin, people with oily skin, people with sensitive skin, and people with acne prone skin. If you're lucky enough to have a dermatologist who carries it, you can probably convince him or her to let you try it first. If not, it might be worth saving up for Vivite Replenish Hydrating Cream.
Have You Used Vivite Replenish Hydrating Cream? Leave Your Review Below!
User Questions and Answers
User Questions and Answers
No Questions Have Been Answered For This Article.