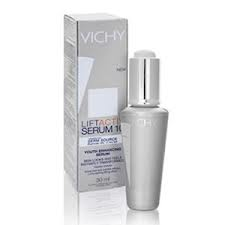 Vichy LiftActiv Serum 10 Review – Worth a Look?
Vichy LiftActiv Serum 10 Review
If you want to know how important younger looking skin is to most women, just take a look at all the time, money, and investment that goes into finding and developing exciting new anti-aging ingredients.  Everywhere you look, the fountain of youth is being discovered.  We're looking at Vichy LiftActiv Serum 10 today because it uses some of this new technology, and was a 2012 Allure Best of Beauty – Beauty Breakthrough winner for its innovative ability to fight the signs of aging.
Vichy LiftActiv Serum 10 promises that in 10 minutes, your skin will feel firmer and smoother, and you'll even see fewer wrinkles that quickly.  Clinical tests have shown that after a month of use, you can expect an approximate 20% decrease in crow's feet, forehead wrinkles, lines under the eyes, and neck wrinkles.
Vichy LiftActiv Serum 10 Ingredients and How They Work
Vichy LiftActiv Serum 10 is a highly concentrated serum with one particularly interesting ingredient, as well as a few other favorites:
10%  Rhamnose is a sugar molecule derived from plants.  It has been proven to stimulate skin regeneration.  The molecule is small enough to penetrate deep into the layers of skin where it can be effective in triggering anti-aging responses.  It encourages the skin to produce collagen while it discourages the enzymes that break it down.
Hyaluronic Acid is one of the most potent hydrators we have.  It attracts and traps water so skin looks soft, supple, plump, and smooth.
Ceramides help the skin retain moisture and need to be replaced as we age.
Vichy LiftActiv Serum 10 is very lightweight and concentrated.  A few drops in the morning and evening is all you need for your entire face and neck.  Vichy recommends that you follow with one of their Rhamnose moisturizers for even greater hydration and effect.
Vichy LiftActiv Serum 10 Pros and Cons
Advantages of Vichy LiftActiv Serum 10
A little goes a long way.
It has received awards from both Allure and Good Housekeeping.
Vichy LiftActiv Serum 10 reviews from customers tend to be favorable.
Many specifically mention that their skin is soft and radiant.
Disadvantages of Vichy LiftActiv Serum 10
It is on the expensive side.
It contains alcohol which could counteract some of the better effects.
Where to Buy
You can buy Vichy LiftActiv Serum 10 at Ulta, CVS, Walgreens, and online.  The 1 oz pump generally retails for just over $50.
Conclusion
Vichy LiftActiv Serum 10 is a multiple award-winning product.  While nothing works for everyone's skin, it definitely seems promising.  The clinical tests that have been done on Rhamnose, while they haven't been performed on actual human skin, do show some encouraging results.  We're a little concerned by the amount of alcohol in this light serum, but think that if you've got 50 bucks burning a hole in your beauty budget, Vichy LiftActiv Serum 10 may be worth a look.
Have You Used Vichy LiftActiv Serum 10?  Leave Your Review Below!
User Questions and Answers
User Questions and Answers
No Questions Have Been Answered For This Article.