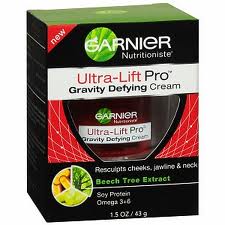 Ultra Lift Pro Review – Does It Deliver?
Ultra Lift Pro Overview
Garnier is the maker of several skin and hair care products available in drugstores all over the country.  Garnier Nutritioniste is their blanket skin care brand, while their line devoted to lifting and firming aging skin is called Ultra Lift Pro.  This line contains several products all meant to increase firmness and elasticity, giving your skin a more youthful appearance.
Ultra Lift Pro Gravity Defying Cream Intensive is the product in this line designed specifically to resculpt your cheeks, jawline, and neck once getting to a certain age has caused sagging and loss of definition.  It's a daily moisturizer that's gentle to skin and won't clog pores, but gives you the added benefit of restoring youthful shape and elasticity to your facial contours.
Ultra Lift Pro Ingredients and How They Work
The Garnier website does not specify the ingredients in Ultra Lift Pro products, but they do describe several of the natural components they use in many of their skin care products.  The focus is on natural botanicals for their soothing and nourishing properties.  Ingredients like avocado oil, citrus extract, and magnesium from kiwi water are common in their products, including those in the Ultra Lift Pro line.  In the case of Ultra Lift Pro Gravity Defying Cream, Pro-Retinol, derived from nature, is used to fill and plump wrinkles while actively firming the skin.  Ultra Lift Pro Gravity Defying Cream also uses Lipopeptides from hazelnuts to increase the production of skin lipids.
You should use Ultra Lift Pro Gravity Defying Cream twice daily as your regular moisturizer.  It's best for normal to dry skin as it tends to be pretty rich and creamy.  The Garnier website indicates that it has been dermotologist approved and that in clinical tests, women claim it makes them look 5 year younger within weeks.
Ultra Lift Pro Pros and Cons
Taking a look at both the good and bad sides of a product can reliably help you make a wise decision regarding whether or not to buy.
Ultra Lift Pro High Points
Ultra Lift Pro and all Garnier products are widely available in drugstores, beauty supply stores, and even grocery stores.
It is affordable.
It contains natural botanicals.
Ultra Lift Pro Low Points
Ultra Lift Pro reviews are very mixed.  A significant number of customers claim to have achieved no visible results.
There is no full ingredients list available, and no description of active ingredients.
Where to Buy
You can buy Ultra Lift Pro Gravity Defying Cream almost anywhere.  On the Garnier website, a 1.5 oz jar costs $16.99.  At Amazon, the same jar costs only $9.55.  Drugstores and big box stores also carry it, and you may be able to find sales and coupons to help defray the already reasonable cost.
Conclusion
Ultra Lift Pro certainly belongs to the category of drugstore skin care products.  As such, it is affordable, but not necessarily cutting edge.  Sometimes, we find a drugstore brand or product that really is effective.  We don't think this is the case with Ultra Lift Pro.  With no active ingredients that Garnier deems worthy of mentioning, and mediocre reviews at best, we think there are better options  for anti-aging skincare products at the same price point.
Have You Used Ultra Lift Pro?  Leave Your Review Below!
User Questions and Answers
User Questions and Answers
No Questions Have Been Answered For This Article.