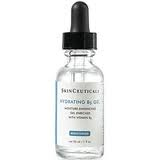 SkinCeuticals Hydrating B5 Gel Review – Does It Do the Job?
SkinCeuticals Hydrating B5 Gel Overview
The claims, as well as the ingredients, of SkinCeuticals Hydrating B5 Gel are actually quite simple.  It replenishes nutrients the skin needs to feel smooth and look younger.  It maximizes the benefits of your daily moisturizer.  And it's compatible with all skin types.
SkinCeuticals, the company, has a loyal following, and has gained popularity through spas ans salons.  The line and this product are not inexpensive, but the reviews are generally quite good, showing that women are willing to pay more when they feel they are getting results.
SkinCeuticals Hydrating B5 Gel Ingredients and How They Work.
As stated earlier, the ingredients in SkinCeuticals Hydrating B5 Gel are very simple:
Hyaluronic Acid is a natural moisturizer present in skin.  It attracts and binds to water.  In fact, it's capable of binding to 1,000 times its own weight in water.  Adding it topically has two effects.  First, it makes for a very hydrating moisturizer.  Second, by retaining so much water, it plumps and fills out wrinkles, minimizing their appearance.
Vitamin B5 (or Pantothenic Acid) encourages skin's own repair function and replenishes nutrients.  By preparing skin tissue, it prepares skin to receive the maximum benefit from whatever moisturizer you follow up with.
Add in a preservative, and that completes the ingredients list.
You are instructed to apply 2 to 3 drops of SkinCeuticals Hydrating B5 Gel to your entire face, morning and night.  The recommendation from SkinCeuticals is that you use it The B5 Gel after cleansing and toning, and before applying a Vitamin C serum.
SkinCeuticals Hydrating B5 Gel Pros and Cons
You'll want to make certain you're aware of both the good and bad aspects of this and any product you're considering buying.
Advantages of SkinCeuticals Hydrating B5 Gel
It's suitable for all skin types.
Most SkinCeuticals Hydrating B5 Gel reviews are very positive, and many comment about how hydrating it is.
SkinCeuticals products are recommended by dermatologists.
Disadvantages of SkinCeuticals Hydrating B5 Gel
It is expensive.
It's an added step in addition to your regular facial moisturizer.
There could have been more ingredients to provide more benefit.
Where to Buy
You can find SkinCeuticals Hydrating B5 Gel at a local spa, dermatologist, or aesthetician's office.  Or you can make your purchase online.  A 1 oz jar costs $70 just about anywhere you go, though we did find it for less through Amazon.  We would caution however that lots of customers have been less than satisfied with skincare products purchased through Amazon.
Conclusion
There are so many positive reviews for SkinCeuticals Hydrating B5 Gel, but we're having a hard time justifying the need for it.  It's an added step before your anti-aging moisturizer, and it doesn't seem like it even claims to do much.  But there must be something to it for all these women to be willing to spend serious money to use it.  Given all that, if you've got the cash, who are we to advise against it?
Have You Used SkinCeuticals Hydrating B5 Gel?  Leave Your Review Below!
User Questions and Answers
User Questions and Answers
No Questions Have Been Answered For This Article.