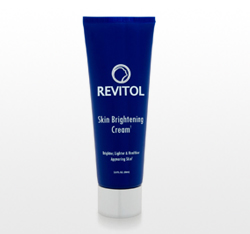 Revitol Skin Brightener Review – Does it Work?
Revitol Skin Brightener Overview
One of the things people relate with youth is bright, dewy skin that does not have age spots, sun spots, or an uneven tone.  Over the years, people tend to lose that youthful glow and their skin becomes more weathered.  We don't like it when that happens to our skin, so manufacturers are trying to help us overcome that problem.  There are numerous products on the market designed to lighten and brighten the skin and give it a more even tone.  One such product is Revitol Skin Brightener Cream.  Does it work?
Revitol Skin Brightener – Its Ingredients and How it Works
The Revitol company focuses on producing skin care products.  They have creams to help treat and prevent stretch marks, cellulite, and aging skin.  Revitol Skin Brightener is their creation, designed to make your skin healthier, more even, and brighter. It is said to lighten age spots and even freckles.
The official web page reveals that Revitol is an all natural product and does not contain potentially harmful ingredients such as steroids, mercury or hydroquinone. It does contain the popular skin lightening ingredient Arbutin, which restricts the the production of melatonin, the pigment which puts color in your skin.  Lumiskin and Z whitener are other whitening agents in the formula.
Shea butter is there for firming and toning, a botanical extract, Allantoin, to moisturize, and evening primrose oil to alleviate dry skin and fight infections. Vitamins A, C, and E are also in the formula because they are essential to healthy skin, both to nourish and protect. There is a complete list of ingredients available at the website.
Instructions say to use a pea-sized drop of Revitol and massage it into areas you want to treat. Although there are no known side effects, it is recommended that you speak to your physician before using this cream if you are pregnant or take regular medication.
Where to Buy Revitol
Revitol is available from the official website and costs 29.95 for a one month supply.  There are substantial discounts available when you order multiple tubes at one time.  The company also offers a 90-day guarantee, but be sure to read the fine print.  There are restrictions.
You may also order Revitol from other online retailers such as Amazon, where it cost $26.95 per bottle.  At this time, the cream is not available in local retail locations.
Pros of Revitol Skin Brightener
All natural formula
Does not contain hydroquinone, mercury, or steroids
Reasonably priced
Secure website
Cons of Revitol
Can only be purchased online or by telephone
Mixed consumer reviews
Guarantee has restrictions
Our Conclusions
The ingredients in Revitol Skin Brightener are all natural and there are no elements known to pose potential side effects.  It contains popular skin whitening ingredients and also important anti-aging ingredients.  If you're concerned about age spots, blotchy, uneven skin, or want to lighten up some freckles, we think Revitol would be a good product to try.
Have You Tried Revitol Skin Brightener?  Leave Your Review Below!
User Questions and Answers
User Questions and Answers
No Questions Have Been Answered For This Article.